Maneka Gandhi shuts down animal centre after furore on social media
Heart-wrenching videos have emerged of a dog being flung against a wall by a para-vet at the animal rights crusader's care centre for destitute and rescued animals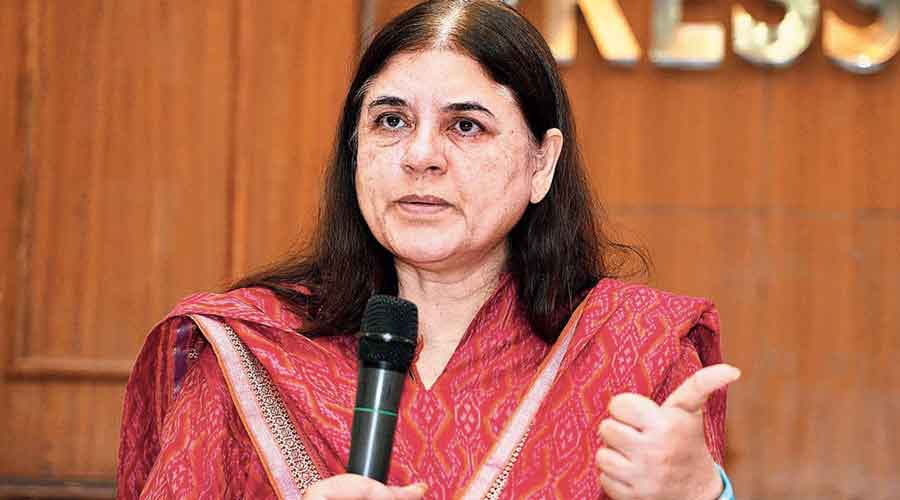 ---
New Delhi
|
Published 11.07.21, 02:25 AM
|
---
Last year, Maneka Gandhi had rushed into a hate-filled rant on Kerala's Malappuram district after the death of a pregnant elephant, only to find out through others' due diligence that the incident had taken place somewhere else.
Now, heart-wrenching videos have emerged of a dog being flung against a wall by a para-vet and left bleeding at the BJP parliamentarian and animal rights crusader's care centre for destitute and rescued animals in the capital.
Poor Sick Dog Thrashed On Floor And Beaten On Mouth While The Staff Laughs I received a series of Horrifying videos today from an anonymous reporter about this brutality at Sanjay Gandhi Animal Hospital Its tormenting to the soul to even watch it! @pfaindia @Manekagandhibjp! pic.twitter.com/Qoz4jS5Y0D

— कावेरी भारद्वाज (@TheDogMother_) July 5, 2021
On Saturday, Maneka closed the centre after a furore on social media.
My statement on the recent incident at Sanjay Gandhi Animal Care Centre. pic.twitter.com/AFRrie6pR0

— Maneka Sanjay Gandhi (@Manekagandhibjp) July 10, 2021
While Maneka is known to publicly hound suspects of real or perceived crimes against animals and has also campaigned to end slaughter of any animal, the Sanjay Gandhi Animal Care Centre she runs with sister Ambika Shukla has been mired in controversy.
On Monday, Animal Help Media's Instagram handle tweeted videos of a dog being flung against a wall; the canine bleeding from its mouth, right anterior limb and vagina; and a statement from a girl who described herself as an employee of the centre in west Delhi's Raja Garden. The dog died.
In a video, the girl accused two para-vets named Satyam and Pradeep of cruelty to the dog, and Satyam of assaulting it on its vagina. She also accused them and another employee of threatening her. The phone numbers of both the para-vets, shared in Instagram posts, were switched off.
In subsequent videos, the girl, who did not reveal her name, said the dog had died, the post-mortem had been delayed and that police had not written her specific allegations in the FIR.
Delhi police officers did not respond to queries on the case from this newspaper.
Maneka, the chairperson of the centre, tweeted on Saturday: "Recently a dog was brought in for rescue to Sanjay Gandhi Animal Care Centre (SGACC) in New Delhi. Over the last one year SGACC has been short staffed due to Covid-19 and the two newly hired para-vets were providing support. The rescue took a regrettable turn when the dog — naturally agitated as she was in extreme pain — bit the para-vet, who in turn retaliated with frightful violence. The dog died from her injuries."
She added: "We immediately filed an FIR against the para-vets and they have been arrested. The doctor-in-charge of the section has been given notice to leave…. SGACC has faltered in its mission and needs to be rebuilt again."
Maneka said the centre, started in 1983 on a grant to her late husband Sanjay Gandhi from Australian benefactor Ruth Cowell, would shut on August 1.
"It will be closed to any future rescued, and existing animals will be rehabilitated. We will rebuild this institution again — physically (with the entire dog section rebuilt, with new infrastructure) and more importantly, in terms of staffing," she said.
The video went viral after an online petition for action against the centre and government supervision of such institutions was shared even by Maneka's associates like Noida-based animal rights activist Kaveri Rana Bharadwaj.
The Sanjay Gandhi Animal Care Centre has faced allegations in the past as well.
In April, a Delhi court had ordered an FIR against Shukla, an administrator of the centre, for not complying with a court directive to return three Persian cats to their lawful owner. The order was later stayed by Delhi High Court.
In 2014, a couple had accused the centre of exhuming and dumping without authorisation their dog's carcass from the facility's cemetery despite having charged a burial fee.
Maneka herself has been at the receiving end of public ire after threatening an Agra veterinarian over the phone to compensate for an allegedly botched-up tubectomy. A purported audio of her telling a police officer in Sitapur, Uttar Pradesh, to slap a man accused of hitting a dog last month was widely shared on social media. The man was arrested.