Lynching alien to Bharat: RSS
Bhagwat accused rivals of running a campaign to defame the Sangh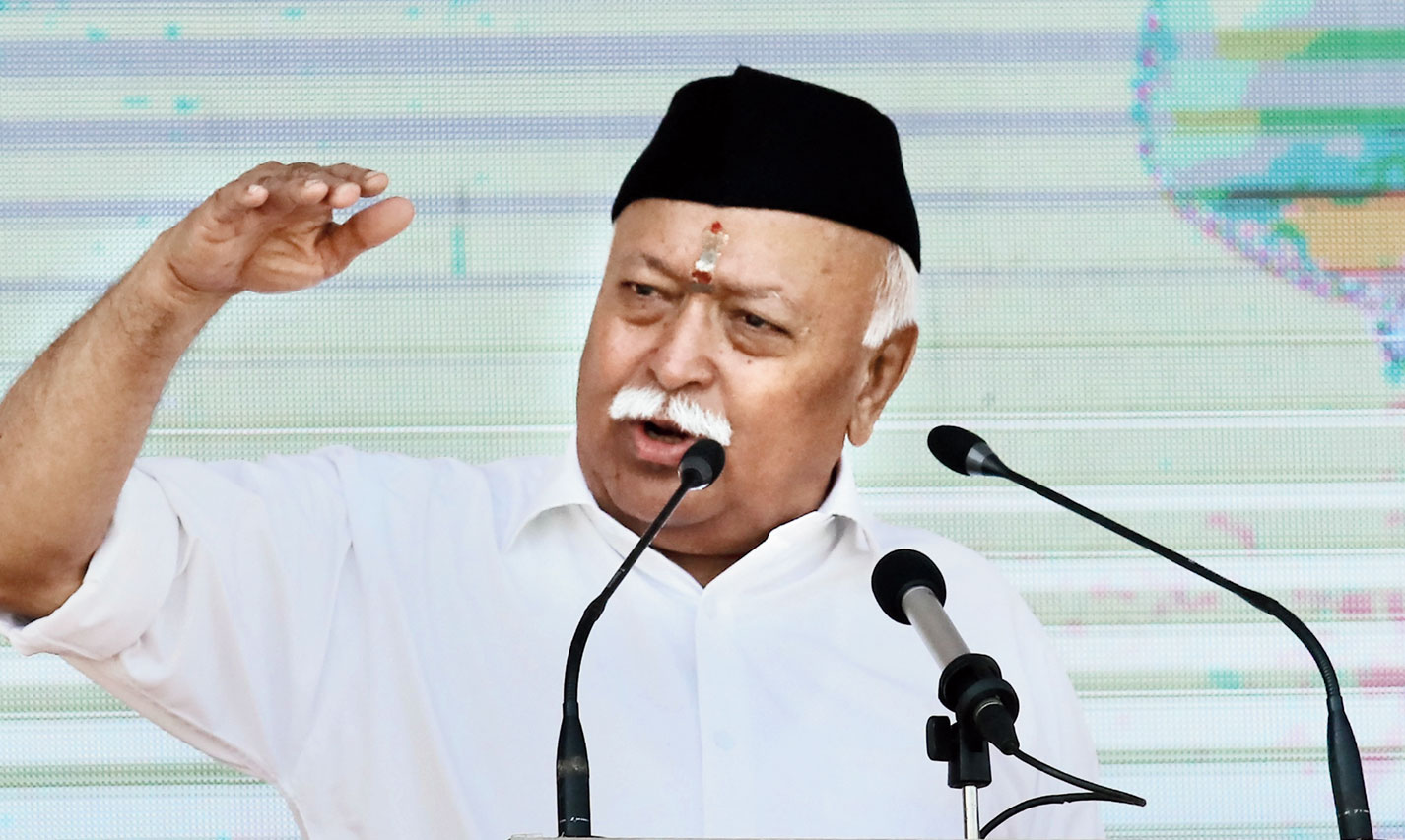 Mohan Bhagwat at the RSS headquarters in Nagpur on Tuesday.
(PTI)
---
New Delhi
|
Published 08.10.19, 06:40 PM
|
---
RSS chief Mohan Bhagwat on Tuesday said the concept of lynching was "alien to Bharat" and was being used to defame the "country and the entire Hindu society".
Speaking at the annual Dussehra celebration at the RSS headquarters in Nagpur, Bhagwat said it was wrong to say only a "certain community" targets people. "We hear that people of a community beat people from another community. It is not that only a certain community targets people. The reverse also happens," he said.
Bhagwat continued: "There are reports of incidents happening from both sides and allegations and counter-allegations. It has also come to light that some incidents have been deliberately fabricated while some others have been deliberately publicised in a distorted manner."
He acknowledged "these tendencies of violence have crossed the limits of law" and said the RSS had never supported the people involved, but objected to the use of the word lynching to describe the killings.
"By branding such incidents by words like 'lynching', denoting traditions which were alien to Bharat and belong elsewhere, efforts are underway to defame our country and the entire Hindu society and create fear among the so-called minority communities," Bhagwat said. "Lynching is not a word from the Indian ethos," he stressed, adding that its origin is in a story in a religious text from outside the country.
Bhagwat accused rivals of running a campaign to defame the Sangh and create hostility in society. "The Sangh is organising the Hindu society…. A relentless and misconstrued campaign is going on to extrapolate this to mean that it harbours hatred against those sections, especially Muslim and Christians, who do not call themselves Hindu," he said.
"There is an orchestrated effort to malign Hindu society and Hindutva through a number of baseless and slanderous allegations," he added.
Bhagwat said the Sangh's "vision" of the "identity of the nation" was "clear, well-thought-of and firm that Bharat is Hindustan, Hindu Rashtra".
He continued: "In the view of the Sangh, the word Hindu is not confined to just those who call themselves Hindus. Those who belong to Bharat, those who are descendants of Bharatiya ancestors, those who are working for the ultimate glory of the nation and joining hands in enhancing peace by mingling with each other and accepting, respecting and welcoming all diversities; all those Bharatiyas are Hindus."
Bhagwat said the word "Hindu" was being misrepresented as a denoting religion.
The RSS chief hailed the return of the BJP at the Centre with a bigger majority and said it was a reflection of the fact that the "people had made up their mind to go in a specific direction".
The Congress responded to Bhagwat's speech with a question. "The country wants to know whether you have a problem with the vocabulary or the heinous incidents of lynching," spokesperson Anand Sharma said.