Lynch hub OCs suspended
Police admit missing rumour pulse, state forms probe panel; 6 held for mob murders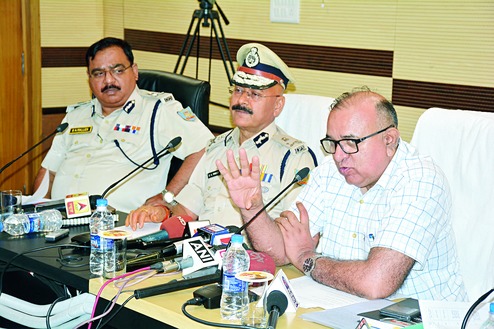 ---
---
Ranchi/Jamshedpur, May 22: Jharkhand police top brass today suspended OCs of Rajnagar and Bagbera, where the May 18 mob murders occurred, admitting policemen had failed to gauge the impact of child abduction rumours relentlessly circulated over social media.
On a day National Human Rights Commission took suo motu cognisance of media reports on the lynchings over suspicions of child kidnaps and sought a report from state DGP D.K. Pandey in four weeks, Jharkhand police went on damage-control mode to speak to the media in Ranchi about what went wrong and what they were doing to fix it.
ADG (operations) R.K. Mallick, DGP D.K. Pandey, state home secretary S.K.G. Rahate and ADG (CID) Ajay Kumar Singh spoke on a multi-pronged approach to control and understand the situation, which ranged from suspending policemen, arresting those identified in mob violence, monitoring social media groups behind child-lifting rumours that sparked the frenzy and forming a high-level probe committee to understand how and why baseless kidnap rumours were floated in the first place.
But, their defensive explanations bared the fact that police had no clue how to tackle a situation where smartphones were the new deadly forms of rumour-mongering.
Also, progress in lynching cases is slow. Yesterday, only two men were arrested for the Rajnagar lynching and four more in the Bagbera case. No fresh lynching arrests took place today, indicating the police were finding it tough to make a dent in closely-guarded villages and catch the culprits.
"When the police came to know about these rumours, thanas held meetings with village heads concerned that they should not trust them (the rumours). But we could not anticipate that these rumours will have such a ramification," Mallick admitted.
In back-to-back incidents on May 18, seven persons were lynched - cattle traders Sheikh Naim, Sheikh Sajju, Sheikh Siraj and Sheikh Halim chased and killed at villages in Rajnagar in Seraikela-Kharswan while brothers Vikas and Gautam Verma and their friend Gangesh Kumar Gupta murdered in Nagadih, Bagbera in East Singhbhum - all because they were strangers in those areas and suspected to be child-lifters.
Though in different districts, Rajnagar and Bagbera are only 15km from each other. On May 20, reactionary protests with a communal slant erupted in Mango, Jamshedpur, over the Rajnagar killings.
On why officers in charge of Rajnagar and Bagbera, Tuleshwar Prasad Kushwaha and Amish Hussain were suspended, the DGP said: "The Rajnagar OC was suspended as he ignored rumours spreading in the area under his jurisdiction. The Bagbera OC was suspended because he failed to protect the lives of innocent people."
Rahate said more arrests would follow, both for the lynchings and the reactionary protests in Jamshedpur.
The state government has formed a two-member committee of Kolhan divisional commissioner Pradip Kumar and DIG Prabhat Kumar to probe the entire matter and submit a report in a month, he added. "Their job is to probe the genesis of the rumours, people behind it, the purpose behind such an act, and several other angles that are unanswered so far," he said.
The home secretary said they were investigating any criminal conspiracy behind circulating such rumours. "We have also questioned the admin (administrator) of a WhatsApp group where such rumours of child-lifters had been circulated. We are also investigating the violence in Mango in Jamshedpur where several policemen were injured," he added.
Both Pandey and Rahate ducked questions on whether it was a intelligence failure or the police simply didn't know how to control rumours and the frenzy they caused. "Do you want to know everything right now?" asked the DGP when asked if the child-lifting rumours had their origins in Jharkhand or Bihar.
The Telegraph is in possession of several screen shots of WhatsApp group conversations on purported child-lift gangs that suggest some mobile numbers are registered in Maharashtra, Bihar and Jharkhand.
The DGP also refused to answer whether politicians were involved in instigating violence in Mango and how a mob killed the youths in Bagbera in the presence of police. Instead he focused on the security measures being taken to control the situation like mobilising rural leaders to ask the masses not to believe rumours.
Today, 14 people were arrested for the violence in Mango and six more for Dhatkidih. Another Adityapur man was arrested from Bistupur for floating a WhatsApp rumour of a bomb blast in Mango last evening. He was arrested under Section 66 A of IT Act.