Love in conflict zone: A giant mourned
Residents vow to remember Maniyan as a beacon of harmony, friendship and affection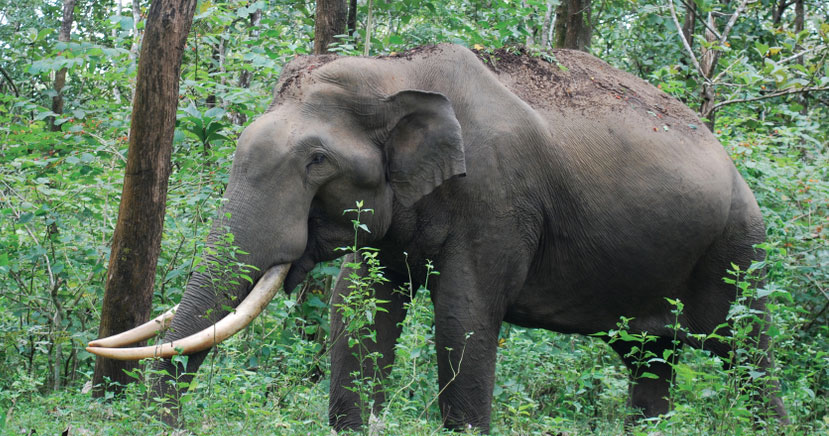 Maniyan, the friendly tusker of Wayanad
(Shutterstock)
---
Kalpetta(Kerala)
|
Published 13.10.19, 09:56 PM
|
---
If a giant statue comes up in Irulam village on the fringes of Wayanad Wildlife Sanctuary next summer, it will not be a symbol of local pride or ambition.
It will signify an effort to preserve forever Irulam's loving memory of its most famous and perhaps most adored character — a friendly wild elephant that many residents considered their "pet", or even a son.
For 37 years, Maniyan had lived amid the people of this agrarian hamlet, never attacking its fields or humans, belying the long history of man-animal conflict in a district where crop-raiding elephants have always been enemy number one.
He would be a regular sight for motorists rushing along the Sulthan Bathery-Pulpally state highway that passes through the village, calmly accepting fruits and vegetables from local farmers and passers-by.
The genial giant's fame spread over the years, first to the nearby forest villages of Kurichiad, Chethalayam, Moonnanakuzhy and Kuppadi, and gradually across swathes of Kerala in this age of social media.
It helped that his overgrown tusks that nearly crossed at the tips made him not just instantly recognisable but eminently photogenic.
Maniyan commanded such affection that even the local ivory hunters in this poaching hotbed knew better than to target him.
So, waking on September 9 morning, Irulam felt as though a thunderbolt had struck it when it learned that forest officials had found Maniyan dead in the Pullumala region of the Kurichiad forest range, its lungs and liver punctured. Apparently, Maniyan had got into a fight with another tusker over mating rights.
The scenes that followed would have rarely, if ever, been witnessed in the history of forest villages in India. Hundreds, including women and children, rushed weeping to Pullumala for a last glimpse of a favourite friend.
As television channels flashed the news, hundreds began pouring in from within and outside Wayanad. Over 2,000 people stood in the rain to watch the autopsy, conducted in the open. The burial was carried out deep inside the forests, away from the public eye.
On September 10, hundreds attended condolence meetings. Silent processions were held in Irulam, Pulpally and Sulthan Bathery. The mourners vowed to always remember Maniyan as a beacon of harmony, friendship, love and care.
Several weeks later, grief still envelops Irulam. The villagers have now approached the forest department to help build a bigger than life-size statue to the elephant, and a fundraiser is to start soon. If all goes well, the statue will come up in six months.
"He may have been the lone wild tusker to enjoy celebrity status in Wayanad. In a way, he had more fans than the celebrated temple elephants of Kerala," farmer and Irulam resident M. Kunjunarayanan, who considered Maniyan a "son", said.
"He made headlines across the state and was the subject of many videos. He never scared anybody and gladly accepted bananas from strangers."
But the elephant beloved of humans seemed to attract only aggression from his brethren. Forest range officer P. Ratheeshan said other wild elephants, especially herds, tended to attack Maniyan whenever he ventured deep into the forests during the musth (mating) period.
The gentle Maniyan, they said, never hit back and as a result would return from the forests with deep wounds.
Forest veterinarian Arun Zachariah, who conducted the autopsy on Maniyan, said the elephant had to be tranquillised three times in the recent past to treat his injuries. For the past five years, the forest authorities had had Maniyan radio-collared to monitor his movements.
Maniyan stood out as an exception in Wayanad, known mainly for rogue elephants and raiding tigers before Congress leader Rahul Gandhi made the area a household name nationwide by contesting and winning the local Lok Sabha seat this summer. Last year alone, tigers killed four people in the 96 human settlements dotting the 354sqkm wildlife sanctuary.
Maniyan's powerful tusks, though, attracted not fear but curiosity and affection. Last November, he became the subject of a unique Facebook campaign that urged forest officials to trim his overgrown tusks, saying they were hindering his free movement and preventing him from feeding well.
After keeping Maniyan under observation for a while, forest officials declared he was in good health and was perfectly capable of feeding himself.
Wayanad Wildlife Sanctuary warden N.T. Sajan explained that only captive elephants had their tusks trimmed, and that doing it to wild elephants would disrupt the natural selection process.
"We chose not to trim Maniyan's tusks. We always want to avoid human interference with wild animals,'' he said.
Few in Irulam, however, would agree to that tag for Maniyan. "To all intents and purposes, he was not a wild elephant. He preferred to live among us as our pet rather than go inside the deep forests," K.V. Biju, a villager, said.