Loss that travel all-clear won't heal
Satya Pal Malik's administration directed the home department to lift the "advisory asking tourists to leave the Valley"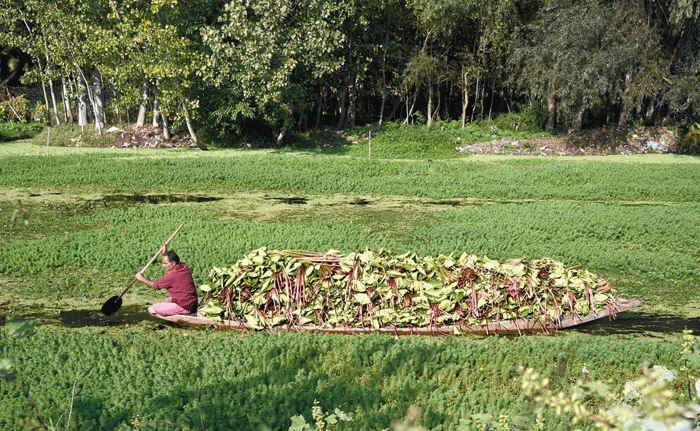 A man rows his boat on the Dal Lake covered with weeds in Srinagar
(PTI)
---
Srinagar
|
Published 08.10.19, 06:50 PM
|
---
The government's decision to lift the advisory to tourists against visiting the Kashmir Valley has not thrilled Gulzar Bhat, a boatman on the Dal Lake who earns a living by taking tourists to the interiors of the water body and is badly hit by the August 2 notice.
Gulzar played a lead role in the 2012 film on Kashmir, Valley of Saints, which won the Sundance Film Festival World Dramatic Audience award that year.
"My name is Gulzar, which means paradise. I am proud that I made the paradise more popular through that film, but today I feel I have lost my paradise. The only thing that will make me part of the paradise again is when they return what they have snatched from us," he told The Telegraph.
The boatman was referring to New Delhi's decision to cancel the state's special status. He said he felt no joy at the government's decision to lift the travel advisory, although it is related to his livelihood. "Let them return our status, the tourists will come with or without the advisory," he said.
The administration of governor Satya Pal Malik on Monday directed the home department to lift the "advisory asking tourists to leave the Valley".
The advisory was issued on August 2, three days ahead of the decision to scrap the state's special status. Thousands of tourists and tens of thousands of non-locals working in Kashmir left following the directive. For weeks there were no tourists but a few have been coming of late.
Gulzar said it was futile to lift the advisory when a crippling information blockade remained in force. "Internet and mobile (phone services) are shut for more than two months. Without these facilities how do you expect tourists to come here?" he asked.
Houseboat owner Neelofar Saleem said some tourists wanted to stay last month but she politely refused. "I am voluntarily keeping my houseboat closed as a mark of protest against the government's decision to withdraw our special status," she said.
"We are hit economically by the closure and will eat grass and dal-roti. What matters to me personally is that we have been shorn of our identity. They should restore it first before doing other things."
Neelofar said she would not protest against the communications blockade because it obscured the larger issue of the state's special status. "I feel happier without Internet and mobile as I am able to spend more time with my family and kids," she said.
Another boatman, however, said the shutdown and blockade had hit him hard.
"If tourists are here we make a living. Otherwise, we will go hungry," the boatman said, adding that he sometimes got customers once a week.