Liquor bottles found at Bihar Legislative Assembly premises
The incident gave the Opposition a chance to blast chief minister Nitish Kumar as prohibition is widely considered his pet project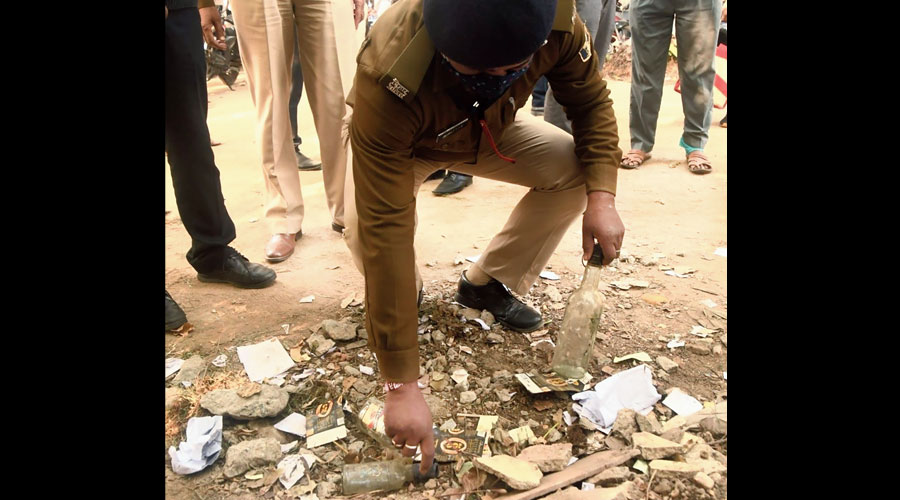 A policeman removes liquor bottles from the Assembly premises on Tuesday.
Picture by Sanjay Choudhary
---
Patna
|
Published 01.12.21, 02:35 AM
|
---
The Bihar Legislative Assembly was shocked as empty bottles and tetra packs of different brands of Indian-made foreign liquor were found inside its premises on Tuesday.
The incident gave the Opposition a chance to blast chief minister Nitish Kumar as prohibition is widely considered his pet project, which he is not ready to drop despite widespread criticism, poor implementation and deeply entrenched mafia that is using it as an opportunity to mint money. The state was declared dry in April 2016.
The incident occurred at a time the winter session of the Assembly is going on and the entire campus and adjoining areas have been turned into a fortress with heavy deployment of police. Apart from it the lower House has its own permanent staff and security paraphernalia.
The empty bottles and packets that were lying in a heap of garbage seemed to have been swept and deposited by sweepers in the morning. Somebody noticed it and the information spread like wildfire.
Leader of Opposition Tejashwi Prasad Yadav and several MLAs of his party Rashtriya Janata Dal (RJD) rushed to the spot to take a look. They attacked Nitish over the failure of prohibition.
"The legislative Assembly is a temple of democracy, but liquor bottles are being found on its premises. This shows that prohibition has completely failed, and officers and ministers are involved in it. These could not have been found here without the nexus of the administration with the liquor mafia. The bottles could not have reached Patna, which is located far away from the state's borders," Tejashwi said.
Tejashwi, the younger son of RJD chief Lalu Prasad, hit out at Nitish and said the recent oath taking by government officials and ministers to lifelong abstain from liquor was just a farce.
"The Assembly is like a cantonment, yet liquor bottles have been found here. The chief minister will blame us for this, but will not take action against his ministers and legislators who remain intoxicated," he added.
Nitish, who was in the Lower House, said: "I did not know about this as I was involved in some other work. This is intolerable."