More confident, doctors now respond on the go
Life-and-death chess battle with Covid
More confident, doctors now respond on the go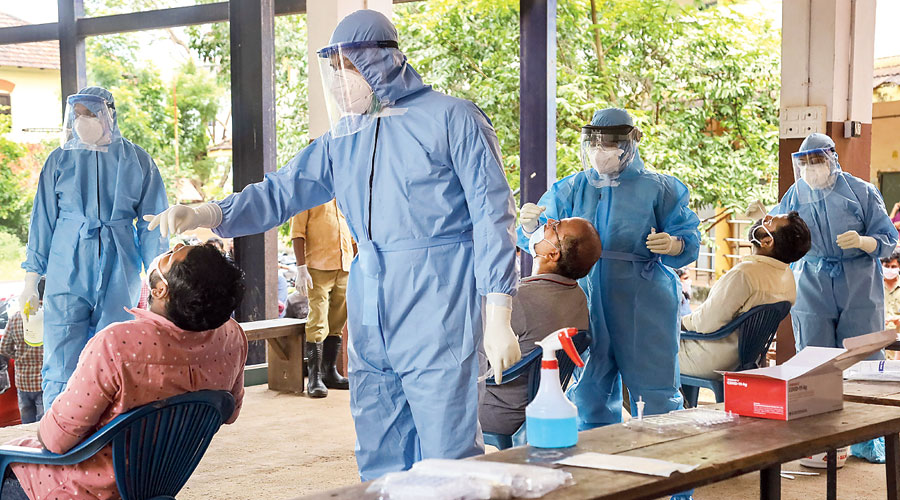 Health workers collect samples for Covid-19 testing at Karipur airport in Kerala on Sunday.
PTI
---
New Delhi
|
Published 17.08.20, 02:02 AM
|
---
Critical-care specialist Srinivas Samavedam is engaged in what he calls a life-or-death "chess battle" with Covid-19, monitoring every move the coronavirus makes to plan timely countermoves.
Each time Samavedam or his colleagues at Hyderabad's Virinchi Hospitals or their peers across India treating severe Covid-19 cases get their counter-strikes right, a patient goes home.
"We're winning more now than we were three months ago," said Samavedam, general secretary of the Indian Society for Critical Care Medicine, a professional body.
India has recorded a steady fall in its Covid-19 case fatality rate (CFR) — the proportion of deaths among lab-confirmed patients — from 3.33 per cent in mid-June to 2.57 per cent in mid-July and 1.93 per cent on August 16.
The 1.4 percentage point fall in the CFR would translate into more than 870 deaths averted daily or over 6,000 patients saved weekly based on India's average of 62,382 new cases per day for the week ending August 15.
India's health ministry too has reported a fall in ventilator use among Covid-19 patients — from 0.45 per cent in mid-May to 0.27 per cent in mid-July.
The falling CFR and reduced ventilator use, doctors say, are outcomes of the rising counts of lab-confirmed cases through increased testing, as well as improvements in how the patients are being treated.
"Treatment strategies have changed. We're still learning but we're more confident about what we should do and what works now than three months ago," said Anjan Trikha, professor of critical-care medicine and head of Covid-19 management at the All India Institute of Medical Sciences, New Delhi.
"We now use non-invasive oxygen delivery strategies more often than earlier and the (invasive) ventilators only when non-invasive methods fail."
Health ministry officials have attributed the fall in CFR to early diagnosis and effective treatment under the standard guidelines made available to doctors nationwide. Doctors from AIIMS too offer online guidance twice weekly to their peers across the country.
"We now see oxygen as a drug," said Yogiraj Ray, a senior consultant in charge of the Covid-19 critical-care ward at the Infectious Diseases Hospital, Calcutta. "We take into account the dose, the delivery mode, and target the oxygen levels we want in the patient."
Early reports from China and Italy had prompted doctors worldwide to offer invasive ventilation to most Covid-19 patients with severe oxygen deprivation.
Although non-invasive oxygen delivery was an option, doctors often chose to put their patients on ventilator — which requires intubating them — out of fear that patients receiving non-invasive oxygen might generate aerosols and endanger hospital staff.
"Over time, with experience, when some patients rejected the ventilation option, we realised this was an unfounded fear," said a senior doctor at a private hospital. Doctors believe that the lowered ventilation rates will reduce deaths.
Ventilation — an invasive process in which oxygen is pumped through a tube inserted into the throat — carries health risks. Doctors have underlined that the average mortality among patients put on ventilator for other causes of pneumonia is between 35 and 45 per cent.
"I have 34 Covid-19 patients who need oxygen now; 14 are on non-invasive ventilation, six are on high-flow oxygen," Samavedam said on Sunday. "Three months ago, all 34 would be on invasive ventilation."
Falls in death rates and in ventilator use have been observed in other countries too. In the UK, for instance, deaths among Covid-19 patients in hospital fell from 6 per cent in early April to 1.5 per cent in mid-June.
During the early weeks of the pandemic, doctors viewed severe Covid-19 primarily as severe pneumonia with acute respiratory distress syndrome (ARDS) — caused also by myriad other microbes, including the H1N1 influenza virus.
"We now know that Covid-19 is not classical ARDS," said Sumit Ray, head of critical-care medicine at the Holy Family Hospital, New Delhi.
"The infection may also lead to small clots in blood vessels and other complications. We need to look out for signals of such complications as early as possible."
Ray added: "As we learn more about a new infection, survival rates improve."
He underlined that mortality among patients with severe H1N1 was 60 per cent when the infection first emerged. "But by the second season, mortality had dropped to 40-45 per cent, which is typical for all viral ARDS," he said.
Doctors say that a Covid-19 patient's survival hinges on, among other factors, the physician's ability to quickly recognise how the infection is affecting the patient's physiology and respond with timely interventions.
"It's like a chess battle — we have to keep an eye on what the virus is doing," Samavedam said.
Daily blood tests allow the doctors to look out for specific biochemical markers or signatures of trouble.
If levels of a marker called d-dimer — associated with the risk of blood clots — increases, the doctor gives the patient an anti-clotting drug. If a marker called interleukin-6 — associated with an inflammatory condition called a cytokine storm — increases, the doctor introduces cytokine filters or anti-cytokine-storm drugs. When a marker linked to viral proliferation increases, the doctor administers an anti-viral.
"We calibrate treatment according to the behaviour of the virus," Samavedam said.
But doctors say that it would be a mistake to infer that the reduced need for ventilators means that Covid-19 patients do not require invasive ventilation at all.
"The challenge is to identify early the patients who need ventilation and offer it in time," said Shikha Panwar, a critical-care medicine specialist at the Sarvodaya Hospital, Faridabad.
"Most of the critically ill patients recover after non-invasive ventilation or high-flow oxygen. But a small percentage of such patients can't maintain their oxygen levels through non-invasive oxygen. Denying ventilators to such patients is not justified."
Panwar recalled a 55-year-old patient who she believed needed invasive ventilation. "But he refused and kept on demanding high-flow oxygen. He survived but his lungs are fibrosed and he still needs extra oxygen a month after discharge," she said.
Timely invasive ventilation can be crucial, doctors have emphasised amid concern that some patients or their families have been refusing invasive ventilation because of its risks.
"A small subset of Covid-19 patients will need invasive ventilation," said Ray at the Holy Family Hospital. "The ventilator settings in Covid-19 are slightly different. We've learnt that over time."
In one hospital, a 36-year-old patient in a critical condition refused ventilation for six days, insisting on non-invasive oxygen delivery.
"Finally, we intubated him after the six-day delay but he died six days after intubation," the patient's treating doctor said. "We had lost time."
The health ministry on Sunday recorded 63,490 new Covid-19 cases, which raised the total number of lab-confirmed cases above 2.58 million, of whom 677,444 patients are under medical supervision, over 1.86 million have recovered and 49,980 have died.