Govt scheme leaves thousands of kids in the lurch
Life after Covid took one parent
Child rights activists say that children orphaned by the disease make up a small fraction of children rendered extremely vulnerable by the pandemic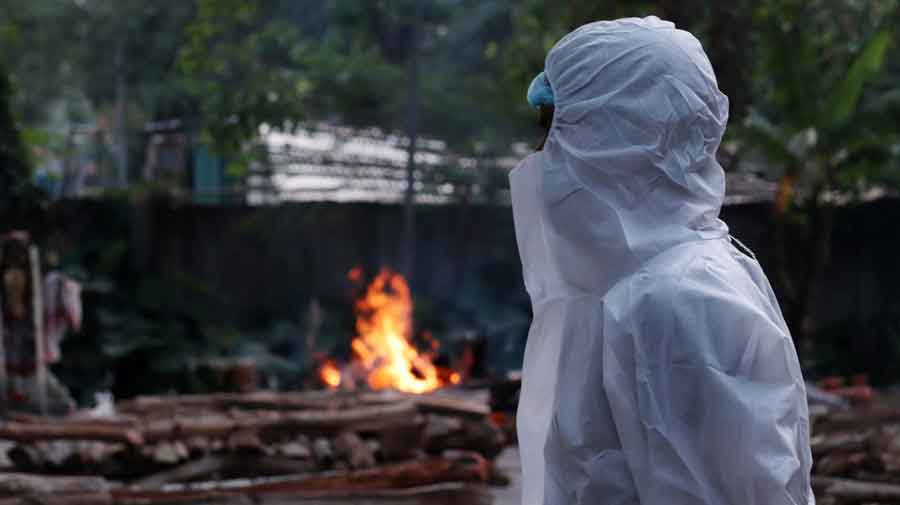 "The Centre has announced help only for children who have lost both parents to Covid. But my wife was the sole earning member and her death has left us devastated in every sense," Vijay said.
Shutterstock
---
New Delhi
|
Published 21.06.21, 01:25 AM
|
---
When schoolteacher Dimple Arora died of Covid in April, she left husband Vijay Jagga with not just a sense of loss but deep anxiety over the future of their child.
Jagga, 45, is worried how to afford the education of daughter Niharika, a Class XI student who aspires to be a doctor, and save their house from being auctioned off by their bank.
Dimple, who taught at the Kendriya Vidyalaya Pragati Vihar here, had bought the Faridabad house with a loan from the State Bank of India. Her death stopped her salary, leading to EMI default. The bank has frozen her salary account and initiated the process of seizing the house.
Vijay had lost his job with a private firm during last year's March-May national lockdown and is yet to find another. Dimple, who wanted Niharika to become a doctor, had got her admitted to a private coaching institute against a quarterly fee of Rs 25,000, paying which has become a challenge for her husband.
Vijay will not receive any family pension or death gratuity. Dimple had been recruited in 2007 after the Centre had abolished the traditional pension scheme and brought in the National Pension Scheme (NPS) without family pension or gratuity. Vijay will only receive what Dimple and her employer contributed under the NPS.
"Every single day, the burden is increasing on us. I have borrowed from relatives. I have visited the school four times to have my NPS dues processed. I'm worried about my daughter's education," he said.
Vijay and Niharika will get no help from the central government, either.
"The Centre has announced help only for children who have lost both parents to Covid. But my wife was the sole earning member and her death has left us devastated in every sense," Vijay said.
"The government should think of helping all the children who have lost a parent, and even those whose parents have lost their jobs."
It's a demand being echoed by child rights activists who say that children orphaned by Covid make up a small fraction of children rendered extremely vulnerable by the pandemic, and the government's scheme therefore leaves thousands of such children in the lurch.
Several state governments too have announced help — again, only for children orphaned by Covid.
As for Vijay, he did not receive any ex gratia from the KV Sangathan, either. He is unsure if he would get any job on compassionate grounds because the list of aspirants is long and the backlog stretches back years.
The schemes
On May 29, the Centre announced a corpus of Rs 10 lakh from the PM-Cares fund for each child who has lost both parents to Covid. The money will be available only when the children turn 18.
For five years after turning an adult, the child will receive a monthly payment towards higher education and then the balance as a lump sum at the age of 23.
Those orphaned by Covid and aged below 11 years have been offered admission to a Kendriya Vidyalaya or a private school. The government will bear the expenses on tuition, uniforms, textbooks and notebooks. But if the child has to shift from a village to a town for KVS admission, the government will not pay for lodgings or food.
Those aged 11 to 18 years have been offered seats at central government-run residential schools where hostel and mess charges will be waived too.
For higher studies, the children will receive scholarships or subsidised education loans. They will be covered under government health insurance.
Many excluded
The National Commission for Protection of Child Rights (NCPCR) told the Supreme Court on June 6 that 3,621 children had been orphaned by Covid while 26,176 had lost one parent between April 1 and June 5 this year.
The NCPCR added that 274 children had been "abandoned" by parents impoverished by the pandemic.
Figures for the entire pandemic period from March last year could not be obtained from any authority.
Enakshi Ganguly, child rights activist and co-founder of HAQ: Centre for Child Rights, said the central and state governments' schemes for children orphaned by Covid might draw public attention and create an impression of the authorities being proactive, but they left out the vast majority of Covid-hit children.
"Many children have been orphaned but many more have lost one parent, who may have been the sole breadwinner for the family. According to the NCPCR, many children have also been abandoned. They really need to be supported by the State," she said.
"By announcing help for the orphans, the government has gone for the lowest-hanging fruit to create hype. It has ignored a much larger segment of vulnerable children who are staring at a bleak future."
Madhya Pradesh, Rajasthan, Himachal Pradesh, Uttarakhand and Punjab have announced monthly allowance schemes for children orphaned by Covid.
Tamil Nadu and Andhra Pradesh have announced fixed deposits that can be withdrawn after the child turns 18; while Maharashtra, Kerala and Karnataka have announced both a monthly allowance and a deposit.
Ganguly also cited problems with the implementation of the government scheme because of the requirement for documentation. For instance, the child must furnish an RT-PCR test report of the dead parent, or the parent's name must figure in the government's record of Covid deaths.
"During these abnormal times, the procedure should be smooth and simple," Ganguly said. "Without proper coordination and guidance, there will be confusion and the children will fall through the cracks."
An email sent to the women and child development ministry on June 1 seeking its reaction to the calls for government support for all children who have lost one parent to Covid or been left vulnerable for other reasons has remained unanswered.