Lethal message: Leave Kashmir
Some 18 non-local labourers were "spared" during the attack at Trenz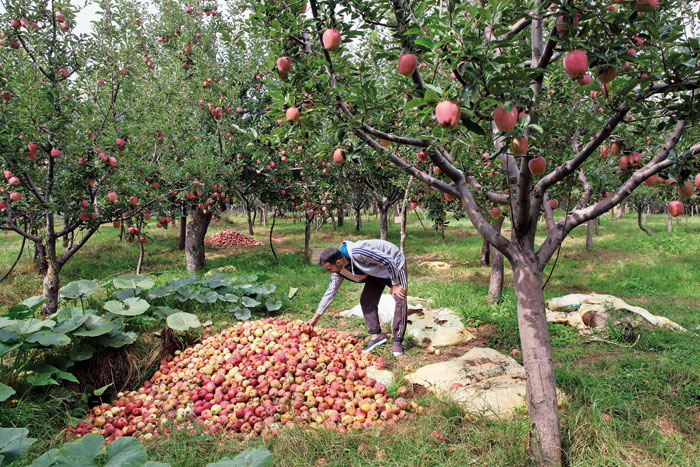 ---
|
Srinagar
|
Published 17.10.19, 10:19 PM
---
Militants separated the labourers from the traders before shooting and killing one non-Kashmiri apple trader in a Shopian village on Wednesday night and injuring his associate critically, an eyewitness said.
Some 18 non-local labourers were "spared" during the attack at Trenz, but the message from the militants was clear: leave Kashmir at the earliest.
The attack killed Charanjit Singh and has left his fellow Punjab resident Sanjiv Kumar, 25, fighting for his life at a Srinagar hospital.
Another attack in Shopian killed Sethi Sahas Sagar, a labourer from Chhattisgarh. On Monday, a trucker from Rajasthan, Sharif Khan, fell to insurgents' bullets in Pulwama district.
According to the local apple growers and some officials, "many" terrified non-Kashmiris began fleeing the Valley at daybreak on Thursday. But the Shopian district administration insisted that only "a few" had left and that most non-Kashmiris had "surprisingly" stayed on, some with security forces' protection while some have moved in with their Kashmiri partners and employers.
The attacks are being seen as a campaign to either drive non-Kashmiris out or enforce a shutdown that would preclude all businesses, including the apple trade.
A youth from Trenz village, a local partner of Charanjit and Sanjiv, said the militants had rounded up about 18 non-local labourers and Charanjit around 7pm. The Telegraph is protecting the youth's identity for his safety.
"It was dark. Sanju (Sanjiv) and I were less than 100 metres away but had no idea what was happening. As we drove close to them in my car, two armed militants forced us to stop and asked us to switch off the lights. As we got off, they hit us hard with their AK-47 rifles," he told this newspaper.
"They separated the traders from the labourers, who were let go after being told to leave (Kashmir). They asked the three of us (Charanjit, Sanjiv and him) to walk towards a particular place to load apples. We had walked barely a few metres when they fired at us from behind. I crawled to a side and saw a truck go up in flames."
The youth said that after the militants left, he and two other local people took Charanjit and Sanjiv to Pulwama hospital. Charanjit died on the way and Sanjiv was shifted to Srinagar's SMHS hospital where he underwent surgery. The youth is attending on him at the hospital, where he was joined by Sanjiv's relatives in the morning.
The youth's brother said his family had shifted the labourers who had survived the attack to their home but an army team later took them to their camp. "An army major told me they have left for their home states, but I'm not sure," he said.
Shopian deputy commissioner Yasin Chowdhary denied any exodus and said the attacks "did not seriously sabotage our (apple) trade --- even we are surprised that things are still going on".
Chowdhary said the administration had created five "points" and several "sub-points" — safe zones — where traders would feel secure enough to conduct business.
The Rs 10,000-crore fruit industry had become a casualty of the revocation of Jammu and Kashmir's special status, with militants, street protesters and even some apple growers calling for a stoppage to exports as a mark of protest.
Posters attributed to militants later warned the growers against exporting apples. Several apple growers, however, have told this newspaper that the militants recently allowed them to harvest their crop.