Leh journalists bribe case: BJP attempts division by region & religion
Party has been left red-faced since video footage emerged of the purported bribery attempt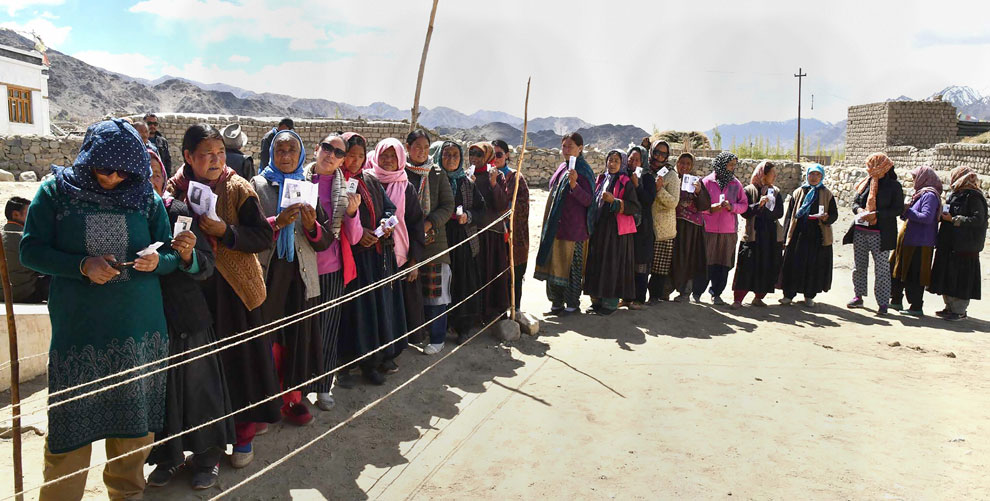 ---
Srinagar
|
Published 09.05.19, 01:39 AM
|
---
When in crisis, use religion.
The state's embattled BJP leadership appeared to be doing just that as it has discovered a ploy to malign Hindu-majority Jammu in the Leh Press Club's claim that the party had tried to bribe journalists ahead of the May 6 elections to the Ladakh parliamentary seat.
The party has been left red-faced since video footage emerged on Tuesday of the purported bribery attempt last Thursday, allegedly to influence coverage ahead of Monday's vote.
The purported incident took place two days before a Union minister was to address a rally in Leh.
The Press Club has filed a complaint with the Election Commission, which has sent a report to a court in Leh.
BJP leaders, including legislative council member Vikram Randhawa and spokesperson Sunil Gupta addressed a media conference in Jammu on Wednesday to clear the air about the controversy.
A person resembling Randhawa was seen in the purported footage distributing envelopes, which, according to Leh journalists, contained cash. The journalists had immediately returned the packets.
"We say with regrets that some of our well wishers (in Jammu), with whom we have blood relation, are trying to highlight it (the issue). Who(ever) gives them (such allegations) shelter are those who are opposing us in Kashmir. They are shaming us on social media," Randhawa told reporters in Jammu.
While Buddhists make up most of Ladakh's population, Muslims form the majority in Kashmir. Jammu is a Hindu-dominated region.
Although the BJP leaders did not say that people of one community were maligning the other, the insinuation was clear.
"This shame could be for the entire Jammu," Randhawa said.
It was clear that he was appealing to the regional sentiments of journalists in Jammu, some of whom had highlighted the purported bribery attempt.
Many in Kashmir, too, including former chief minister Omar Abdullah, have called for action against the BJP leaders.
Randhawa wondered why Jammu journalists were highlighting a matter that, according to him, may have been orchestrated in Kashmir.
"To counter them, dear journalist friends (in Jammu) who know us, and have personal relations with us, you clarify that any BJP men from Jammu will never try to bribe journalists," Randhawa said.
The BJP leader hit out at the Leh Press Club and questioned the "character" of the Leh journalists.
"Friends, I am telling you about the character of Leh, how great a character (tauntingly) they have. These same journalists enjoyed a lavish lunch with us for one hour. Is that not bribery? It was not ordinary lunch, normally if there are 10 people, it will cost Rs 1,000 or Rs 2,000 but that cost us Rs 11,000," Randhawa, who is the BJP's Ladakh in-charge, said.
"This is journalism of Leh. You (Jammu) are much better than them. I was saying it in Leh that they should learn journalism from Jammu people. Jammu people (journalists) have a character, they are neither involved (in corruption) nor allow others to get involved," he said.
The BJP leader's appeal did little to dissuade Jammu journalists from asking tough questions.
When Randhawa later claimed that the party doesn't even serve tea to journalists in Jammu, he was confronted with questions on why lunch had been served to the Leh journalists.
Randhawa said that was "for the sake of hospitality".
The BJP leader claimed the Congress was behind the alleged plot, citing as proof that some journalists had asked BJP leaders tough questions during a media conference in Leh last week to corner the party's state unit chief, Ravinder Raina.
Leh Press Club president Stanzin Morup said it was a professional body of journalists who don't work for any political party.
He said the journalists had agreed on lunch after BJP leaders had insisted and said it was the "general practice" elsewhere in the country and outside.
"They have no point to raise and are now making an issue out of it. The CCTV footage is clear that we returned the envelopes there and then after we found cash in them," he said.