Legal notice seeks genetically modified food draft withdrawal
The FSSAI had set a Feb 5 deadline for public feedback on its proposed regulations that outline procedures through which GM foods can be imported in the country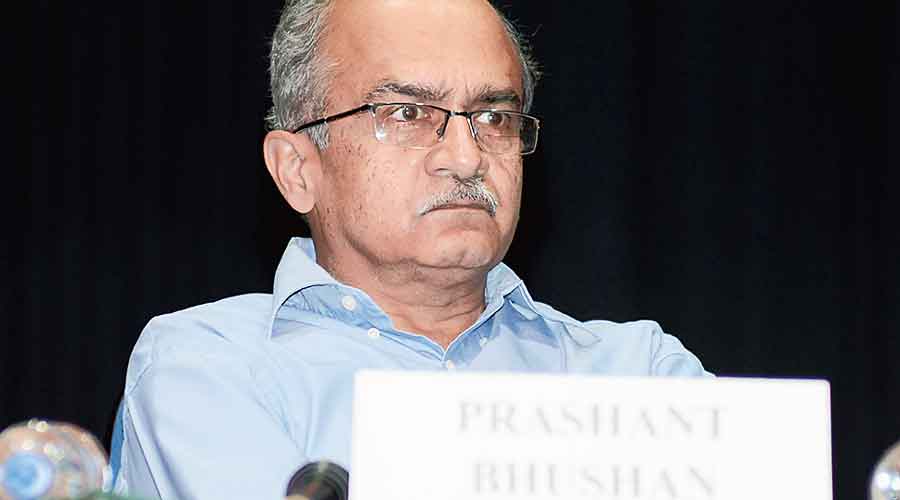 Prashant Bhushan.
File photo
---
New Delhi
|
Published 06.02.22, 02:53 AM
|
---
A citizen petitioner has through a legal notice asked India's food authority to withdraw its draft rules on genetically modified foods, saying its proposals would breach environmental regulations and dilute food labelling requirements directed by the Supreme Court.
The notice, sent on Friday to the Food Safety and Standards Authority of India by Supreme Court advocate Prashant Bhushan on behalf of petitioner Aruna Rodrigues, asks the FSSAI to "reconsider" the draft rules, arguing they are "not in public interest".
The FSSAI had set a February 5 deadline for public feedback on its proposed regulations that outline the procedures through which GM foods can be imported and released in the country. Some farmer groups too had last month opposed the draft regulations.
Many countries are commercially cultivating edible GM crops, including maize, soya and papaya, but India has so far allowed the cultivation of only GM cotton amid longstanding opposition to such crops and food by some farmer and consumer groups.
Indian scientists have helped develop and evaluate through field trials GM brinjal and mustard, but both crops remain unapproved for commercial cultivation. Sections of farmer groups, however, are wary about GM foods entering India through imports.
The legal notice has flagged a clause in the draft regulations under which GM foods that do not contain living modified organisms can be directly examined by the FSSAI for food safety, asserting that this runs counter to Union environment ministry rules framed in 1989.
The 1989 rules require that the import of any genetically modified organisms (GMO), "whether living or not, whether processed or not", is assessed by the environment ministry's Genetic Engineering Appraisal Committee (GEAC), the notice says.
The proposal to bypass the GEAC is "blatantly illegal" as it breaches the 1989 rules, the notice says.
It has also objected to a proposal that requires only those food products that contain at least 1 per cent genetically engineered ingredients to display the label: "Contains GMO/ Ingredients derived from GMO."
Consumer groups have long argued that food labelling is critical to enabling choice for those who do not wish to eat GMOs through foods.
The notice underlines that the Supreme Court had in May 2007 said there should be "no contamination" of non-GM crops from field trials of GM crops and directed that the detection level should be at least 0.01 per cent.
Some farmer and environmental groups had also written to the FSSAI last month asking for the GMO labelling threshold to be 0.01 per cent, saying consumers' "right to know and right to informed choices should not be diluted in any way".
The legal notice sent by Bhushan has also questioned proposals in the FSSAI's draft rules to use food laboratories to test GM food samples. It has cited how a Supreme Court-appointed technical advisory committee had in 2013 cautioned that India's regulatory system to examine GMOs was "in a shambles" and urged a moratorium on the approval of GMOs.
"It is difficult to believe any existing laboratory can be designated as a GM food testing laboratory by the FSSAI, since those laboratories would require much more stringent testing mechanisms," the notice says.
Scientists in India who have helped develop or evaluate GM crops such as brinjal and mustard have argued for years that such produce will be critical to feeding the nation amid the challenges posed by shrinking farmland, degraded cultivable land, and climate change.
GM mustard plants developed by researchers at Delhi University, for instance, have in trials promised 25 to 30 per cent higher yields than standard mustard varieties. Its developers have said the GM mustard would help India reduce its edible oil import bill.