Left leaders Yechury, Raja turned back from Kashmir
Sitaram Yechury and D. Raja were detained in a Srinagar airport room and forced to return on Friday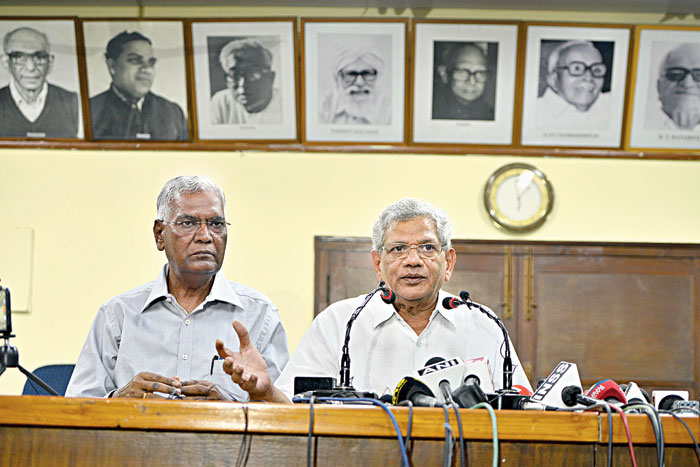 Sitaram Yechury (right) in New Delhi
Picture by Prem Singh
---
New Delhi
|
Published 09.08.19, 09:28 PM
|
---
CPM and CPI general secretaries Sitaram Yechury and D. Raja were detained in a Srinagar airport room and forced to return on Friday after the authorities refused to even allow them access to the city under escort citing law and order.

Citing Prime Minister Narendra Modi's claim in his national broadcast on Thursday that there was normality in Jammu and Kashmir and people were happy with the scrapping of the state's special status, the CPI's national secretariat asked that if this was true, why were political leaders being detained.
On Thursday, Congress veteran and former Jammu and Kashmir chief minister Ghulam Nabi Azad, too, had been detained and sent back from the airport when he tried to visit Srinagar, prompting the Congress to ask why such restrictions were being imposed if the situation was normal in the Valley.
Yechury and Raja had informed governor Satya Pal Malik in writing on Thursday of their intent to visit Srinagar to meet party workers since they had no information about their whereabouts or their wellbeing.
Yechury had also mentioned that he wanted to meet four-time CPM MLA Mohd Yusuf Tarigami, who is under house arrest and is said to be unwell.
The two Left leaders flew into Srinagar together on a morning Indigo flight and were detained the moment they landed.
Briefing reporters in New Delhi on their return in the evening, Yechury said: "We were met by a posse of policemen. They took away our bags and told us that they were under order to send us back on the same flight. We refused; saying that we have return tickets and would return only on the scheduled flight."
At first the policemen did not have any written orders to show and when Yechury insisted, they came back with a magistrate's order mentioning that the leaders could not enter Srinagar.
"It stated that even with escorted movement, entry to the city was not allowed because of security reasons," Yechury said.
Raja said the two Left leaders were not allowed to leave the room they had been kept in while they waited at the airport for their return flight. "We were not even allowed to move around the airport lounge."
The CPM politburo, in a statement, described the detention of the leaders as reflective of the "authoritarian face of the BJP government".