Leeway on nixed CBSE chapters
Teachers can refer to deleted chapters while teaching but cannot set questions on them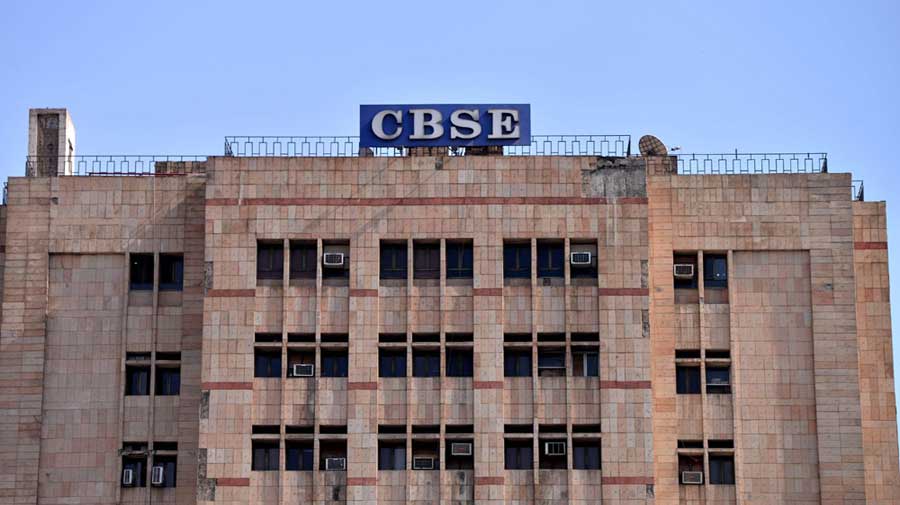 ---
---
The Central Board of Secondary Education (CBSE) has allowed schools to include deleted chapters in internal assessments if they have already been taught, while standing by the Covid-linked syllabus pruning despite criticism for dropping sections on federalism, secularism, democratic rights, caste and nationalism.
The CBSE has reduced the syllabuses for Classes IX to XII by 30 per cent to ease the curriculum pressure on students amid the pandemic that has shut down physical classes.
The board had said that although teachers could refer to the chapters while teaching, questions could not be set on them in internal assessments and the board exams.
In a circular issued on Wednesday to the heads of affiliated schools, CBSE director, academics, Joseph Emmanuel said: "…It is clarified that if any school has covered topics that are not a part of the 'Revised Academic Curriculum for Classes IX-XII in the session 2020-21', the same can be a part of internal assessment and credit to students be given for board exams 2021."
Under the CBSE system, internal assessments in every subject carry 20 per cent weightage while the final or board exams have 80 per cent. Internal assessment is done through quiz, short-answer-type questions and projects on the topics taught.
According to the shortened syllabus, the political science paper for Class XI will not have the chapters on federalism, secularism and citizenship.
The board has also deleted chapters on reproduction, evolution, environmental issues, mathematical reasoning, gender, democratic rights, caste and popular struggles and movements.
Over 500 academics had earlier this week petitioned the board to restore the deleted chapters and consult the writers to find out if certain details and examples could be dropped instead.
"Many schools have started online classes and are likely to have taught some of the deleted chapters. The inclusion of these chapters in the internal assessment is a good decision since students will learn these topics and the efforts of the schools will have a relevance in the final board exams," said Kiran Mehta, director (academics) of Mother Mary School in Delhi.
The principal of a school who did not wish to be named said most schools were likely to skip the chapters that have been deleted.
"If some schools have already taught some of the chapters, they may include them in the internal assessment. Otherwise, schools will largely omit these chapters from teaching-learning activities," the principal said.
Prof. Kumkum Roy, a faculty member of history at JNU and a signatory to the petition to the CBSE seeking a revocation of the deletions, said: "In view of the fact that the circular clearly states that schools may use these portions for internal assessment only if they have been already covered, and given that it is unlikely that these themes would have been covered so early in the school session, the chances of these portions being used even for internal assessment are virtually non-existent. As such, the basic concerns of the petition remain."