Land-for-job case by CBI on Lalu Prasad and kin
They had allegedly accepted over 1 lakh sqft of land in Patna from candidates either as gifts or at discounted rates in return for Group D jobs in railways during 2004-09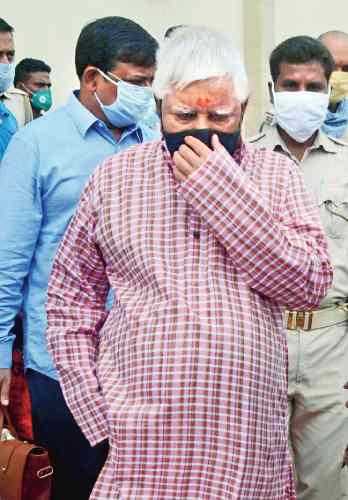 ---
New Delhi/Patna
|
Published 21.05.22, 01:18 AM
|
---
The CBI has registered a case against then railway minister Lalu Prasad and his family members in connection with a land-for-jobs case, conducted raids at their residences and questioned the veteran leader.
Lalu, also Bihar's former chief minister, and his family had allegedly accepted over 1 lakh sqft of land in Patna from candidates either as gifts or at discounted rates in return for Group D jobs in the railways during 2004-09.
CBI sleuths searched 16 locations tied to Lalu and his family in Delhi, Patna and Gopalganj. The agency has named Lalu, his wife Rabri Devi and daughters Misa Bharti and Hema Yadav, in addition to 12 people who were given jobs in railway zones in Mumbai, Jabalpur, Calcutta, Jaipur and Hajipur, CBI officers said.
The candidates were appointed as substitutes in the Group D category in "undue haste" within three days of applying and were later regularised. In return, these people allegedly gifted their or their family members' land to the accused or sold plots at throwaway prices, according to the CBI. The transfers were made through three sale deeds in the name of Rabri Devi and one in the name of Misa Bharti and two gift deeds in the name of Hema Yadav, according to the CBI.
One sale deed was executed in the name of a company called A.K. Infosystems Private Limited in which Rabri Devi became a majority shareholder in 2014 and is currently one of the directors, the FIR alleged.            
Lalu's family allegedly paid Rs 3.75 lakh to Rs 13 lakh for the plots they acquired, which according to circle rates were approximately valued at Rs 4.39 crore, the CBI alleged.
CBI sources said Lalu helped more than 111 people from Bihar illegally get Group D jobs in different railway zones in lieu of money and land. These positions were not advertised for recruitment. Apart from them, around 150 people from Rajasthan, Uttar Pradesh, Delhi and Haryana were also given jobs in a similar manner.
The simultaneous raids began around 6am and continued for more than six hours at most of the places. The sleuths searched the entire residence of Misa in Delhi where Lalu is also staying after securing bail in Rs 1,000-crore fodder scam cases. The CBI officers questioned Lalu, Misa and her husband Shailesh Kumar.
When a CBI team of around 10 officers reached Rabri's 10 Circular Road residence in Patna, her elder son Tej Pratap Yadav was also present there. Rabri refused to talk to the CBI officers on the ground that she had no idea about the case. She summoned two of her lawyers and interacted with the sleuths in their presence. Tej Pratap was questioned for an hour. A private key-maker was brought in to open two locked rooms.
A large number of RJD supporters, leaders and legislators assembled outside Rabri's residence and shouted slogans against the CBI, the BJP and Prime Minister Narendra Modi and burnt their effigies.
"It was alleged that the then minister of railway during the period 2004-2009 had obtained pecuniary advantages in the form of transfer of landed property in the name of his family members, etc, in lieu of appointment of substitutes in Group D posts in different zones of the railways," a CBI spokesperson said.
The CBI alleged that 1,05,292sqft of land in Patna were acquired by Lalu's family members.
The fresh case comes weeks after Lalu was released on bail in connection with a fodder scam case in which he was convicted by a special court in Ranchi.            
Lalu's Rashtriya Janata Dal took a veiled dig at the CBI, saying: "Tota (parrot) hai, Toton ka kya." The CBI has often attracted allegations of being a caged parrot acting on the orders of political masters.
RJD parliamentarian Manoj Jha said: "They (BJP) try to scare others by targeting someone. Nobody will be scared. Neither will we, nor they and nor the people of Bihar."
Recent meetings between Bihar chief minister Nitish Kumar, a BJP ally, and RJD leader and Lalu's son Tejashwi Yadav have triggered speculation about a realignment of political forces in Bihar.
Mahua MLA Mukesh Roshan of the RJD alleged that the CBI raid was a result of the vindictiveness of the BJP-led government at the Centre.
"The BJP is worried about chief minister Nitish Kumar and Tejashwi Prasad Yadav coming together on the issue of the caste census, hence it has sent the CBI to conduct raids," Roshan said.
RJD leader and former Union minister Sharad Yadav alleged that the BJP was "digging up the past in a bid to implicate Lalu and other RJD leaders by misusing the CBI".
Senior BJP leader and Rajya Sabha member Sushil Kumar Modi said the CBI raids were a result of the past catching up with Lalu.
"RJD leader Shivanand Tiwari, who was then in the Janata Dal United, and Rajiv Ranjan Singh aka Lalan Singh (now JDU national president) had raised the issue of railway recruitments in lieu of land in 2008. Both of them had met then Prime Minister Manmohan Singh and apprised him of the recruitment scam. They also gave the names of some of the wrongfully recruited people," Sushil said.