Lalu leaves his invisible imprint, keeps family united
It is unlikely, an RJD source said, that Tej Pratap would throw any more tantrums till the Lok Sabha elections end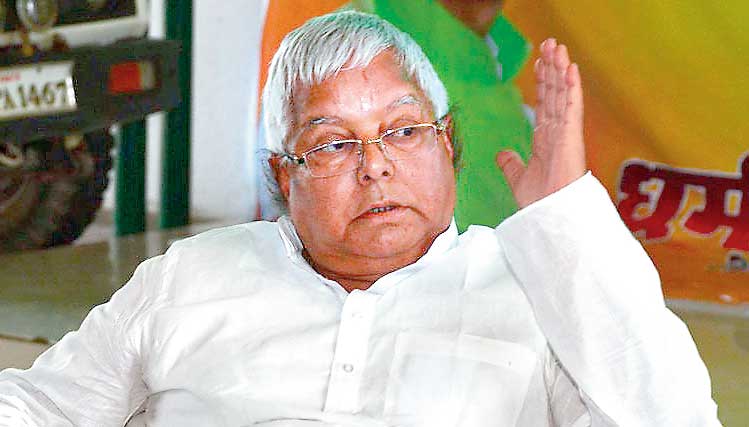 Lalu Prasad Yadav
Telegraph file picture
---
Patna
|
Published 12.04.19, 02:17 AM
|
---
You can take Lalu Prasad out of politics but you can't take politics out of Lalu Prasad.
The Rashtriya Janata Dal (RJD) chief, undergoing treatment in Ranchi while serving time in the fodder scam cases, may have been denied bail but his moves have protected his party from the rebellion by elder son Tej Pratap Yadav, kept his family united, secured the Pataliputra Lok Sabha seat for eldest daughter Misa Bharti, and ensured the family's grip on the Saran Lok Sabha seat.
On April 1, a Monday, Tej Pratap had announced a new front in the name of his parents — Lalu Rabri Morcha — and threatened to field candidates from several seats if his demand of tickets for the Jehanabad and Sheohar constituencies to his loyalists were not met. The buzz was that fed up of playing second fiddle to younger brother Tejashwi Prasad Yadav — and acting purportedly under the influence of mama (maternal uncle) Sadhu Yadav — Tej Pratap was about to join a lesser known political party to make good on his threat.
Lalu waited for Saturday, the only day of the week he is allowed to meet visitors, to send instructions. "Tejashwi had already announced Surendra Yadav as the Jehanabad candidate but under pressure from Tej Pratap had not declared the candidate for the Sheohar seat," a senior RJD leader said under cover of anonymity. "However, on Lalu's instructions, the party announced former journalist Faisal Ali, a lesser known social worker, as the RJD contestant from Sheohar on Saturday (April 6), showing that the party was in no mood to mollycoddle Tej Pratap if he was out to harm it.
"Choosing Faisal also showed that Lalu was ready to throw away the seat instead of bowing to Tej Pratap's pressure tactics," the RJD leader added.
Tej Pratap called a media conference the next day at the party headquarters in Patna to make "urgent and important" announcements. His tweets hinted he was readying for an all-out war.
According to RJD sources, Lalu had anticipated such a thing and had primed his wife, Rabri Devi, about the steps to be taken. Rabri called up Tej Pratap, who has been living separately at his government quarters in Patna, allotted to him as an MLA, ever since he filed for divorce from his wife Aishwarya Rai.
"Rabri gave a severe dressing down to Tej Pratap and asserted that she and Lalu would not allow the RJD to break up. The prodigal son quietly cancelled the media conference," an RJD source said.
Tej Pratap did hold a perfunctory media conference on Tuesday and repeated the same things that he has spoken previously, but has kept a conspicuously low profile since then. He is now campaigning for sister Misa.
It is unlikely, an RJD source said, that Tej Pratap would throw any more tantrums till the Lok Sabha elections end.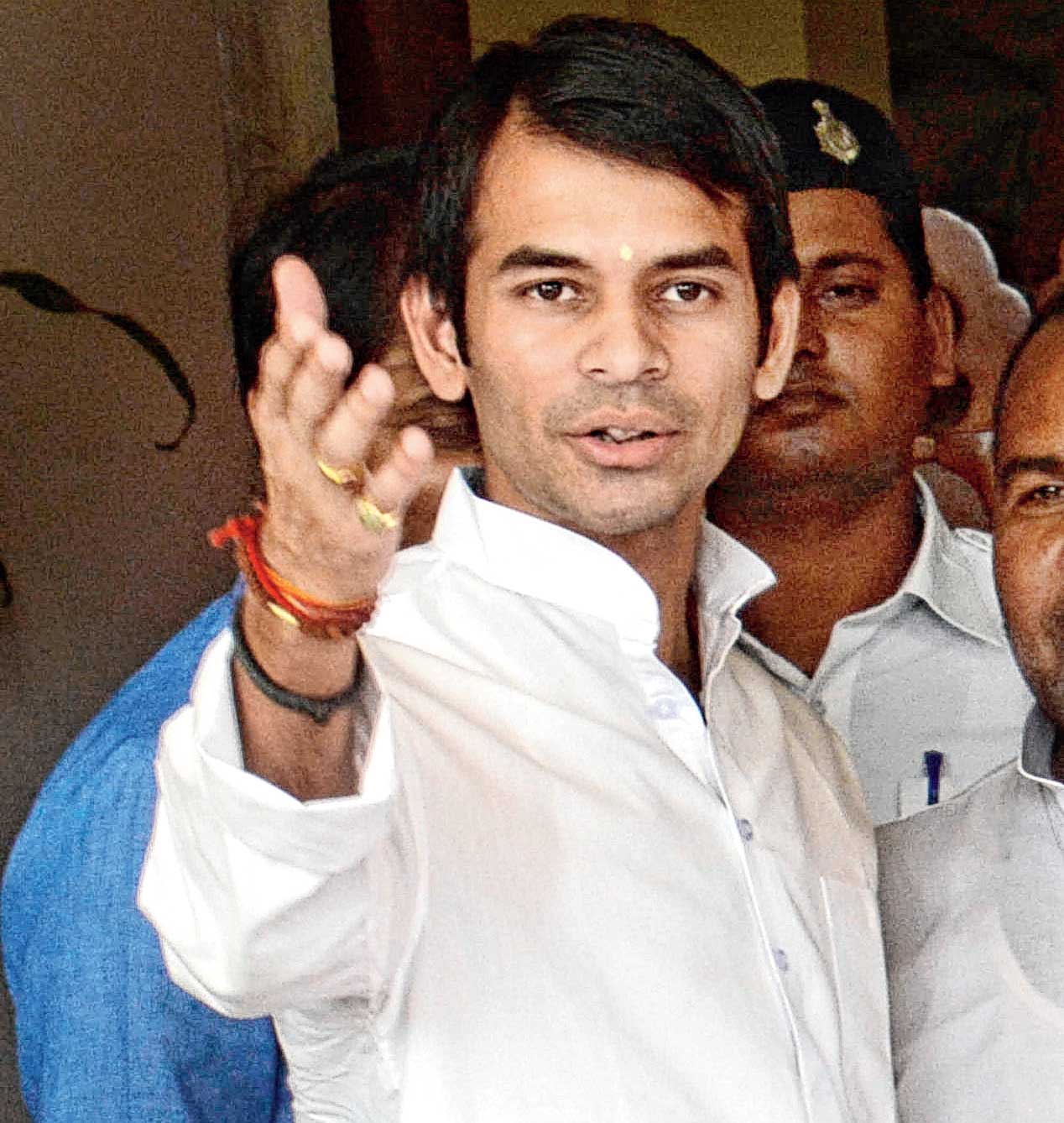 Lalu, RJD sources said, has also put in motion a plan to maximise Misa's chances from Pataliputra. She had lost the seat in 2014 to her father's former aide Ram Kripal Yadav, who switched over to the BJP after being denied a ticket by the RJD.
In 2009 Lalu had contested from the Pataliputra seat, which came into existence shortly before that year's general election, but lost to his mentor and friend-turned-foe Ranjan Yadav by around 23,500 votes.
To see Misa through this time, Lalu made a deal with the CPI-ML despite not wanting to accommodate any Left party in the Opposition Grand Alliance. He gave the Ara seat, which had gone to the RJD quota in the seat-share deal, to the CPI-ML and in return sought its support in Pataliputra. Union minister and BJP leader Raj Kumar Singh is contesting from Ara and the CPI-ML's Raju Yadav is the main opponent.
"Misa had lost in 2014 by 40,322 votes. This time also the fight will be tough as Ram Kripal has a good image among Yadav voters and will be backed by the castes supporting the BJP and the JDU. The CPI-ML had polled 51,623 votes in 2014 and its vote bank has not diminished. Thus the deal was struck to balance the deficit of votes that Misa could have faced," a long time aide of Lalu said.
Asked about the deal, CPI-ML Bihar secretary Kunal said: "We cannot understand the hidden motives of a person. We were hoping for a broad understanding on several seats to defeat the BJP, but that could not happen. However, the RJD's support will surely help us win the Ara seat and our support will help it win the Pataliputra seat."
Similarly, Lalu chose Tej Pratap's father-in-law, Chandrika Rai, to contest the Saran seat because he is the son of late Daroga Prasad Rai, the first Yadav chief minister of Bihar.
Chandrika is a five-time MLA from Parsa Assembly segment, which is part of the Saran Lok Sabha constituency. Lalu himself represented Saran in the Lok Sabha in 2009, though Rabri lost from there in 2014.
Giving the seat to Chandrika is also an attempt to keep the seat in the extended family.