Sedition FIR against Lakshadweep filmmaker Aisha Sultana
It is unclear whether she meant the Centre deployed a Covid 'bio-weapon', or whether she described the archipelago's administrator as a 'bio-weapon' in a TV debate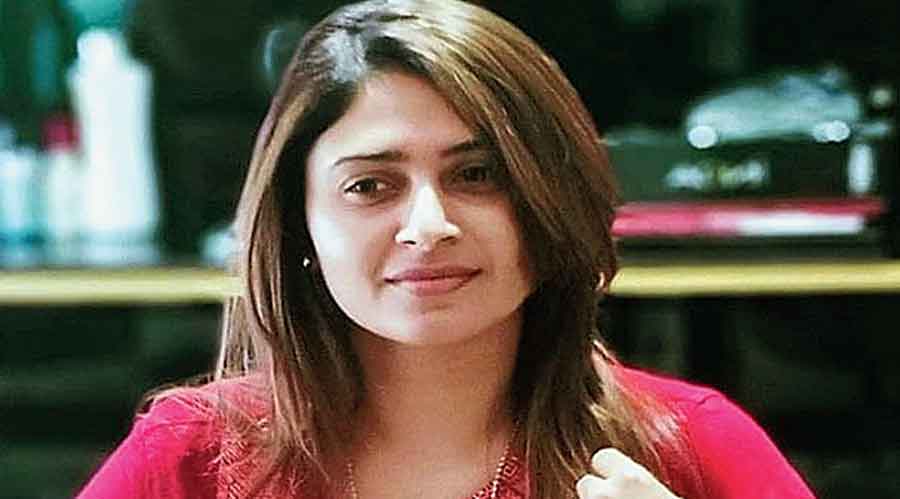 Aisha Sultana
File picture
---
Bangalore
|
Published 12.06.21, 02:01 AM
|
---
Lakshadweep's first woman filmmaker, Aisha Sultana, has been booked for sedition over her reference to a "bio-weapon" during a TV debate.
Hairs are being split on whether she meant the Centre had deployed a Covid "bio-weapon" in Lakshadweep, which initially had no cases, or whether she was describing the archipelago's administrator as a "bio-weapon" for his controversial decisions that are believed to have caused a Covid surge on the islands.
Police in Kavaratti, the Union Territory's capital, on Friday asked her to appear on June 20.
Amid the crossfire, senior lawyer Kaleeswaram Raj made a pertinent point. There was nothing seditious about the word "bio-weapon", and that 124A applied "only when the phrase or word is accompanied with an incitement to violence", Raj said.
He said that in Kedar Nath Singh vs State of Bihar (1962), "the Supreme Court had stated that unless the speech contained an incitement to violence there cannot be sedition".
The Supreme Court had last week cited the 1962 judgment by a constitution bench to dismiss sedition charges against veteran journalist Vinod Dua, underlining the accused had not incited people to violence against the State or created public disorder through his statements.
Dua had criticised the Centre's Covid management and aspects of its 2019 poll campaign.
Raj said the registration of a sedition case was, however, in itself a sort of "punishment" for the accused.
"The process itself is a punishment for the innocent, since he or she has to go through this for years. The trauma one undergoes is enormous," he said.
The FIR against Aisha has triggered protests in Lakshadweep, where administrator and former BJP politician Praful Khoda Patel faces allegations of imposing a "Sangh parivar agenda" on the Muslim-majority islands with a series of controversial decisions, including a crackdown on dissent.
Aisha, 37, had used the word "bio-weapon" during a panel discussion on a Malayalam channel on Monday. The FIR was registered on Thursday on a written complaint from Lakshadweep BJP president C. Abdul Khader Haji, who accused the filmmaker of having insulted the nation and its government.
Aisha has been booked under IPC sections 124A (sedition) and 153B (imputations, assertions prejudicial to national integration).
An audio tape has also emerged, purportedly featuring the voice of a BJP leader in Kerala telling a party colleague in Lakshadweep that the controversy is a godsend.
Aisha clarified in a video message on Friday that she had not used the word "bio-weapon" to refer to the Centre or any government but only to Patel.
"I didn't use the word 'bio-weapon' against the Centre. I compared Praful Patel to a weapon. The reason for (saying) that is the issues that cropped up after Praful Patel landed in Lakshadweep," Aisha said in the video.
She told The Telegraph over the phone that Lakshadweep had not witnessed a single Covid case till Patel assumed charge last December and relaxed the quarantine norms for people arriving from outside. Now the islands face a Covid surge, with a court petition saying the archipelago of 68,000 people had registered 8,667 cases and 38 deaths since January 4 and now had more than 1,500 active patients.
"I never used any word damaging the national interest or the integrity of the motherland," Aisha told this newspaper.
"I don't harbour an iota of fear about the repercussions for engaging in free speech. On the contrary, I would not mind the sedition charges and they will not silence me."
Section 124A prescribes three years' jail to a life term for "whoever, by words... brings or attempts to bring into hatred or contempt, or excites or attempts to excite disaffection towards, the government established by law".
At the debate on MediaOne TV, Aisha had said "what they used is a bio-weapon" in an apparent allusion to the Covid spike in Lakshadweep.
Her co-panellist from the BJP asks her to withdraw the word, saying it was a "baseless" allegation, but Aisha refuses.
"I don't believe I've said anything wrong; you take whatever action you can," she says.
Support has poured in for Aisha from people in Lakshadweep and elsewhere in the country.
Activist Saket Gokhale on Friday sent a legal notice to Sharat Kumar Sinha, Lakshadweep senior superintendent of police, seeking withdrawal of the sedition case against Aisha by June 18. If not, Gokale said, he would approach Kerala High Court.
"In solidarity with Aisha Sultana. Voices of dissent can't be suppressed by using sedition," SFI leader and JNU students' union president Aishe Ghosh posted on Facebook.
One of Ghosh's predecessors, Kanhaiya Kumar, and two other then JNU students were in 2016 arrested in a sedition case after "anti-national" slogans were allegedly chanted on the campus.
Lakshadweep MP Mohammed Faizal of the Nationalist Congress Party promised "all legal and political support" for Aisha.
Aisha, who has worked as a model and actress and made her directorial debut with the Malayalam film Flush in 2020, hit out at Haji.
"The BJP leader who lodged the complaint is a native of Lakshadweep. While he betrays his place of birth I'll continue to fight for my place of birth," she wrote in a Facebook post on Friday.
"Now my voice will get even louder. What I don't have and what they have is 'fear'."
To this newspaper, Aisha emphasised her commitment to Lakshadweep. She said she had received a certificate of appreciation from the Union Territory administration in 2020 for camping in Kochi and helping evacuate islanders trapped there following the lockdown.
Among Patel's controversial decisions are a move to ban cow slaughter, the lifting of a liquor ban, introduction of a two-child norm for panchayat poll contestants, use of a draconian law to curb dissent, and opening up the ecologically sensitive islands to large-scale tourism.