LAC: Sources confirm India-China 'face-off' in Tawang last week
Nearly 200 Chinese soldiers crossed into the Indian side; incursion comes a month after 100 PLA had transgressed in the Barahoti sector of Uttarakhand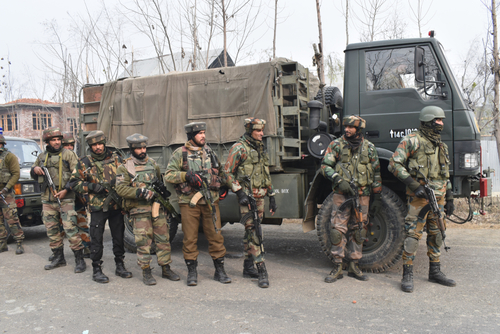 These transgressions have come amid a 17-month-old border standoff between the two sides in eastern Ladakh following Chinese incursions since May 5 last year
File picture
---
New Delhi
|
Published 09.10.21, 01:14 AM
|
---
Indian and Chinese troops were locked in a "face-off" for a few hours last week at Tawang sector in Arunachal Pradesh after nearly 200 Chinese soldiers crossed into the Indian side, defence ministry sources said on Friday.
The latest incursion comes a month after about 100 Chinese soldiers had transgressed 5km across the Line of Actual Control in the Barahoti sector of Uttarakhand on August 30 and damaged a wooden bridge before retreating.
These transgressions have come amid a 17-month-old border standoff between the two sides in eastern Ladakh following Chinese incursions since May 5 last year.
However, neither India's defence ministry nor its army has yet made any official disclosure about the Uttarakhand and Arunachal transgressions, prompting veterans to suggest that silence may now be the official policy.
"Chinese aggression started with Ladakh and has reached Uttarakhand and Arunachal, but the government is still having us believe that no one entered Indian territory," a retired lieutenant general told The Telegraph.
On June 19 last year, four days after a clash in the Galwan Valley had killed 20 Indian soldiers and at least 4 Chinese troops, Prime Minister Narendra Modi had said no one had entered Indian territory or occupied Indian posts. The comment prompted Beijing to immediately claim ownership of all the areas it held within India-claimed lines.
"Nearly 200 Chinese troops crossed over into (Arunachal) last week and were stopped by Indian military personnel. The matter was resolved and troops from both sides disengaged after the local commanders intervened," a defence ministry official said.
"The standoff continued for a few hours. The situation was brought under control after a customary banner drill, during which both sides held up banners before marching back to their respective positions."
An army source confirmed the incident but avoided saying the Chinese had transgressed.
"The two countries have differing perceptions about the LAC, which is not formally demarcated. Peace and tranquillity has been made possible by adhering to the existing agreements and protocols," he said.
"Both sides undertake patrolling up to their line of perception. Whenever patrols of both sides meet physically, the situation is managed according to protocols and mechanisms agreed by both sides. Physical engagement can last a few hours prior to disengagement, which takes place according to mutual understanding."
Transgressions and border skirmishes are not uncommon along stretches of the disputed, 3,488km China border along Arunachal, Sikkim, Uttarakhand, Himachal Pradesh and Ladakh.
The Indian Army chief, General M.M. Naravane, had last week said that border incidents with China would continue until a long-term solution in the form of a boundary agreement was reached.
In eastern Ladakh, the Chinese are estimated to have taken over close to 1,000sqkm of India-claimed territory.
Twelve rounds of military talks have taken place. There's been "partial" disengagement from the Galwan Valley, Pangong Lake and Gogra but the standoffs at Hot Springs and the Depsang Plains continue.
General Naravane last week sounded an alert about a heavy Chinese troop build-up across the eastern Ladakh border. Days later, the air force chief, Air Chief Marshal V.R. Chaudhari, said China had deployed its air force in three Tibetan bases across the LAC from Ladakh but added that the IAF was fully prepared for any eventuality.