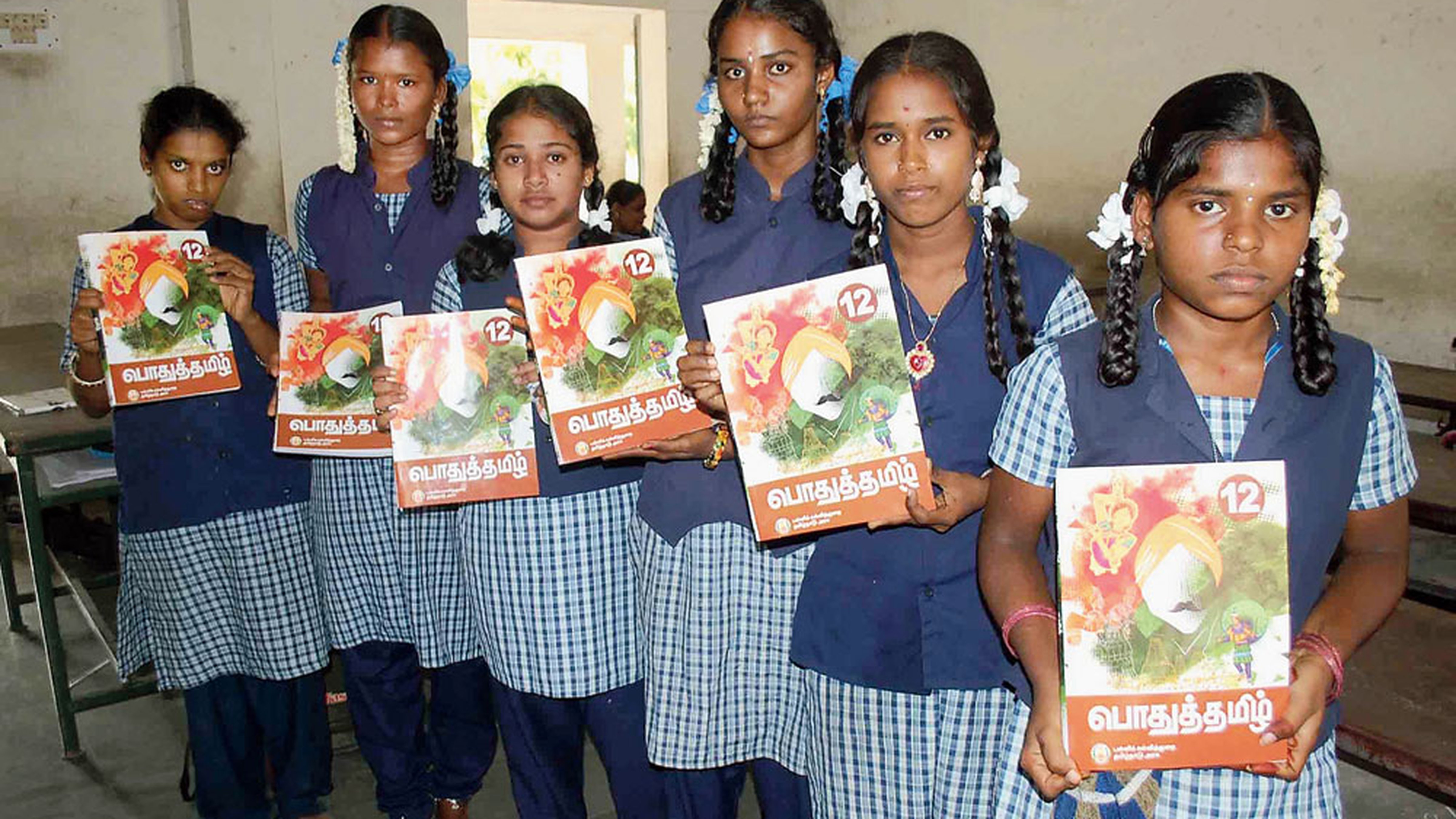 Students with Class XII textbooks that depict Subramania Bharati with a saffron turban. Telegraph file photo
Arun Kumar, who is doing a PhD in Tamil literature in JNU, expressed outrage at what he called the saffronisation of a secular figure. "Subramania Bharati was progressive," he said. "Even politicians don't speak against him." He said that by making a "wrong portrayal of Bhartiyar", the right wing has tried to "appropriate" Bharati, although he is "a pan-Tamil icon". "His portrayal in a saffron turban in students' study material is a dangerous sign," Kumar said.
Tamil writer Suba Veerapandian, who also writes in the bimonthly magazine Karunchattai Tamilar, said: 'People can claim that the changes made to the picture is artistic freedom but here it is not the case. This faulty portrayal of a renowned literateur reflects political motive of the ruling government at the Centre. We Tamils condemn it collectively."
Balusami underlined that even Bharati's choice of reading advocated non-cooperation with the politics of hate. He admired the English Romantic poet P.B. Shelley and his theories on non-violence. "I am a disciple of Bharati like he was of Shelley. He even used to like being called Shellydas," the professor said.
Historian A.R. Venkatachalapathy, who wrote, Who Owns That Song? The Battle for Subramania Bharati's Copyright, remembers Bharati as a poet who was not a jingoist. "He stood for an egalitarian society, India as a nation which would accommodate everybody equally," Venkatachalapathy said.
Bharati's outlook was always global, never insular, his admirers say.
Balasumi and Kumar said Bharati's stature in Tamil literature was comparable to Rabindranath Tagore's in Bengal, but opinion is divided on that.
The legendary poet was never known to have sported a saffron turban.
The change in the colour of Bharati's turban in textbooks appeared just after the now scrapped draft National Education Policy.
The draft policy had said: "Study of languages by students in the non-Hindi speaking states would include the regional language, Hindi and English." This angered political leaders in Tamil Nadu, particularly the DMK. The sucessionn of events led some to look at Bharati's turban colour as interference by the BJP, a partner of the AIADMK in Tamil Nadu.
One tweeter said such a portrayal of Bharathi was an attempt to kill him a second time.
Rights activist Teesta Setalvad tweeted a report of the news that appeared in The Telegraph.
When Subramania Bharati's white turban became saffron on the cover of Tamil school textbooks, some lovers of the language took to Twitter to protest.
Outside Tamil Nadu, Bharati's name did not seem to ring a bell. Colouring Ishwarchandra Vidyasagar's shawl saffron could have elicited a similar response outside Bengal, had his bust not been vandalised.
For admirers of Bharati – also known as Bharatiyar – the saffron turban on the Class XII textbook symbolised a second death for their hero.
Bharati has a signature look in popular Tamil culture – a white turban, a moustache and a piercing gaze.
He is also popular across generations, across political affiliations. He is often quoted in Tamil popular culture too.
Born in December 1882, Bharati lived through the early struggle for India's independence and was known for his views against casteism, communal divide and also for supporting the liberation of women. He is credited as the creator of modern Tamil poetry.
What set Bharati apart from others was that there was no contradiction between his preaching and his life, said retired professor S. Balusami, who is known as Bharatiputra for his admiration of the Tamil poet.
"He advocated and stood for social, religious and economic reform throughout his life and I find he lived the same way. He fought for the emancipation of women, against the social evil of child marriage, stood for reforming Brahmanism and religion. He was also in solidarity with Dalits and Muslims. He never cared for accumulating wealth either," Balasumi said.
Bharati died in September 1921 in poverty.