Bringing an end to all speculations, TMC supremo Mamata Banerjee has clarified that poll strategist Prashant Kishor will continue to work with her party, according to ndtv.com.
Speaking to NDTV, Mamata said that Kishor's lack of ideological commitment as raised by section of the Congress was also an area of concern but he remains associated with her party.
Mamata's statement comes in the wake of Kishor's unsuccessful attempt to join the Congress party despite hectic efforts.
"Even within the Trinamul Congress there were differences of opinion on his role but it was made clear that the association with him will continue as an election strategist," Mamata added. Incidentally, Kishor's brainwork helped TMC come up trumps in the state Assembly polls winning a resounding verdict.
Kishor, who was expecting a critical political role in the top hierarchy of the Congress, finally refused to join the party after realising that he was being assessed only for his professional utility.
"We valued his professional expertise and were willing to work with him. As far as joining the Congress is concerned, anybody can become a member. There is a process for that," a senior leader had told The Telegraph.
Without hyping up the turn of events, Congress communications chief Randeep Surjewala had tweeted, "Following a presentation and discussions with Prashant Kishor, the Congress president has constituted a Empowered Action Group 2024 and invited him to join the party as part of the group with defined responsibility. He declined."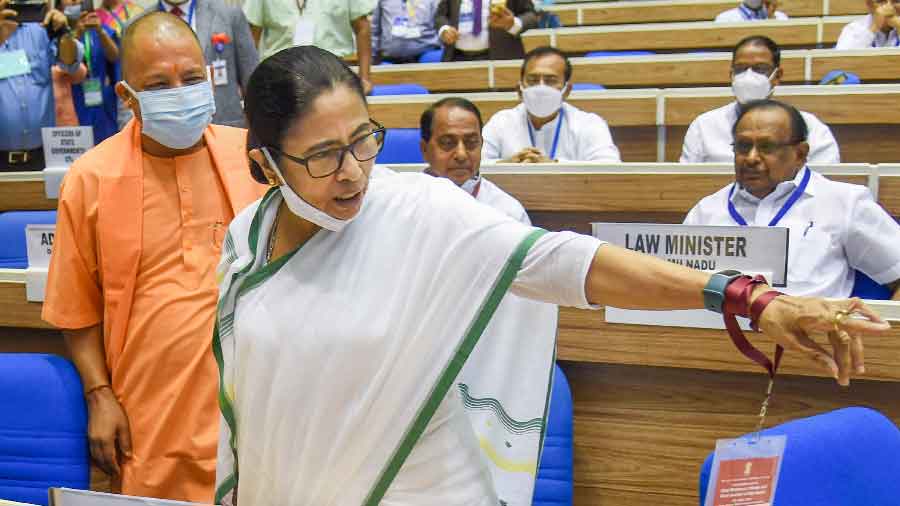 Mamata Banerjee with Yogi Adityanath at the CMs' meet on Saturday PTI Picture
Surjewala added: "We appreciate his efforts and suggestions given to the party."
This was a quiet burial to the idea projecting the professional as a saviour of the 137-year-old party that had led India's freedom struggle and governed the country for over 60 years. The suggestion that the consultant would decide the leadership structure, organisational revamp, and the communication and election strategy to rescue the grand old party had generated outrage within the rank and file, vitiating the negotiations.
Senior leaders examined Kishor's presentation and found a few tactical actionable points, but nothing extraordinary. There was a realisation that he expected a top post such as vice-president or general secretary, which generated unease within the party. The dominant view was that the Congress could not be dictated to by an outsider but that he could be hired as a consultant.