Union law minister prefers 'coordination' over 'independence'
Kiren Rijiju's remarks came while he was praising the Election Commission for coordinating with his ministry over the Election Laws (Amendment) Bill, 2021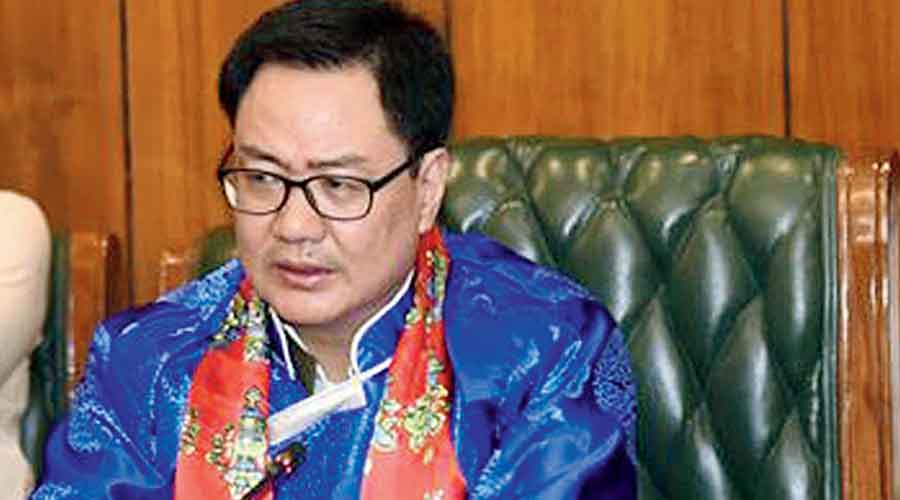 ---
New Delhi
|
Published 26.01.22, 02:33 AM
|
---
Union law minister Kiren Rijiju on Tuesday appeared to place "coordination" over the "independence" of constitutional bodies, weeks after a government summons to the election commissioners for a meeting in November had prompted charges of impropriety.
Rijiju's remarks came while he was praising the Election Commission for coordinating with his ministry over the Election Laws (Amendment) Bill, 2021, which both Houses passed by voice vote last month.
The bill allows the Aadhaar-linking of the voter list, which some Opposition parties have suggested would disenfranchise many genuine voters, apart from breaching privacy.
"According to the Constitution we all have our roles defined. We work independently. But if there is no coordination then work will not get done," Rijiju said at a National Voters Day event.
"I have repeated this to the teams of the judiciary. I told the Chief Justice of India, Supreme Court judges, all the high court judges the same thing that there is a life beyond files and formalities."
He added: "In the name of the independence of judiciary, independence of Election Commission, independence of legislature and the executive, if there is no coordination then how will we work, how will we run the country? It is important for us to have good coordination, but we won't interfere. By remaining within the boundary we have to work with a good team spirit."
Last November, chief election commissioner Sushil Chandra had expressed displeasure at a letter from the law ministry saying it expected his presence at a meeting with the cabinet secretary and law ministry officials on the creation of common electoral rolls.
Chandra didn't attend the meeting, but the election commissioners had an informal interaction online with government officials after the formal meeting ended.
Former chief election commissioner S.Y. Quraishi and several Opposition leaders had criticised the development. While the Election Commission (EC) communicates with various departments for administrative tasks, it summons officials to Nirvachan Sadan and not the other way round.
Rijiju said: "There should be respect. If anyone criticises the EC, in a democracy it is fine. There is the right to criticise, but the dignity of language (must be maintained). If the court says anything about the EC, they can, it is the court's right. But judges will have to think of what language they are using."
In April last year, Madras High Court had observed that Election Commission officials should face "murder charges" for conducting Assembly polls in five states during the deadly second wave of the pandemic.
The Election Commission challenged the remarks in the Supreme Court, which held that the high court's comments had been "harsh" but added that the oral observations had not attributed culpability to the poll panel.
Rijiju said: "There are efforts to discredit the Election Commission of India's efforts…. Those elements whichever try to discredit the Election Commission of India are actually trying to discredit the democratic process of our country. Another way to challenge the democracy of India is to challenge the Election Commission itself because if the election process is a fraud then it is actually a fraud on the democracy."