Political audio message; gold probe with NIA
Swapna Suresh, a former employee of the UAE consulate, seeks to distance herself from a political controversy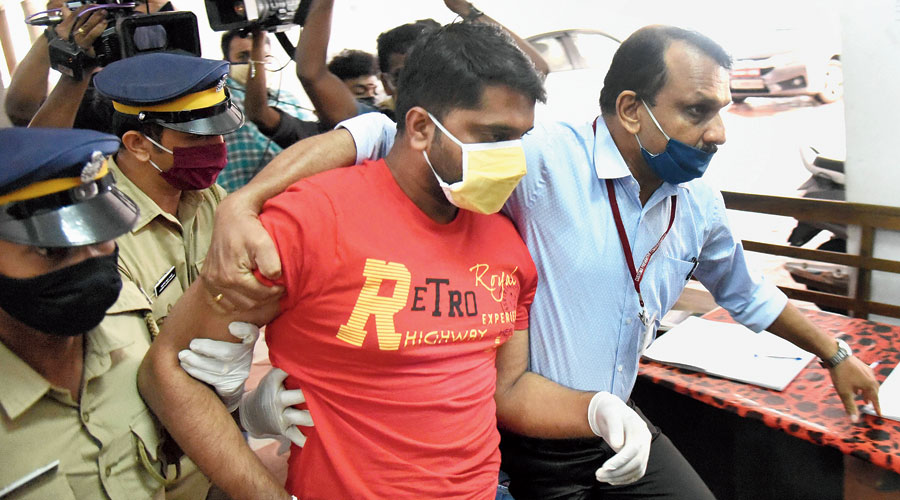 ---
---
An audio statement attributed to Swapna Suresh, who has found herself at the centre of a widening gold smuggling scandal in Kerala, surfaced on Thursday, carrying an account in which she said she had no connection with chief minister and CPM leader Pinarayi Vijayan.
Swapna added that she had taken care of the leader of Opposition too as part of her official duties when she worked with the consulate of the United Arab Emirates (UAE).
Hours later in the evening, the BJP-led government at the Centre permitted the National Investigation Agency (NIA) to probe the smuggling case. The incident "may have serious implications for national security", an official spokesperson said in New Delhi.
The decision came a day after chief minister Vijayan wrote a letter to Prime Minister Narendra Modi seeking his "intervention for an effective investigation".
Swapna has not been seen since Sunday after 30kg of smuggled gold, valued at Rs 14.82 crore, was found by customs officials in a package meant for charge d'affaires at the UAE consulate, Rashed Khamis al Musaiqri al Ashmia.
Opposition parties and local media in Kerala had targeted Vijayan on the basis of a picture in which she was seen standing behind him at an event at the UAE consulate in the Kerala capital.
"It is not correct to say that I was standing behind the chief minister. My profile was to stand behind the consul general, who is the head of the mission. In case he wanted to say anything officially, he told me," she said in the audio clip, referring to the UAE consul general Jamal Hussain al Zaabi.
The audio clip was shared on WhatsApp.
"My work was purely related to the administrative matters of consul general, His Excellency Jamal Hussain al Zaabi. As part of that profile, I contacted a lot of higher authorities, officials, the chief minister, other ministers and Opposition parties in an official capacity," she said.
"If I had spoken to any of them (the leaders), it was only when asked by my consul general and not in my personal capacity," she adds, seeking to distance herself from the controversy.
She said Opposition leader Ramesh Chennithala of the Congress had visited the consulate during the UAE National Day celebration on December 2 last year.
"I had taken care of the Opposition leader who had come for the last National Day event. I asked what he wanted to eat, shared the stage and stayed with him until he left," she said.
Chennithala's office confirmed he was a guest at the event but added that he had left soon after to attend to other work.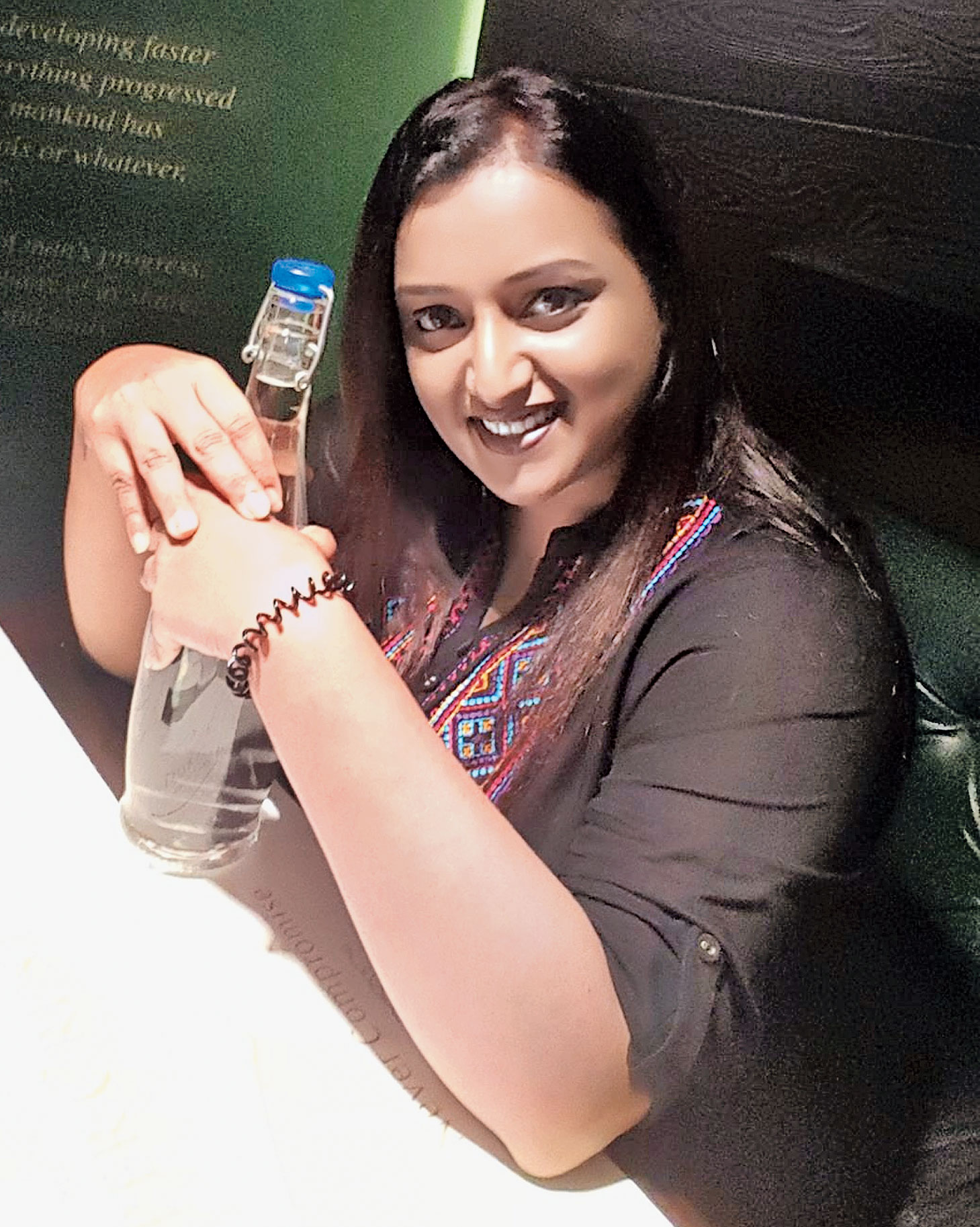 In the clip, beginning on a sombre note, Swapna said: "I am Swapna Suresh (sobs) ex-secretary, consulate-general of the UAE, today working as operations manager of Space Park, or else, as media describes me, a smuggler, born criminal and a prostitute."
Swapna, who worked as an operations manager at the IT department's Space Park in Thiruvananthapuram, was sacked from the post on Monday.
"Me and my family are being targeted in light of the upcoming elections," she said in the clip, apparently accusing the Opposition of using the racket to make gains ahead of the local body elections in October and Assembly polls early next year.
Swapna became a suspect after her friend and former colleague at the UAE consulate P.S. Sarith was arrested on Monday in the gold smuggling case.
On the gold unearthed in the cargo, she said: "The diplomat (al Ashmia), to whom this cargo was addressed, called me and told me his cargo has not been cleared and asked if I could check."
The diplomat had told customs that he had nothing to do with the smuggled gold.
"I spoke to AC (assistant commissioner) Ramamurthy and told him there is a cargo for a UAE diplomat and he was very worried. (I asked him) Can you please clear it as soon as possible. He said 'I'll take it up, madam' and disconnected the phone," she said. "After that I had no connection with this diplomatic bag," she added.
The tenor of the audio clip was quite similar to an anticipatory bail application filed on Swapna's behalf in Kerala High Court on Thursday in which she put the blame on the addressee of the cargo from which the gold was found.
According to her bail plea, Swapna said it was her love for the Gulf country that drove her to help the diplomats although she and Sarith had been sacked from the UAE consulate in September 2019 for alleged misconduct.
"You may ask why I am dabbling with the UAE consulate when I am an employee of the Space Park. That's my love towards UAE where I was born and raised. UAE is my life. I will never do anything to cheat UAE and put my Excellency (consul general) in trouble," she says in the clip.
Speaking mostly in Malayalam with a smattering of English, she later claimed her family was going through trauma. "I have a jobless brother, widowed mother and two children. I am staying in a rented house," she said, contradicting what her elder brother Bright Suresh had told Malayalam channels on Wednesday.
Bright, who lives in the US, had said his youngest brother Brown, lives in India and was well-settled.
Swapna and her brothers grew up in Abu Dhabi where their father was a businessman.
On the other hand, Sandeep, who Sarith had claimed during interrogation was an accomplice in the gold smuggling, is yet to be traced. Sandeep's wife Soumya was interrogated on Tuesday about her husband's whereabouts. Sources had said Sandeep and Soumya were also friends with Swapna.
The ruling Left Democratic Front (LDF) said the focus should be on the investigation and not juicy trivia.
LDF convener A. Vijayaraghavan told a media conference that the need of the hour was a comprehensive investigation to bring out the truth. "We want to know where the gold came from and where was it going. This is a huge racket with big money," he said.