Kerala panchayat drops salutations like 'Sir' and 'Madam'
The resolution passed by the Mathur village panchayat in Palakkad district on Tuesday also urges residents to 'demand' and not 'humbly request'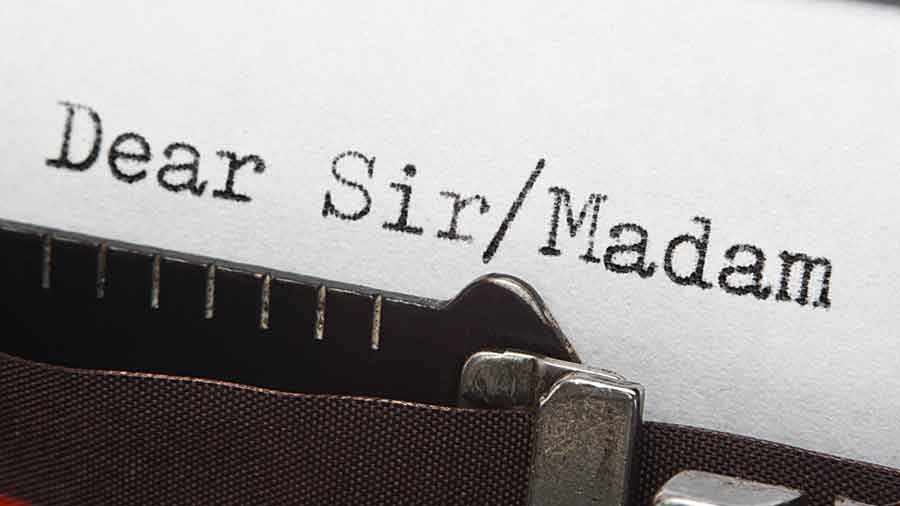 Members and officials of a Kerala panchayat will have to be addressed only by their names or designations with the local body unanimously resolving to drop salutations like "Sir" and "Madam".
Shutterstock
---
Bangalore
|
Published 03.09.21, 01:36 AM
|
---
Members and officials of a Kerala panchayat will have to be addressed only by their names or designations with the local body unanimously resolving to drop salutations like "Sir" and "Madam".
The resolution passed by the Mathur village panchayat in Palakkad district on Tuesday also urges residents to "demand" and not "humbly request" — an example of archaic and sometimes obsequious wording from the Raj era that still widely passes for "proper" English in India.
These changes are a way of underlining that the panchayat office is subservient to the people and not the other way round, panchayat president and Congress politician Pravitha Muralidharan told The Telegraph on Thursday.
"Salutations such as 'Sir' and 'Madam' are remnants of British colonial rule. The mere suggestion of dropping them found immediate acceptance from everyone, especially the officials," Pravitha said.
Anyone who feels uncomfortable addressing members or officials older than them by their names can use the traditional "chettan" (elder brother) or "chechi" (elder sister).
"So, it's not that we don't have more friendly and informal alternatives to 'Sir' and 'Madam'. These (English salutations) actually create a distance between us and the people," Pravitha said.
The resolution is displayed outside the office of the panchayat, which is governed by the Congress-led United Democratic Front that has eight members against seven from the Left Democratic Front and one from the BJP.
The panchayat has also asked the state official language department to suggest Malayalam alternatives to the English designations for its officials, such as lower and upper divisional clerks.
"We need their help since there are designations without Malayalam equivalents," Pravitha said.
She added: "We realise that people may take some time to adjust to the new way of addressing us. Yet we have the satisfaction of making a beginning in Kerala."
The resolution has attracted interest from several local bodies in Kerala as well as the Chennai city corporation.
"We have received a lot of enquiries from other local bodies in Kerala and Chennai about how we went about this resolution and how we plan to implement it," Pravitha said.
R. Nandakumar, convener of the Aikya Malayala Prasthanam, an NGO that works for the promotion of the Malayalam language, welcomed the move and urged all local bodies and the state government to adopt the model.
"We have been campaigning for a very long time to have these salutations dropped and Malayalam given its rightful place in Kerala, where even the state public service commission tests are conducted largely in English," Nandakumar told this newspaper.
He, however, stressed that implementation was key. "The state government had in 2017 decided to make Malayalam the administrative language from May 1 that year for all departments," he said.
"But the order is yet to be implemented, which is why it is important for the Mathur panchayat to make the resolution work right away."
The Kerala administrative reforms (official language) department had instructed all state government bodies to use only Malayalam within the state and limit English to communications with the Centre, other states and countries. But the order isn't being followed fully.
Kerala Assembly Speaker M.B. Rajesh had recently said that lawmakers need not address the Chair as "Sir".
"Addressing as 'Sir' is not something democratic and hence they can address (the Chair) as 'Respected Speaker'. But this cannot be changed with a ruling since it's an old practice," Rajesh had told reporters.
"Apart from those speaking in English, no one addresses the Chair as 'Sir' in Parliament. We can follow that practice," he suggested.