Katroosa shuns dinner and pointers
Kashmir village too frightened to share details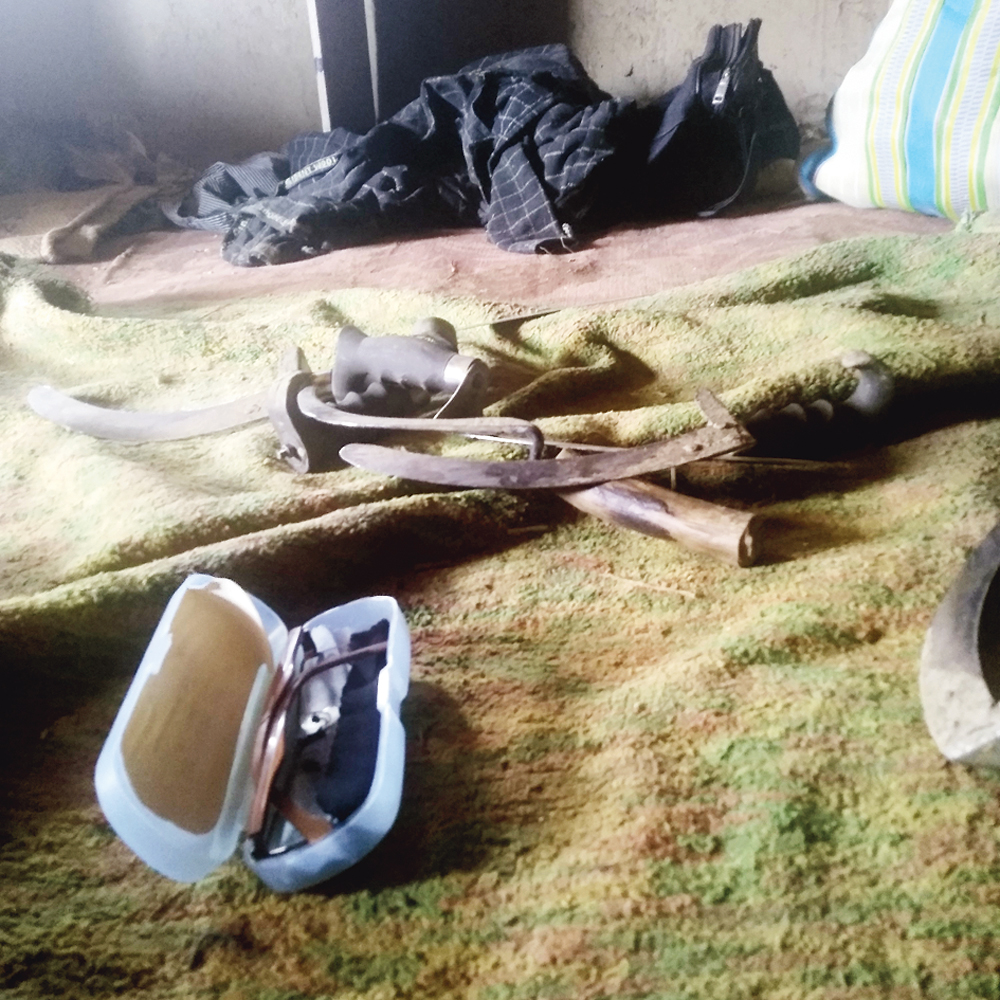 ---
---
A one-room structure above a couple of shops along the main road here served as a shelter for a group of Bengali labourers for the past 15 or 20 summers. With winter chill setting in, they had packed their bags, purchased a box of their favourite apples and were waiting for dawn to leave for their homes.
A knock on their door around 7pm on Tuesday not only aborted the return trip of the seven-member group even before they had started but also led to indescribable tragedy at Katroosa village in Kulgam, 65km from Srinagar.
Within 15 minutes, five of them lay dead in a pool of blood some 200 metres away from their place of stay. The other two survived — one is being treated for injuries in a hospital in Srinagar and the other had stepped out to fetch dinner for the group from a well-meaning neighbour in line with a local custom on Tuesday evening.
The five have been identified as Rafikul Sheikh, 27, Kamruddin Sheikh, 32; Mursalim Sheikh, 35; Naimuddin Sheikh, 38; and Rafiq Sheikh, 52.
"The Azaan (call to prayer) was going on and I was preparing to go out to the mosque for Isha (late-evening prayers). There was a burst of fire and I realised something bad had happened outside. I preferred not to venture out," said an elderly farmer.
The group had left for Bengal after the August 5 announcements that set in motion steps to revoke the special status and statehood of Jammu and Kashmir but returned later. (Jammu and Kashmir will formally cease to be a state and become a Union Territory on Thursday.)
A police spokesperson said the Hizbul Mujahideen was suspected to be behind the killings although the group had not staked any claim till Wednesday evening.
The village is in shock and too frightened to reveal details of the gruesome incident. Security forces came in large numbers on Wednesday, picking up around a dozen residents, mostly shopkeepers, for questioning.
Almost everybody willing to talk claimed not to have seen how the labourers were abducted and dragged towards a bylane before being shot. The room where they lived appeared to have been ransacked, their belongings such as bags, apples, sickles, clothes and spectacles scattered on the floor.
An undergraduate student, who claimed not to be an eyewitness but had heard the accounts of others, said some armed men had dragged them out of the room and taken them around 200 metres towards a hospital.
"It was dark but seeing a bulb glowing near the hospital they turned towards another road. They dragged the labourers towards a bylane where they were shot. For at least 30 minutes they lay there. The police came and, along with some residents, took them to hospital," he said.
While most people claimed not to know anything about the killers, the youth said an eyewitness told him they spoke Kashmiri and wore pherans. A shopkeeper said he did not know whether the killers were militants or some "agency".
A resident in his twenties did not share his name but said one of his relatives was among those detained for questioning. He said the village was like a home to the labourers.
"They worked in our paddy fields, in our orchards or at homes for all these years. One we called Babloo. We thought they were Biharis and I never knew they were Muslims. I never bothered to enquire," he said.
"Trust me, this village did not have dinner after they were brutally killed. Ours has always been a peaceful village and that is why they always came here, perhaps feeling safe here. We have no militants here, nor in adjoining villages, and we don't know who killed them."
Outsiders have been targeted since August 5 but Tuesday's attack was the biggest in years. Tens of thousands of non-locals have left Kashmir in the past three months and many who had stayed back are also leaving.
Ghulam Hassan Dar, a retired headmaster who knew the slain men, said they had packed their bags. "We have a custom here that we provide labourers with meals twice a day in addition to the wages. They had sent one of the seven to a neighbour, with whom they worked, to get them food for the evening. While he was out, this terrible thing happened," he said.
"There were two other non-locals who worked at my orchard. They were scared after the killings. By morning, I told my son to drop them at the nearby police station so that they are safe," he added.
Some residents said they saw the two crying as they left and asking what they would tell the relatives of the slain men.
When The Telegraph correspondent was in the village, Maj. Gen. A. Sengupta, the counter-insurgency Victor Force chief, arrived with his cavalcade and interacted with the villagers, urging them to share information about the attackers.
"If we get information, we will eradicate any threat. If our guests are harmed, they lose faith in us," he told them.
The villagers pleaded ignorance, spoke of their grief and narrated how they helped three non-locals to escape. "We lodged them in our houses so that they are safe," a villager said
The Victor Force chief later told this newspaper his team was ascertaining which group was behind the killings. "There are some militants, including two foreigners, (active) in the area…. In Kashmir, we have problem. If they (the people) tell us there is some threat, we will overcome it," he said.