Kashmiris feel betrayed: Farooq kin
'I also protest the number of times I heard Kashmiris are traitors. We are not traitors'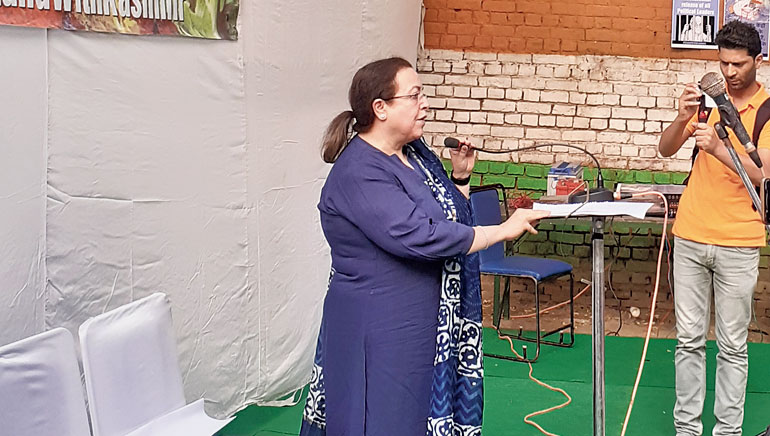 Alia at the protest meeting on Jantar Mantar Road on Saturday.
(Pheroze L Vincent)
---
New Delhi
|
Published 19.10.19, 07:53 PM
|
---
Kashmiris feel betrayed by India, one of Sheikh Abdullah's granddaughters said at a protest meeting here against the 75-day-old clampdown in Jammu and Kashmir.
Alia Mubarak, born to Sheikh Abdullah's daughter Khalida and former chief minister G.M. Shah, first explained the legal position of Articles 370 and 35A at the meeting, called by several communist and civil society groups.
She said the Instrument of Accession was conditional and that if the special status granted to Jammu and Kashmir by Article 370 went, so did its relationship with India.
"And I also protest the number of times I heard Kashmiris are traitors. We are not traitors," the niece of former chief minister Farooq Abdullah said.
"We have been betrayed since 1953 by the Centre, first by the Congress and now the BJP. It's only the people from all the three divisions of Jammu and Kashmir who can decide their destiny — not India, not Pakistan."
She added: "The revocation of (certain provisions of) Article 370 has to be reversed and all the people who have been arrested and detained, especially minor children, need to be set free immediately and all means of communication restored."
Alia later told The Telegraph: "I have no political ambitions. I'm deeply concerned with what's happening in Kashmir. You cannot silence people."
Her father, one of the early leaders of the National Conference, split and toppled the Farooq Abdullah government in 1984 with the support of the Congress. He later formed the Awami National Conference.
At the meeting, Annie Raja, general secretary of the CPI-backed National Federation of Indian Women, said the Centre was responsible for Kashmiris uniting in their demand for freedom.
"People on this side and on that side are now united in saying, 'Enough is enough. We have borne this for 70 years but we won't tolerate what you have done now…. We don't want Pakistan or India: we want freedom.'"
She added: "What the government calls normal is (that) the army (comes) to a village and any boy on the roads or in their homes is slapped and kicked. If there is anything normal, it is slaps and kicks…. An inquiry is needed into the casualties due to the clampdown.
"There is no transport to take people to hospitals, and pregnant women can't even call an ambulance. Doctors we met said they felt that many of the patients being brought dead could have been saved had they been brought two hours earlier to the hospital."
Annie was part of a fact-finding team that visited Jammu and Kashmir last month.
Historian Mridula Mukherjee, who attended the gathering, told this newspaper: "I don't recall such a total shutdown of communications for such a long time --- any time in the past ---- in India."
She added: "During the Quit India movement many papers stopped publication out of protest. In Kashmir there are papers being published now with just a few pages with hardly any news….
"It's a crisis for the country as a whole and not just Kashmir. If we can permit anything like this to happen in any state, then we must know that it will not only happen in the margins like Kashmir and the Northeast but in other states too."