Kashmiri literati Koul out Nirmala
Sitharaman mentioned the poet by his original name, 'Pandit Dinanath Koul' although he is better known as Nadim in Kashmir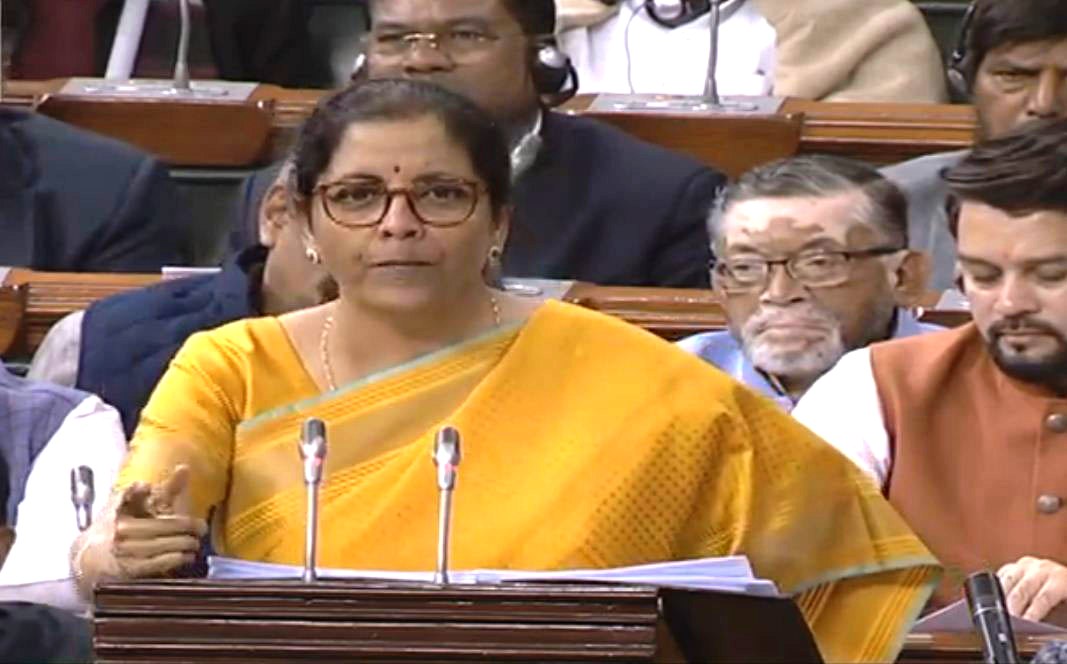 Nirmala Sitharaman at the Union Budget 2020
Screenshot from Lok Sabha TV
---
Srinagar
|
Published 01.02.20, 10:57 PM
|
---
Kashmiri literary figures on Saturday described finance minister Nirmala Sitharaman's "inappropriate" reference to famed poet Dinanath Nadim in her budget speech as an attack on Kashmir's syncretic culture.
Sitharaman quoted from poems by three poets, one of these being Myon Watan by Nadim (1916-1988). What surprised the Valley's literature buffs was her omission of the poet's pen name "Nadim", an Arabic name meaning "friend".
The finance minister mentioned the poet by his original name, "Pandit Dinanath Koul", although he is better known by his pen name in the Valley and outside.
Members of the ruling dispensation are known for their allergy to "Muslim-sounding" names, which has led to several towns, districts and railway junctions being renamed in BJP-ruled Uttar Pradesh.
After reciting a few lines from the poem, written in Kashmiri, Sitharaman read out a Hindi translation: "Hamara watan khilte huey Shalimar Bagh jaisa/ Hamara watan Dal jheel me khilte huey kamal jaise/ Nawjawanon ke garm khoon jaisa/ Mera watan, tera watan, hamara watan/ Duniya ka sabse pyara watan."
(Our nation is like the Shalimar Garden in full bloom/ Like the blooming lotus on the Dal Lake/ Like the warm blood of the youth/ My nation, your nation, our nation/ The world's most lovely nation.)
Poet Farooq Nazki, a former Doordarshan director known for his strong pro-India stand in the early days of the militancy, said it would have been appropriate on Sitharaman's part to have referred to Nadim by his pen name.
"If (Mirza) Asadullah Khan is referred to as 'Khan' and not 'Ghalib', it looks bad. He (Dinanath Nadim) used many pen names in his youth but when he shifted to (writing in) Kashmiri from Urdu, he constantly wrote his name as 'Dinanath Nadim' and earned his fame (under this pen name) as well," Nazki said.
He agreed that the lines Sitharaman quoted "suited the minister as the poet talks about the lotus blooming in the Dal Lake", but dismissed the possibility of Nadim having anything to do with the Hindutva ideology.
"He was a communist; what religious connection could he have had?" he said. He, however, was unsure whether Sitharaman's omission of the pen name was deliberate.
Nazki said Nadim was a progressive writer and the most famous modern Kashmiri poet after Mahjoor, the state poet.
"He was a towering personality. His opera Bombor te Yambirzal was translated into Russian and won an award named after Lenin."
Mohammad Yousuf Taing, who assisted Sheikh Abdullah in writing his autobiography, Flames of the Chinar, said he had close relations with Nadim and had written forewords to his books.
"He was close to Sadiq sahib (former chief minister Ghulam Nabi Sadiq), also a so-called communist…. There was a big crop of progressive writers those days, including Rahman Rahi and Ghulam Nabi Firaq," Taing said.
"They (the BJP-led government) are lying about everything. It is common to find Muslims and Pandits share their surnames, like you have Muslim Kouls, Pandits or Rainas in plenty here. If Nadim were alive and his pen name were omitted, it would have hurt him."
Taing alleged that the BJP government wanted to discover Hindutva in everything and was trying to erase the Valley's composite culture.
Nadim was born in Srinagar's old quarters and rose to become a nominated representative of the intelligentsia in the legislative council.
Sitharaman's reference to Nadim comes after months of a security and communication lockdown in the Valley after the Narendra Modi government scrapped Jammu and Kashmir's special status on August 5 last year.
Several Kashmiri politicians, including former chief ministers Mehbooba Mufti, Farooq Abdullah and Omar Abdullah, continue to be in detention.