Kashmir mother battles trauma post-detention
Fehmeeda Akhtar is perhaps the only woman in the Valley to be detained by the forces during the 7-week-old clampdown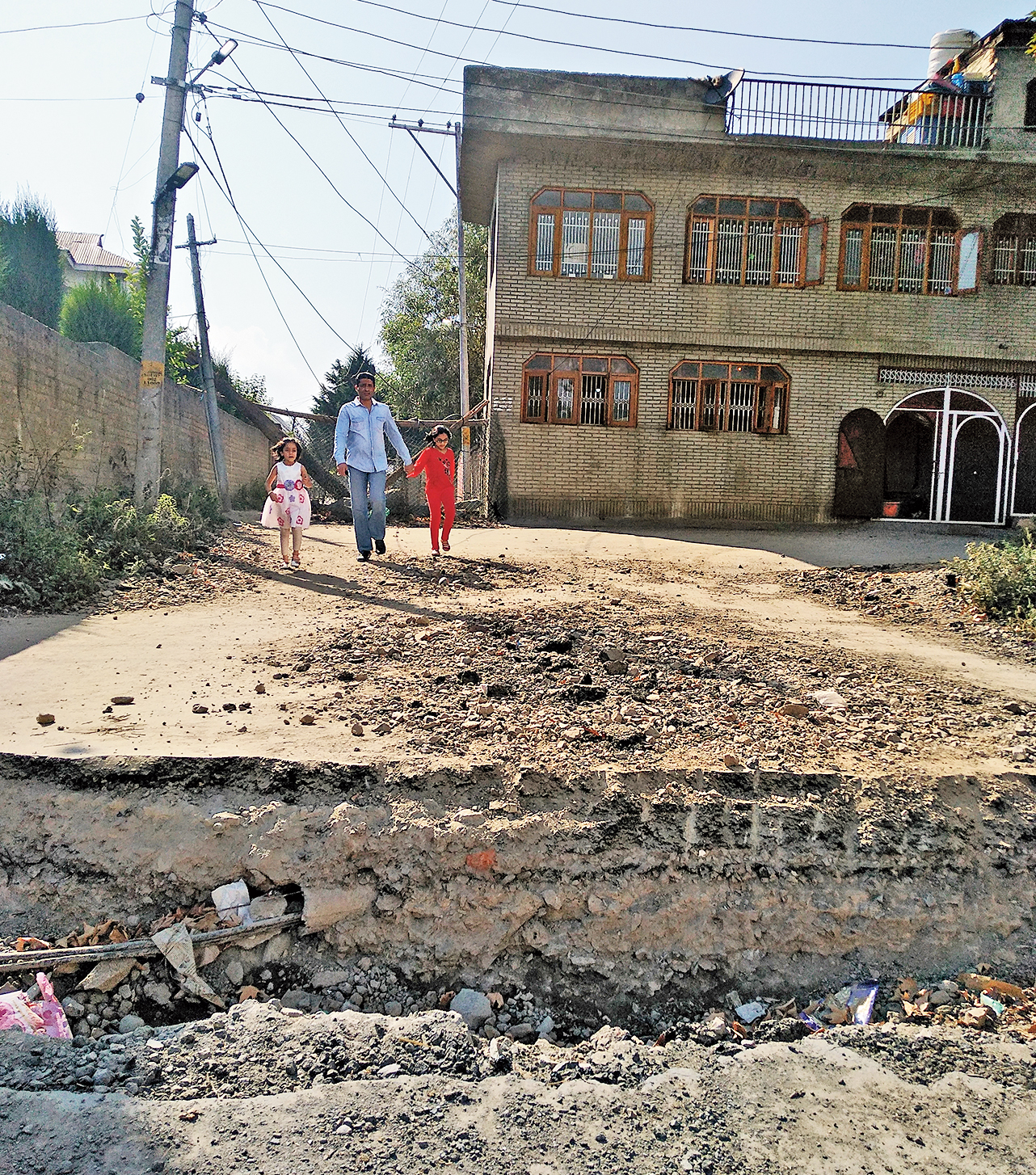 One of the roads leading to Anchar in Srinagar. The road has been dug up to prevent security forces from entering the area.
(Picture sourced by correspondent)
---
Srinagar
|
Published 22.09.19, 09:16 PM
|
---
Fehmeeda Akhtar, 27, mother of seven-year-old Aamir, is afraid to step out alone — "and even to be alone at home", husband Feroz Ahmad says.
"She is restless, sometimes hysterical, and often wakes up in the middle of the night in sheer panic."
Feroz says Fehmeeda's ordeal began on September 14, when she was allegedly held for 12 hours in a police lock-up, perhaps the only woman in the Valley to be detained by the forces during the seven-week-old clampdown since August 5.
A police officer in Srinagar, who refused to be identified, initially said he had "no knowledge" of Fehmeeda's detention before adding quickly that he "categorically" denied that any such thing had happened.
Like many other women at her locality of Anchar in Srinagar, Fehmeeda had been at the forefront of the demonstrations in the area, which has become the hub of the pro-independence protests against the removal of the state's special status.
The sprawling neighbourhood of more than 10,000 people on the banks of the Anchar Lake has continued to witness clashes while aborting multiple attempts by the security forces to break in. Roads have been dug up and barriers erected near the half-dozen entrances to the locality.
Feroz said the forces had beaten up his wife and his sister Shahida on September 14, a claim several local people corroborated.
"They tried to arrest both but Shahida managed to escape. Fehmeeda was taken to the police station, where they detained her from 10am to around 10pm. They did not beat her in the lock-up but mentally tortured her," Feroz told The Telegraph.
"They released her after a few elders approached the police. But her nightmare continues. She remains depressed and rarely steps out, that too only with someone accompanying her."
Feroz refused to allow this correspondent to interact with his wife, saying the family "doesn't want her to discuss the subject with anyone".
"She is not well. We had to call a doctor," he said.
A neighbour said Fehmeeda and Shahida had on September 14 joined a protest by local women against the arrest of a relative of one of them.
"They (the women protesters) found some women selling fruits on the roadside. They ransacked their fruit baskets, asking how they could carry on with their business when people were being arrested," the neighbour said.
Amid the virtual shutdown since August 5, many shopkeepers now open their outlets only for a few hours in the mornings or in the evenings, trying to earn a living while respecting public sentiment.
A middle-aged woman said Anchar's women were worried about their children but that would not deter them from continuing their protests. "We have joined every protest in our locality because what happened last month was an assault on our identity. Our land is no longer ours," she said.
A Class IX pupil said he had not stepped out of the neighbourhood since the lockdown began for fear of being arrested.
"They (the forces) have not been able to enter our area, but none among our youth moves out of the area, either. Some of our young men were arrested outside Anchar and have been booked under the PSA (Public Safety Act)," he said.
"The moment the police realise that someone is from Anchar, they arrest him."
A young man said that when his sister got married recently, none of the men from the locality accompanied her to the groom's home, as is the custom. "We asked a few relatives, who are not from our locality, to accompany her."
Anchar is home to the Jenab Sahab shrine, which houses relics attributed to Prophet Muhammad. Local people say the shrine is the main reason the security forces do not move in.
"They perhaps fear that any crackdown could lead to desecration of the shrine. If the shrine had not been there, we would have been crushed," a labourer said.
Dozens of young men keep awake every night to prevent the forces from entering.
"They made multiple attempts. Every time they came, they showered us with tear gas canisters. There were clashes, after which they called off their operations," a youth said.