Kashmir leaders skip Independence Day celebrations, greetings
Most politicians did not just stay away but appeared unwilling to even acknowledge people — a sign of the anger at last year's abrogation of J&K's statehood and special status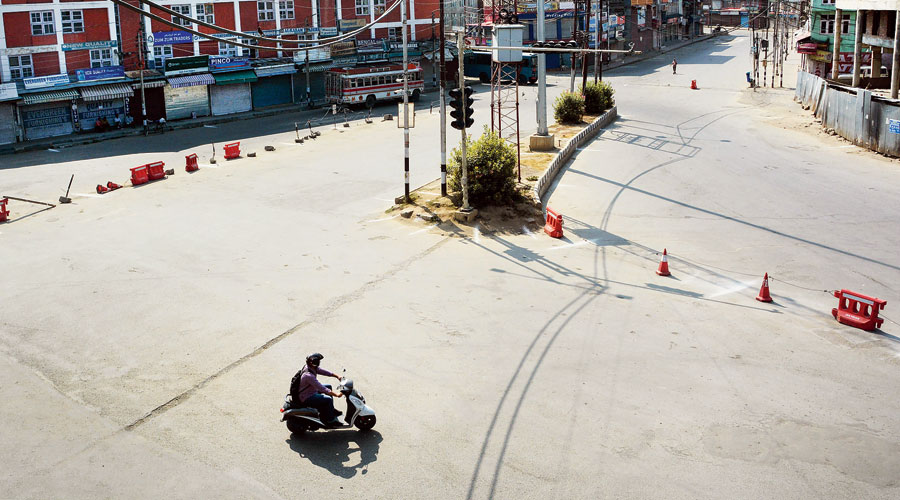 A scooterist rides on a deserted road in Srinagar on Independence Day on Saturday.
PTI
---
Srinagar
|
Published 16.08.20, 01:07 AM
|
---
The Kashmir valley's pro-India politicians on Saturday appeared to treat Independence Day with scorn, mostly staying away from the celebrations, skipping the customary greetings, and some even mocking the absence of celebrations here.
The Valley wore a deserted look courtesy the customary general strike called on such occasions. Only a handful of people, mostly officials, participated in Independence Day events in Srinagar and the other districts.
While public participation would be negligible in previous years too, the mainstream politicians would turn up with some of their supporters.
But this year, most of the politicians did not just stay away but appeared unwilling to even greet people on the occasion — a sign of the anger at last year's abrogation of Jammu and Kashmir's statehood and special status.
Mohammad Akbar Lone, National Conference Lok Sabha member from Baramulla, summed up the mood, saying he had stayed away from the celebrations because he no longer accepted August 15 as his Independence Day.
"We don't accept it as our Independence Day," Lone told The Telegraph.
Reminded that he and his party colleagues used to participate in such events in the past, he said he was talking about the situation "as on date".
"We did not go because the event is not ours.... It is natural (that people should feel this way after the scrapping of Article 370). The relations between them and us are bad," Lone said.
"We have no relations with them. How can we accept them and take them as our own? It cannot happen."
He added: "(This is) because we think what they have done to us is foolish. They even converted it (the state) into a UT (Union Territory). It is childish. They think they will overwhelm us with such measures but they can't."
Lone said the government did not want the politicians at the events, either, and that they had not been allotted fuel for their official vehicles for the past two days.
This newspaper checked the Twitter handles of nearly two dozen senior Valley politicians, including Omar Abdullah, Mehbooba Mufti (whose daughter operates her account with her permission) and Congress leaders such as Ghulam Nabi Azad and Ghulam Ahmad Mir. None had a word of salutation.
Most of these politicians had been arrested during last year's clampdown.
Omar re-tweeted a report by the fact-checking website Alt News about some BJP leaders including Kapil Mishra, Kiron Kher and Ladakh MP Jamyang Tsering sharing a "morphed" picture showing the Tricolour unfurled atop Srinagar's clock tower. Some media outlets too showed the picture.
Mehbooba's Twitter handle was silent on Saturday, after taking a dig on Friday night at the judiciary for its alleged silence on Kashmir.
"A defunct justice system would rather punish @pbhushan1 for stating the truth but doesn't exhibit any sense of urgency & deliberately delays petitions challenging illegal abrogation of Article 370 & unlawful detention of people jailed since a year," the tweet said.
The Twitter account of Mehbooba's People's Democratic Party defiantly posted a recent picture showing Kashmir politicians in detention.
"Politics has not ended in Kashmir, it has now started!" the PDP tweeted.
The only prominent politician to greet the people was the separatist turned pro-India politician Sajad Lone, released recently after yearlong detention and house arrest. He too was critical of the Centre.
"Happy Independence Day to all. Hope we stop customising independence. There cannot be a 'one size fits all' concept of independence. Independence is defined by it(s) vastness. By differentness not sameness," Lone tweeted.
Some made fun of the abysmal popular participation in the Independence Day events.
"Is it a meme? Who did it," wrote Naeem Akhtar, former minister and PDP politician, uploading a video of the city centre where the government had installed LCD screens for live telecast of the Prime Minister's speech. Hardly anyone was there to watch it.
Akhtar's daughter Sheryyar Khanum sarcastically posted that there were "Jam-packed crowds in Naya Kashmir listening to Independence Day speech in Srinagar".
"Naya Kashmir" (New Kashmir) has been a favourite slogan with some BJP politicians since the scrapping of Article 370.
Some politicians referred to Modi's promise in his Independence Day speech about holding elections in Jammu and Kashmir after the ongoing delimitation process was complete.
"Special gift for JK on I Day; Democracy must wait till complete Muslim political n administrative disempowerment — isn't that what @PMOIndia meant in his address to nation. So the only political process — as some were seeking — would b filing representations before D Commission," PDP spokesperson Firdous Tak said.
Many politicians believe that the delimitation would grant more seats to Hindu-majority areas in Jammu to tilt the balance in the Assembly in Hindus' favour.