Karnataka: Yediyurappa swims against abuse tide
The ex-CM and BJP veteran has called for respecting political rivals after Nalin Kumar Kateel called Rahul Gandhi a 'drug addict and peddler'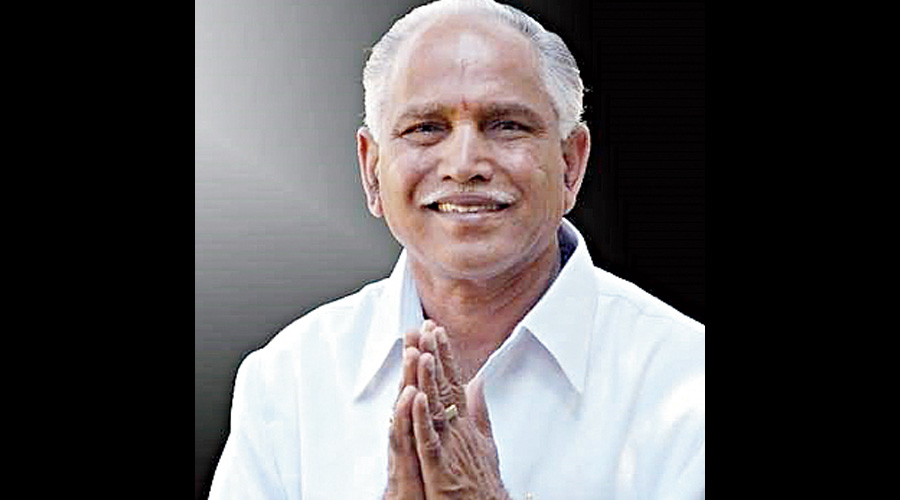 ---
Bangalore
|
Published 21.10.21, 01:28 AM
|
---
Former Karnataka chief minister and BJP veteran B.S. Yediyurappa has called for respecting political rivals after state unit president Nalin Kumar Kateel called Rahul Gandhi a "drug addict and peddler".
"There was no need to say such a thing, if he (Kateel) has said so," Yediyurappa told reporters in Hanagal, where he was campaigning for an Assembly by-election.
"Whether it is Rahul Gandhi or some other leader, they are respected. I feel no one should speak in a disrespectful manner against them."
State Congress president D.K. Shivakumar too asked politicians to be "civil and respectful, even to our opponents".
Kateel had made the remark on Tuesday, a day after the state Congress Twitter handle posted and then removed a tweet that had referred to Prime Minister Narendra Modi as an illiterate.
"Rahul Gandhi is a drug addict and peddler. I'm not the one saying this; it has been reported," Kateel said without revealing his source.
A party hardliner, Kateel has never been close to Yediyurappa, who has always followed a soft line towards minorities.
Kateel's statement came as the Congress-BJP rivalry took an ugly turn amid the campaign for the October 30 by-elections to the Hanagal and Sindagi Assembly seats.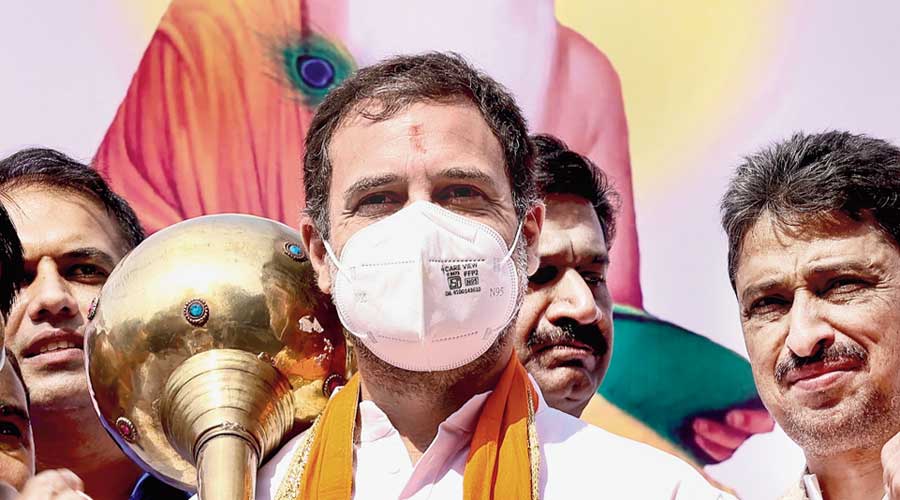 Hundreds of Youth Congress workers laid siege on Wednesday to the state BJP office, where a large posse of policemen stood guard after removing the protesters.
Leader of the Opposition P.C. Siddaramaiah of the Congress said: "He (Kateel) speaks like a mad man although he is president of a political party. It appears he has lost his mental balance…. I urge (BJP national president) J.P. Nadda to get him hospitalised."
Shivakumar told reporters in Hanagal that BJP leaders were making such comments to divert attention from the real problems. He had earlier posted a tweet seeking an apology from the BJP for Kateel's comment.
"Yesterday I said that I believe we should be civil and respectful in politics, even to our opponents. I hope the BJP agrees with me, and will apologise for their state president's abusive and un-parliamentary remarks against Shri Rahul Gandhi," he wrote.
Shivakumar had on Tuesday apologised for the offensive tweet against Modi and blamed it on a rookie social media manager. The now-deleted tweet had targeted Modi for not attending schools built by the Congress.
"Can't even speak without a teleprompter. Can't deal with foreign affairs without translators. The man who quit education and went to beg doesn't understand even the basics of economics," the tweet said in Kannada.
"His only assets are his clothing, undue publicity and speeches packed with lies #hebbettugirakimodi (illiterate Modi)."
Former chief minister H.D. Kumaraswamy of the Janata Dal Secular too criticised Kateel. "If I reveal the history of their (BJP) president who called Rahul Gandhi a peddler… (but) I don't want to say anything," he said.
"His history is being discussed in Mangalore where he destroyed the family of an RSS worker."
Kumaraswamy seemed to be alluding to a police complaint registered in 2014 by an RSS worker who accused Kateel of having an illicit relationship with his wife and trying to have him (the complainant) murdered.