Women confront Bajrang bullies at Christian prayer hall in Karnataka
In October, VHP activists had barged into an "interfaith" prayer hall in Hubli that is run by a Hindu Lingayat man named Somu Avaradhi who believes in Jesus Christ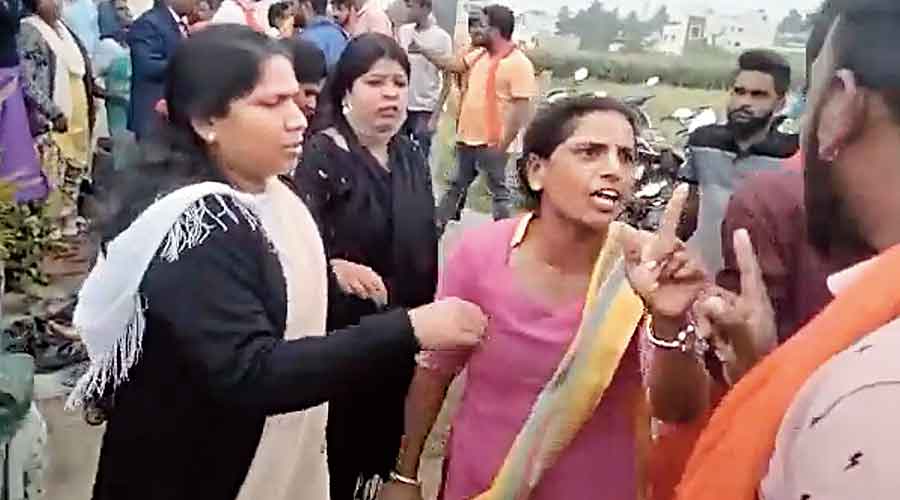 Footage shows women confronting Bajrang Dal activists at the Christian prayer hall in Belur city, Karnataka, on Sunday.
The Telegraph
---
Bangalore
|
Published 30.11.21, 03:33 AM
|
---
Bajrang Dal activists allegedly barged into a Christian prayer hall in Belur city in Karnataka on Sunday, accused the group of proselytism and jostled with the faithful before the women in the congregation forced them to leave.
Pastor Suresh Paul, who heads the prayer hall run by the Life to the Nation's Ministries, a Christian organisation, told The Telegraph on Monday that about 30 Bajrang Dal activists had stormed in around 12.30pm on Sunday.
"They rushed into the prayer hall, shouting 'Jai Shri Ram', and accused us of converting Hindus and illegally occupying the land. We started this prayer hall five years ago and had never before faced such issues," Paul said.
"It was evident they had come to create trouble: they refused to even listen to us. Our believers then confronted them, forcing them to move out of the prayer hall. I don't know what would have happened if our believers, especially the women, didn't stand up to them."
A video clip circulating on social media on Monday shows men with saffron scarves round their neck being confronted by women.
Police later drove the intruders away. No case has been registered since neither the Bajrang Dal nor the Christian group has lodged a complaint.
Bajrang Dal state coordinator Raghu Sakleshpura said a young man named Adeesh had "alerted" the organisation.
"They (the Christian group) had enticed Adeesh with the aim of converting him. But when he heard Hindu gods being belittled at the church, he called our local activists," Sakleshpura told this newspaper after visiting Belur, Hassan district, on Monday.
Asked the reason for disrupting a prayer, he said: "Our activists were only trying to prevent conversions of Hindus, which has been rampant in that area."
In October, Vishwa Hindu Parishad activists had barged into an "interfaith" prayer hall in Hubli that is run by a Hindu Lingayat man named Somu Avaradhi who believes in Jesus Christ.
The intruders had squatted in the prayer hall and sung bhajans after accusing Avaradhi of proselytism. He was later arrested on a complaint from a man who accused Avaradhi of having tried to convert him through inducement. Avaradhi is out on bail.
Similar disruptions have been reported from various parts of Karnataka, especially after the BJP government headed by Basavaraj Bommai announced it would table an anti-conversion bill in the Assembly during the upcoming winter session.
Rajesh, state vice-president of the Bharatiya Chraistava Okootta (Indian Christian Association), told this newspaper that disruptions of Christian religious gatherings had become common in Karnataka.
"Similar incidents have been reported from Mangalore and Udupi," he said.
The association held a protest in Koppal, some 350km from here, on Monday against the proposed anti-conversion bill and harassment of Christians. It plans to take the matter up with the government.
The Archbishop of Bangalore, Peter Machado, wrote to Bommai earlier this month opposing the bill on behalf of the Christian community, which accounts for 1.87 per cent of the state's 6.5 crore people.