Karnataka: Unrest in Hubli over social media post
Incidents triggered by an image of a saffron flag atop a highly revered place of worship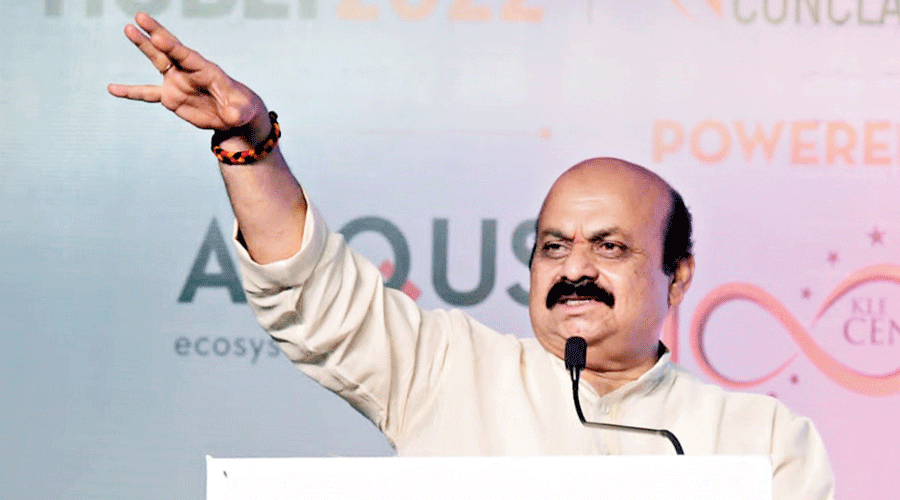 Basavaraj Bommai.
File photo
---
Bangalore
|
Published 18.04.22, 01:55 AM
|
---
More than forty people have been taken into custody in Hubli after they threw stones at a police station over a morphed image shared on social media.
A large number of people turned up outside the Old Hubli Police Station close to midnight on Saturday in the north Karnataka city and started throwing stones, injuring a dozen policemen.
The incidents were triggered by a social media post of an image of a saffron flag atop a highly revered place of worship of a minority community.
Police on Sunday clamped prohibitory orders in the city until 6am on April 20 under CrPC 144 as a precautionary measure to prevent any further disturbances.
The police said a large number of people from the minority community gathered outside the police station and demanded the arrest of one Abhishek Hiremath, who had allegedly posted the derogatory picture on social media that went viral. Hiremath has been arrested and booked for hurting religious sentiments.
But even his arrest did not help calm down the situation. The protesters, who laid siege to the police station, resorted to stone pelting damaging several vehicles and injuring police personnel, including a few inspectors. The police resorted to baton charge and fired tear gas shells to disperse the mob.
"We have filed six different cases against those who indulged in the violence. The situation is under control now. We have taken all preventive measures against a repeat of such an incident," said the police commissioner, citing additional police deployment in the city.
Chief minister Basavaraj Bommai termed it as an organised attack and said such acts would not be tolerated. "I want to make it clear that the police will not hesitate from taking stringent action against anyone taking law into their hands," he told reporters on Sunday.
State home minister Araga Jnanendra told reporters that one inspector sustained serious injuries and has been hospitalised. "Let them be from any religion or group, the government will not allow violation of law and order."
Former chief minister H.D. Kumaraswamy urged the police to keep a watch on social media posts. "The social media has become a place to spread hate and violence," he said.
In an earlier incident, three youths were killed in police firing after rioters burned down the house of a Congress MLA Akhanda Srinivasa Murthy and attacked a police station in Bangalore over an offensive social media post by his nephew in August 2020. His nephew P. Naveen was later arrested.
The rioting had left more than sixty policemen injured and led to the arrests of over 150 rioters from the minority community.
Karnataka has of late witnessed a series of communal incidents targeting minority Christian and Muslim communities. While activists of Sangh parivar organisations barged into Christian prayer halls and churches, they turned their ire against girls wearing hijab in educational institutions, Muslim vendors at temple festivals, use of loudspeakers at mosques, and even called for a boycott of halal products.