Karnataka revives plan to ban Social Democratic Party of India
SDPI is an offshoot of the outlawed Students Islamic Organisation of India, whose footprints have been found in several instances of communal violence, including the recent arson in Bangalore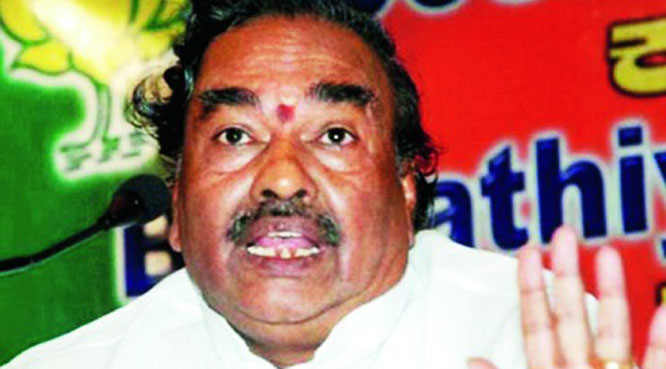 ---
---
The BJP has revived its plans to ban the Social Democratic Party of India (SDPI), an offshoot of the outlawed Students Islamic Organisation of India (Simi), whose footprints have been found in several instances of communal violence, including the recent arson and vandalism in Bangalore.
The political wing of the Popular Front of India, which claims to be a social organisation but is seen as harbouring Right-wing tendencies, the SDPI had allegedly played a key role in the violence late on Tuesday in which an MLA's house, two police stations and hundreds of vehicles were set ablaze in the Karnataka capital's east, triggering police firing in which three persons died. More than 60 policemen were injured.
"We will take the decision to ban both the SDPI and the PFI during our cabinet meeting on August 20," Karnataka panchayati raj and rural development minister K.S. Eshwarappa told reporters in Shimoga on Friday. Both the PFI and the SDPI trace their roots to Simi, which was banned soon after the 9/11 attacks in the US. The PFI and the SDPI are active in Karnataka, Kerala and also Tamil Nadu.
In January, the BJP government in Karnataka had tried to ban the SDPI during the anti-CAA protests. "The government is under pressure from various organisations to ban these groups whose leaders were behind the violence," Eshwarappa said.
A derogatory Facebook post by P. Naveen, nephew of local Congress MLA Akhanda Srinivasa Murthy, had sparked the Bangalore violence.
Revenue minister R. Ashoka said preliminary investigations had revealed that the SDPI had played a key role in fuelling the mob frenzy. "Their activists are also among those arrested. So the government has to take a call on the demand to ban them," Ashoka said.
Among those held for the violence is Congress councillor Irshad Begum's husband Kaleem Pasha, who allegedly has links with the SDPI. None from the SDPI has commented on the Bangalore violence.
The Dakshina Kannada district secretary of the CPM, Vasant Achari, questioned the logic behind banning these groups overlooking the fact that their rivals were Hindutva fundamentalists.
"First of all, I don't believe in banning any group. What happened after Simi was banned? They renamed themselves as PFI, SDPI and KFD (Karnataka Forum for Dignity). So they basically reappear with other names," he told The Telegraph on Saturday.
"Are those who are trying to ban them any less communal? Why are they leaving out the Hindutva groups like the Sree Rama Sene and the Bajrang Dal that's been creating so much of trouble?" Achari asked.