Karnataka limits financial grant to Hindu priests
Institutions directed to release one-time pay of Rs 3,000 each only to Hindu priests, irrespective of religion, in times of trouble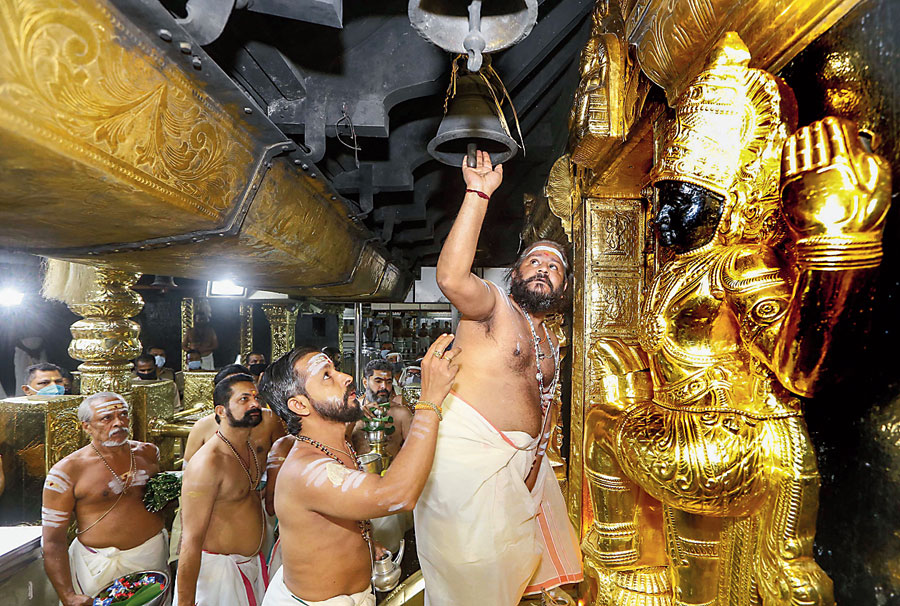 ---
---
The Karnataka government has withdrawn its earlier plan to provide a one-time financial grant to priests of all religions in view of the pandemic and limited it to Hindu priests following objections raised by the Vishva Hindu Parishad.
Minister for Muzrai (religious affairs) Kota Srinivasa Poojary has issued a revised instruction to the Hindu religious institutions and charitable endowments department to release the one-time grant of Rs 3,000 each only to Hindu priests by ending the decades-old tradition of helping priests, irrespective of religion, in times of trouble.
Poojary had recently issued an order following the precedent set in the 1970s to allow the grant for priests of all places of worship taking into account the pandemic that has hit them hard. But the VHP, in a memorandum submitted to the minister who is from the Dakshina Kannada district, had urged him not to use funds from the Hindu endowment to help priests of other religions.
"Out of 34,500 Hindu temples in Karnataka, 27,000 temples receive Rs 48,000 each every year, totalling Rs 133 crore as Tasdik grants," he said in a video message. Tasdik grant is a compensation under Karnataka Inam Abolition Act, 1955, paid to religious institutions for their land vested in the state government.
Congress lawmaker Rizwan Arshad slammed the BJP for being "a puppet in the hands of the Sangh parivar that doesn't have the courage to stand by its own decisions".
He said there was no information on whether the government planned to disburse the grant to non-Hindu priests through any other department.
"They are not giving this one-time grant out of their pockets. Neither is the state fund their ancestral property. It is taxpayers' money that is being used to provide some relief to the needy and it's high time this government realised that," Arshad said.
"The decision to limit the grant only to one section once again shows how hollow and shallow their 'sabka saath, sabka vikas' slogan is. I can only say it's very sad and unfortunate that we are having to debate such issues in the 21st century," he added.
Imam of Juma Masjid of Bangalore, Maulana Mohammed Maqsood Imran, said he couldn't believe his ears when he heard about the revised order.
"It is very unfortunate since we are all Indians in our nation. Elected representatives should not think they are there to help only those who voted for them. Once they are elected, they represent everyone," he told The Telegraph on Thursday.
He said the state Waqf board paid salaries of around 14,000 imams and muezzins. "Like temple priests, imams and muezzins are also paid Rs 4,000 per month. What the minister announced was a one-time payment," he said, adding even street vendors, autorickshaw drivers and all daily wage earners should be paid some money to tide over the situation.
The imam expressed hope that chief minister B.S. Yediyurappa would help the suffering priests of all religions. "I have faith in the chief minister who always gives us time to meet him to address our problems and concerns. I had met him thrice already since the onset of the pandemic," he said.
Shivananda Mendon, VHP secretary of Mangalore, contented that they had only objected to the use of Hindu endowment department's funds to pay priests of other religions.
"Why use the Hindu endowment department's money to make these payments? We have no issues if the government wants to pay them through the Waqf board or any other relevant department," he told this newspaper.
"The minister told us that the practice of using the Hindu endowment's money for such payments is in force since the 1970s. All we wanted was to stop using the Hindu endowment money to pay non-Hindu priests," said Mendon, one of the VHP leaders who met Poojary in Mangalore on Wednesday to submit the memorandum.
Asked what was wrong in using the Hindu endowment department's money to pay non-Hindu priests as it was government money, Mendon said: "That's not right."
Congress lawmaker and former minister U.T. Khader termed the entire episode as the "BJP's attempt to further polarise the people by sowing seeds of doubt in the majority community who might get the wrong impression that money from temples are being spent on mosques".
"I want the minister (Poojary) to clarify that it is the taxpayers' money that is used to provide such relief to various communities and sections of the society," he said.