Karnataka: Grotto of St Anthony stoned in amity belt
A milkman who had stopped by the grotto along the main road in Soosepalya village to pray spotted the damage around 5.45am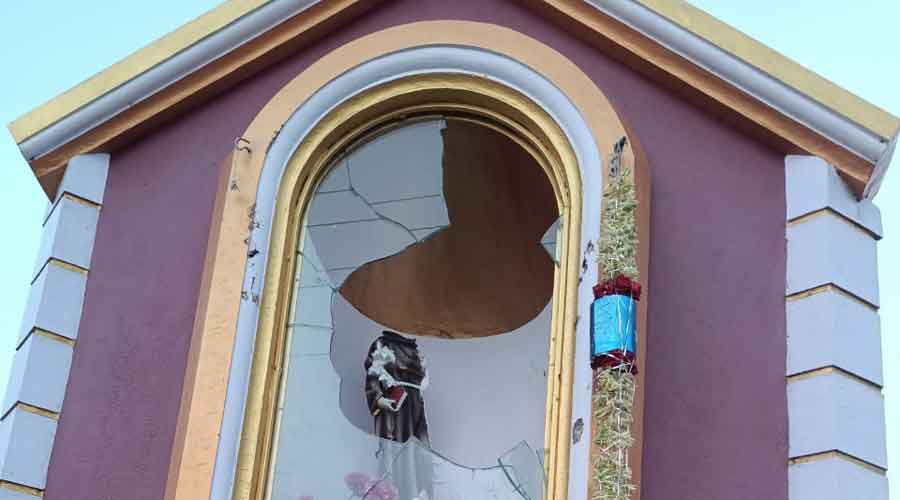 The statue of St Anthony and the glass covering had broken as a large piece of granite had been flung at it.
Twitter
---
Bangalore
|
Published 24.12.21, 01:22 AM
|
---
A grotto of St Anthony was found vandalised in Chikkaballapur near the Karnataka capital early on Thursday before the Assembly took up the contentious anti-conversion bill for discussion.
A milkman who had stopped by the grotto along the main road in Soosepalya village to pray spotted the damage around 5.45am. He alerted Father Joseph Anthony Daniel, a priest based in the village, who visited the spot at 6.30am and lodged a police complaint within 30 minutes.
The statue of St Anthony and the glass covering had broken as a large piece of granite had been flung at it. "The police inspector who visited the spot took the broken statue as evidence and asked us to install a new one, which we did," Fr Daniel said.
The police have registered a case under IPC Section 295 for defiling a place of worship.
"It was shocking since the grotto had been installed 42 years ago by some local people after a series of road accidents were reported at the sharp turn near the spot. Since then people often stop by to pray," Fr Daniel told The Telegraph on Thursday.
"People have been living in harmony here. This grotto co-existed next to an old Anjaneya temple just a few meters away without any issues. I don't know who is behind this act," the priest added.
He said there had been no such incidents apart from a controversy over a Cross at Shilavebetta, a nearby hillock, that was brought down two years ago since the local administration had alleged illegal occupation.
Christians across India's vast hinterland have been facing attacks from Hindutva activists over the past few years.
Fr David, however, said Chikkaballapur had not witnessed any problems. "We faced no issues here. That's why this is more shocking to us. There are hardly 800 Christians from 78 families here and the number has not changed," he added.
Chief minister Basavaraj Bommai's insistence on enacting a law against "illegal" conversions has vitiated the atmosphere in Karnataka with Sangh parivar activists staging attacks on churches.
Hindutva activists barged into a prayer hall at Nagarbhavi near Bangalore on Sunday. Another group made a bonfire of Christian literature in Kolar, near Chikkaballapur, on December 12 alleging illegal conversions.
Bajrang Dal activists had on November 28 interrupted a prayer in Hassan district, while Sangh parivar members locked up a pastor and worshippers at a prayer hall in Belgaum on November 7. Members of the Vishwa Hindu Parishad barged into a prayer hall in Hubli and sang bhajans in October.