Karnataka government crisis: the story so far
The Congress-Janata Dal (Secular) coalition struggle to save their government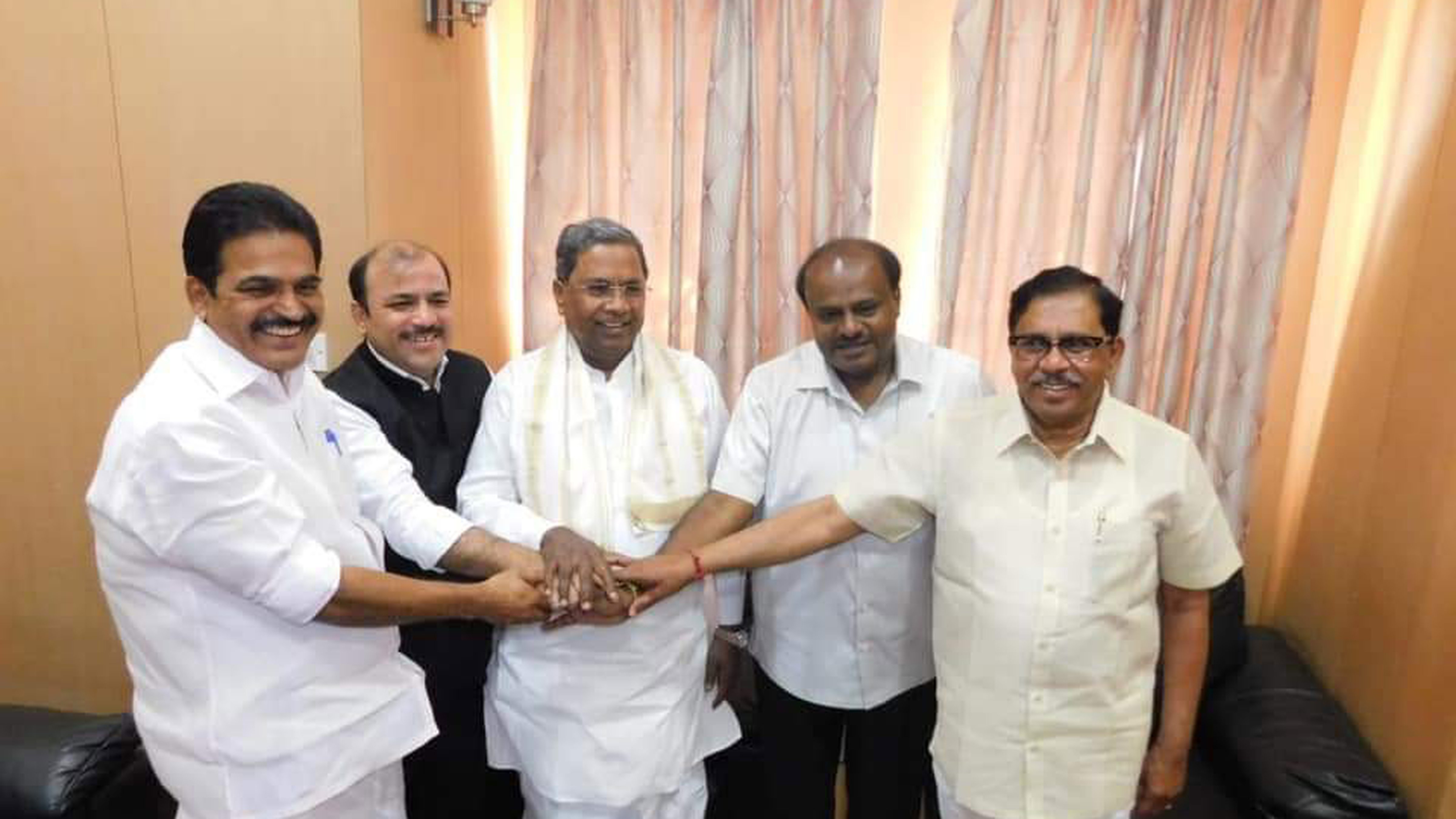 Congress leader K.C. Venugopal, JD(S) national general secretary Danish Ali, Congress leader Siddaramaiah, Karnataka chief minister H.D. Kumaraswamy, deputy chief minister G. Parameshwara met in March 2019, before the Lok Sabha debacle.
Source: @siddaramaiah
---
Delhi
|
Published 07.07.19, 02:26 PM
|
---
The Karnataka government is on the brink of collapse. A political crisis struck the Congress-Janata Dal (Secular) coalition government when eleven MLAs resigned from the Karnataka assembly on Saturday. Soon after, a scramble to save the 13-month-old government started. Amid allegations of horse trading and counter allegations of internal rift, the Congress leaders struggle to patch up their coalition. As the drama continues to unfold, here is the story so far.
March 4
Congress Chincholi MLA Umesh Jadhav resigned and later that month joined the BJP. He won the Gulbarga Lok Sabha seat for the BJP by defeating Congress veteran Mallikarjun Kharge.
April 23
Another Congress MLA Ramesh Jarkiholi threatened to resign reportedly disgruntled for being dropped as a state minister. "I'm still in the Congress, but I have decided to quit,' he told the reporters after polling.
May 26
Two rebel MLAs, Ramesh Jharkiholi and K. Sudhakar, met BJP leader S.M. Krishna at the latter's residence. The two rebel MLAs were among the six MLAs who reportedly travelled to Mumbai in February, allegedly at the behest of the BJP.
June 21
JD(S) chief and former prime minister H.D. Deve Gowda spoke about mid-term elections amid increasing differences between the two coalition partners. The rift in the Congress-JD(S) coalition started after the poor show in the general elections by both parties. BJP won 25 of the 28 seats in Karnataka.
July 1
Two Congress MLAs, Anand Singh and Ramesh Jarkiholi, resign from the assembly. Jarkiholi had been threatening to resign along with other MLAs. Karnataka BJP chief B.S. Yeddyurappa was quick to grab the opportunity to say that the BJP was open to forming a new government. Yeddyurappa, however, denied any involvement in their resignations.
July 2
Congress legislator Satish Ramappa assured that the government will not fall whether or not the chief minister changes. In April, Jarkiholi brothers of the Congress, Satish and Ramesh had a spat after Ramesh expressed his wish to resign. Satish had said that Ramesh was dreaming of toppling the government.
July 3
A video of a JD(S) MLA K. Mahadev claiming Rs. 40 crore in cash was offered to him surfaced. The state Congress in a tweet called it 'Operation Lotus' and alleged that BJP was behind luring Mahadev.
This is a murder of democracy orchestrated by @BJP4Karnataka

Modi is disrespecting peoples' mandate with Money & Muscle power.

This has been a trend across India to stample elected govts & grab power through backdoor. The constitutional decorum has been defamed, Shame on BJP.

— Karnataka Congress (@INCKarnataka) July 7, 2019
July 6
While Karnataka Chief Minister H.D. Kumaraswamy was away on a personal trip to the US, eight Congress and three JD(S) MLAs resign. Soon after their resignation the MLAs were believed to be flown out to Mumbai by the BJP.

July 7
The MLAs stay at a five-star luxury Sofitel hotel in Mumbai while the Congress scrambles to save the coalition government. BJP leader and union minister Prahlad Joshi blamed Siddaramaiah for the crisis. Some of the Congress MLAs resigned saying they wanted former CM Siddaramaiah to be made chief minister again. On Sunday, Deve Gowda had blamed Siddaramaiah for the political turmoil.
"BJP is indulging in horse trading," said Congress state president Eshwar Khandre. "It has been trying to destabilise this government since the beginning. Since day one they've been doing this."
Congress workers protested outside party office in Bangalore and later outside the Sofitel hotel, while Karnataka Congress leader and key troubleshooter D.K. Shivakumar met Deve Gowda and other leaders at an emergency meeting

Earlier in the day, Mallikarjun Kharge had accused the BJP of making the Congress MLAs resign. "BJP is intimidating the Congress and JD(S) MLAs and forcing them to resign. It is a big threat to democracy," Kharge told the press.
Chief minister Kumaraswamy took a special flight to Bangalore after coming back from the US to prevent the collapse of his government. Congress Legislature Party (CLP) meeting called by CLP leader Siddaramaiah on July 9 at Vidhana Soudha in Bangalore. All MLAs have been asked to attend.