Karnataka glue for Opposition
Speakers train poaching gun on BJP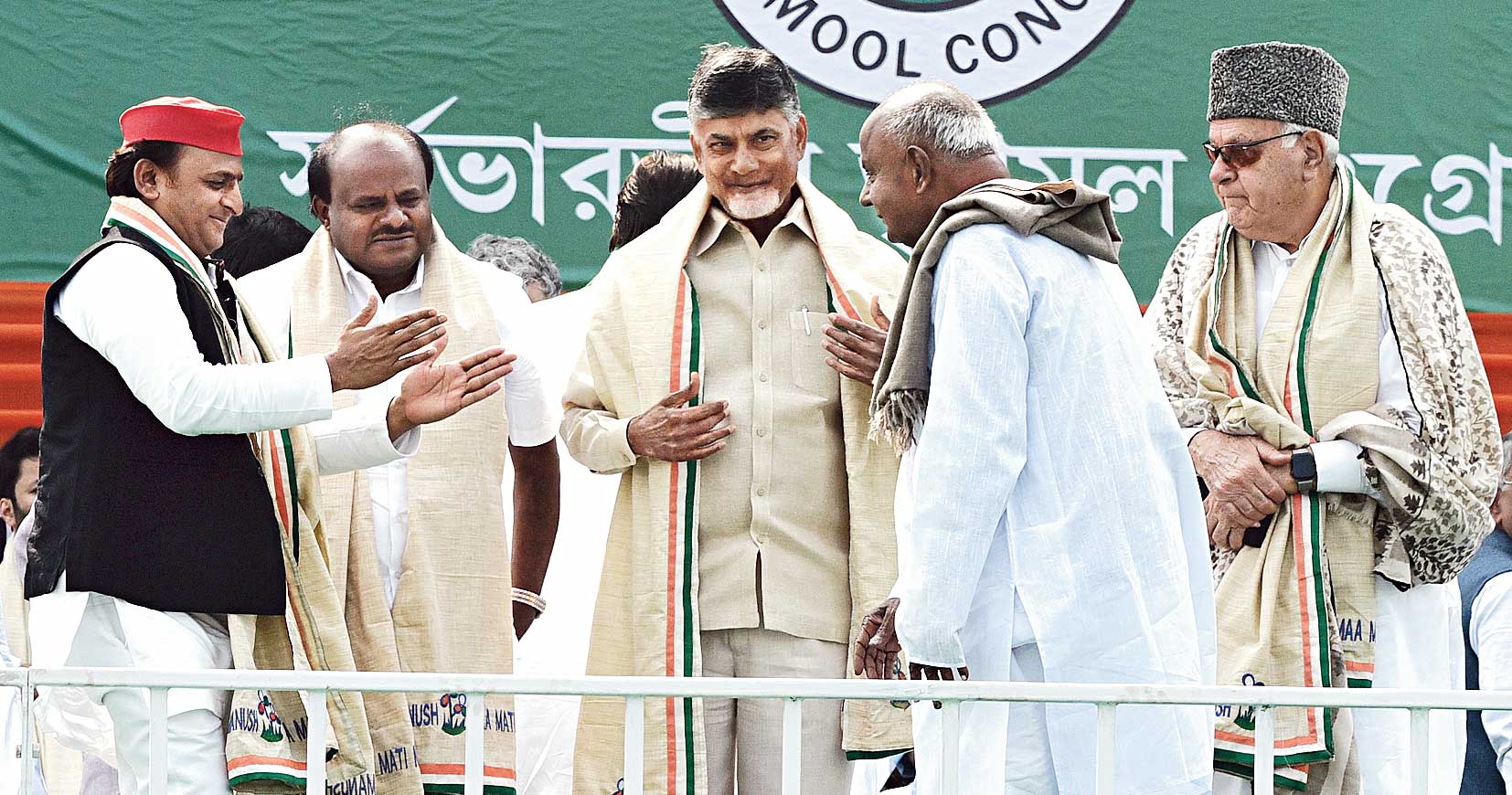 ---
Calcutta
|
Published 19.01.19, 09:25 PM
|
---
Karnataka featured prominently as a key theme at the Brigade rally, with leader after leader citing the alleged attempts by the BJP to topple the Congress-JDS government there through horse-trading as an example of the party's mislaid moral compass.
From Karnataka chief minister H.D. Kumaraswamy to his Andhra Pradesh counterpart N. Chandrababu Naidu, from leader of the Opposition Mallikarjun Kharge of the Congress to Trinamul chief Mamata Banerjee, leaders kept referring to the Karnataka crisis. The Congress has sequestered 76 of its MLAs in a resort far from Bangalore to keep them from being poached.
Two Independent MLAs — H. Nagesh and R. Shankar — announced earlier this week that they were withdrawing support from the Congress-JDS government. Two Congress MLAs are incommunicado.
"The BJP talked about its so-called fight against corruption in its national executive. On the same day, it resorted to horse-trading in Karnataka. That reveals the double standard," Kumaraswamy said in his speech.
Mamata thanked him for coming to attend the event despite the troubles in his state. In her speech, She questioned the BJP over the alleged misuse of crores of rupees for horse-trading.
"You are offering crores and crores and crores to buy MLAs in Karnataka to topple a stable government, duly elected by the people there. Why don't you, instead, use that same money for the benefit of the poor people? I find this bewildering," Mamata said.
Kumaraswamy said: "Democracy is being reduced to a numbers game. Legislators are being treated as commodity."
He added: "What you have been watching for a week is how the BJP is trying to destabilise the stable government in Karnataka. I want to put one question to the honourable Prime Minister. Recently, during his party meeting, he said he wanted to remove corruption and clean the country. But what is going on in Karnataka?"
The JDS leader questioned the source of the money the BJP is allegedly offering Congress MLAs.
Andhra Pradesh chief minister Naidu also pointed at Karnataka to condemn the BJP. "From this meeting, we warn the Centre and the BJP. If you meddle with Karnataka, you will pay a huge price," said the TDP chief.
Congress leader Kharge, who mentioned the Karnataka situation in his speech, later told journalists at a news conference that of the four Congress MLAs who skipped a legislature party meeting in Bangalore on Friday, two had satisfactorily explained their absence.
"Regarding the other two, first, we will issue a showcause notice asking for an explanation. Then we will take some action after discussion with the party members," said Kharge at Bidhan Bhavan, the Bengal Congress headquarters.
Kharge accused the BJP of trying to intimidate Congress MLAs in Karnataka into defecting. "This is not the first for the BJP. They did it in Goa, Manipur, Uttarakhand, and Arunachal Pradesh. Now they are trying to do it in Karnataka. But they are doomed to fail," he said.