Karnataka crisis: 'Rethink' rebel has another rethink
Nagaraj accused Revanna of 'interfering' in transfers within the housing department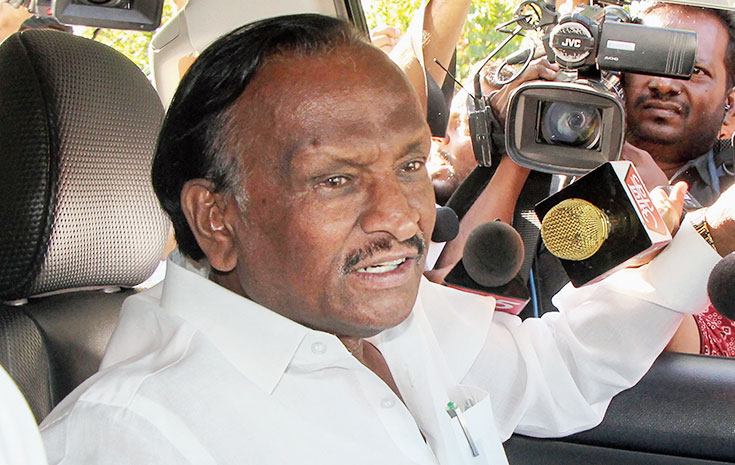 ---
---
A rebel Karnataka Congress MLA who had hinted at rethinking his resignation hopped onto a chartered flight to Mumbai on Sunday, jolting the coalition government's hopes of winning back some of the dissidents before an impending trust vote.
Veteran lawmaker M.T.B. Nagaraj had held out hope for the Congress-Janata Dal Secular alliance on Saturday, meeting senior party leaders and seeking "some more time" to decide whether to withdraw his July 10 resignation.
On Sunday, he accompanied BJP politician R. Ashok on the flight to Mumbai to join a dozen other ruling alliance MLAs who have resigned and hunkered down at a Mumbai hotel since July 6.
Before leaving, Nagaraj accused JDS chief minister H.D. Kumaraswamy's brother and public works minister H.D. Revanna of "interfering" in transfers within the housing department, which he had held till all the ministers were asked to resign last week to accommodate the rebels.
"Several leaders are unhappy about Revanna's interference in other departments. He went about transferring officials in all departments according to his whims. How can I carry out my functions if someone else shunts out my officials?" he told reporters.
He said he had discussed the problem with Kumaraswamy several times but nothing came of it.
Nagaraj later addressed a media conference from the Mumbai hotel and ruled out returning to the coalition. "There's no question of taking the resignation back," he told a questioner.
Rebel leader S.T. Somashekar intervened to say that none of the dissidents cooped up in the hotel would withdraw their resignations.
Nagaraj had on Saturday held marathon discussions with Congress trouble-shooter and minister D.K. Shivakumar, party senior P.C. Siddaramaiah and Kumaraswamy. He had told reporters the situation had "changed" since his resignation, raising the coalition's hopes.
Sources said things took a different turn after Nagaraj held talks with Ashok shortly after meeting Siddaramaiah.
State Congress chief Dinesh Gundu Rao sounded upset after Nagaraj left for Mumbai. "The rebels should be punished under constitutional provisions. They should be taught a lesson for playing with democratic principles," he said.
Some 13 Congress MLAs and 3 from the JDS have handed in their resignations which, if accepted, will reduce the government to a minority. The Assembly numbers are now 117 for the government and 107 for the BJP, after two Independent ministers resigned and switched sides this week.
On Friday, the Supreme Court gave the state government a breather by preventing the Speaker from deciding on the resignations till further orders from a constitution bench, which will start hearing the larger issues involved from Tuesday.
Within minutes of the court order, Kumaraswamy had sought a trust vote, catching the BJP by surprise. The BJP appeared more confident today.
"There's no way this government can last. The best thing for them is to resign and go home," said M.P. Renukacharya.
Shobha Karandlaje, aide to state BJP president B.S. Yeddyurappa, urged Kumaraswamy to move the trust motion "at the earliest".