Congress-JDS turncoats seek refuge in the face of Yediyurappa exit
They cited the probable successor's need to heed to the rising demand for cabinet berths from the ruling party's old-timers in the state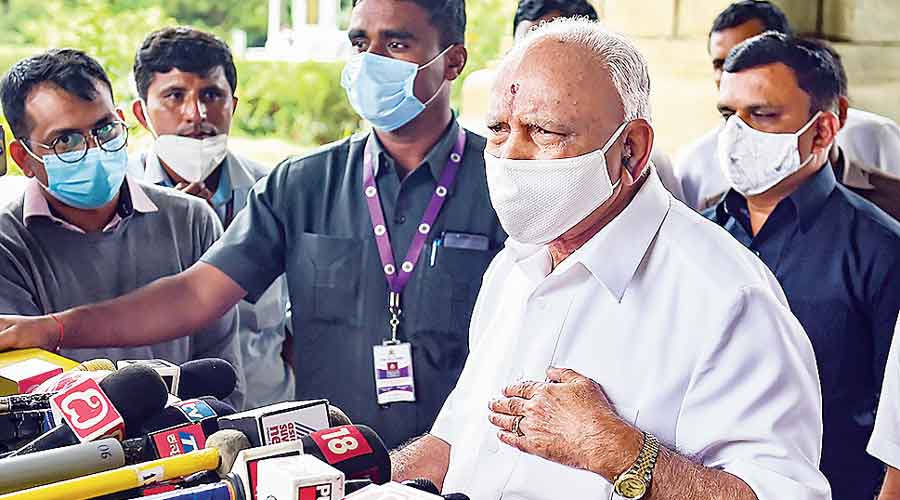 B.S. Yediyurappa
File picture
---
Bangalore
|
Published 24.07.21, 01:04 AM
|
---
The likely exit of B.S. Yediyurappa from the Karnataka chief minister's office has sent heartbeats racing among the Congress-JDS turncoats who helped the BJP veteran return to power two years ago as his successor would have to heed to the rising demand for cabinet berths from the ruling party's old-timers.
Some of the 17 defectors met Yediyurappa on Thursday evening in a sign that they were trying to lobby to retain their places in the cabinet that had come as reward for pulling down the Janata Dal Secular-Congress coalition government.
Among them were health minister K. Sudhakar, agriculture minister B.C. Patil, municipal administration minister M.T.B. Nagaraj, excise minister K. Gopaliah, labour minister Shivaram Hebbar and urban development minister B. Basavaraj.
Sources close to some of the ministers said the meeting lasted for more than 30 minutes and they discussed their future.
"It was Yediyurappa who had inducted them into the cabinet. Naturally they are seen as his loyalists and hence the apprehension about having to make way for others once a new chief minister takes over," said a BJP functionary who declined to be named.
He, however, added it was unlikely that all the defectors would be replaced immediately.
"There is a good chance that new faces and youngsters would be inducted into the new cabinet. But that won't be at the cost of those who helped us form the government. No chief minister can replace all of them at one go," the functionary told The Telegraph.
Nagaraj told reporters that they only discussed "pending projects and transfers" and that there was nothing more to the meeting. But he expressed willingness to resign if the party asked him to.
The 17 lawmakers — 14 from the Congress and three from the JDS — had switched to the BJP in an operation engineered by Yediyurappa, who had flown most of them to Mumbai and sequestered them in a hotel till the coast was clear for him to take over after H.D. Kumaraswamy resigned as chief minister on July 23, 2019.
Then Assembly Speaker Ramesh Kumar had disqualified the 17 MLAs, forcing them to contest on BJP tickets. Yediyurappa eventually kept his promise by inducting most of them into the cabinet against stiff opposition from BJP old-timers who had to be passed over.
With a change of guard imminent in Karnataka, at least some of the defectors may have to be replaced to accommodate aspirants from among the BJP old-timers.
"Since we can't afford to risk a rebellion, our leaders will be careful enough not to antagonise them (the defectors). I think only three or four of them will be replaced with new faces," said another BJP source from coastal Karnataka.
State Congress president D.K. Shivakumar has been claiming that several BJP lawmakers, especially from Yediyurappa's Lingayat community, were in touch with his party for possible defection.
The BJP functionary rubbished such claims. "He (Shivakumar) can say what he wants. Not a single BJP MLA will leave us," he said.
Amid speculation that the 14 lawmakers who had left the Congress in 2019 were in touch with their old party, leader of the Opposition P.C. Siddaramaiah on Friday denied there was any plan to absorb the deserters.
"Who is saying they are coming back (to the Congress)? I had made it clear on the floor of the House that none of them would be taken back," he said.
In the Assembly of 224 seats, the BJP has 119 members, the Congress 68, the JDS 32, the Bahujan Samaj Party one and two Independents who back the ruling party. There are two vacancies.