Karnataka college faces blacklisting after 'experiment'
Cartons around head to stop cheating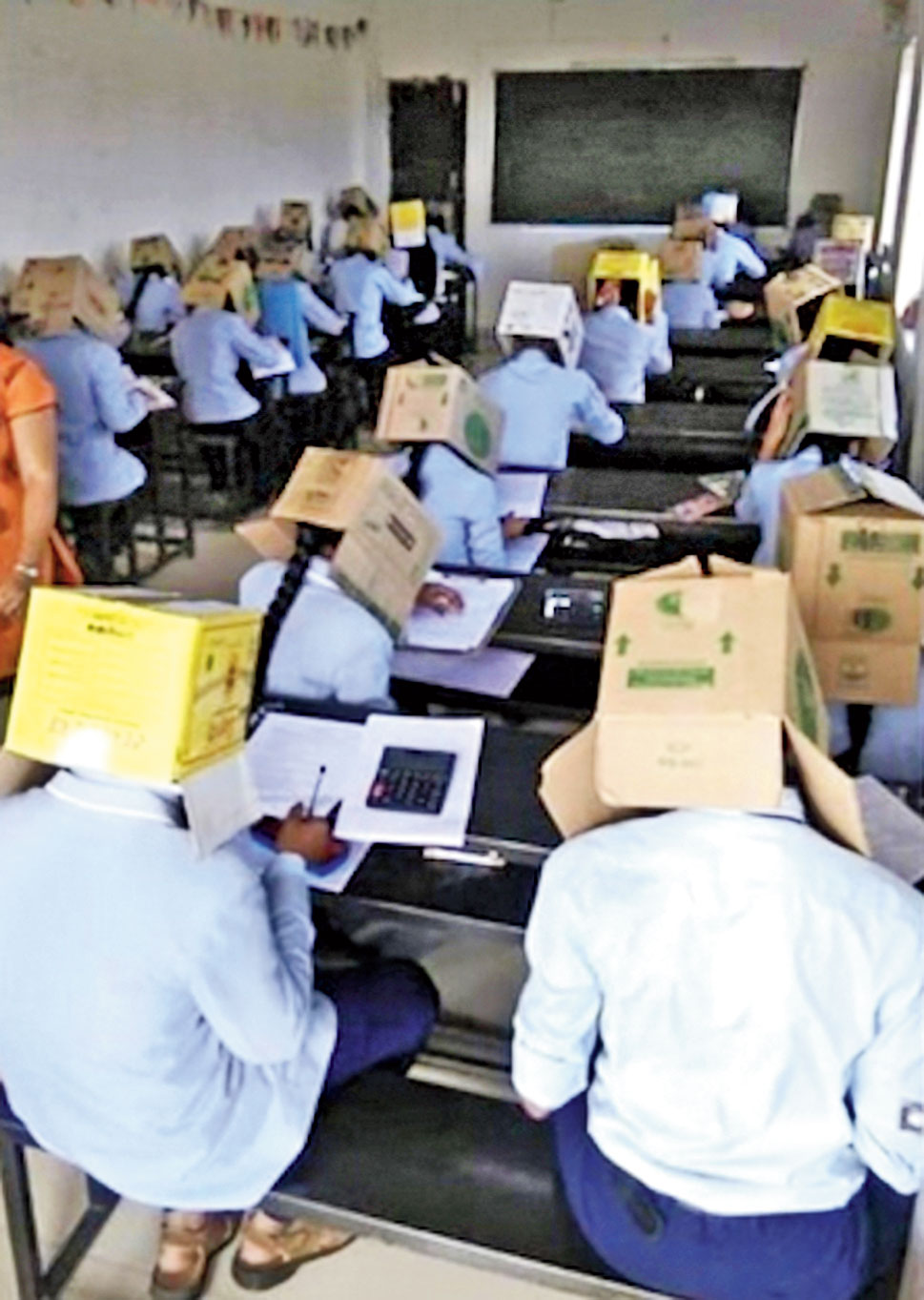 The students write the exam covering their heads with cartons in Haveri
(Sourced by Correspondent)
---
Bangalore
|
Published 19.10.19, 07:42 PM
|
---
A college in north Karnataka made students write their mid-term exams with their heads wrapped in cardboard cartons with just an opening in the front, the unusual "experiment" ostensibly aimed at stopping them from looking at each other's answer papers.
Authorities of Bhagat Pre-University College in Haveri, around 350km from here, claimed they had taken the consent of the students before trying out the tactic earlier this week but the government isn't amused.
S.C. Peerzade, deputy director of the Department of Pre-University Board, said he has recommended that the college be blacklisted.
That could lead to the private college losing its licence from the next academic year.
"I got to know about this bizarre and inhuman method when the college itself posted pictures on its Facebook page at noon on October 16. When I rushed to the college I saw a good number of students writing the exam with their heads partially covered with cartons," Peerzade told The Telegraph on Saturday.
More than 50 students, he said, were writing their chemistry and commerce papers with cartons around their heads with just a small opening for front view. "I immediately issued a show-cause notice to the college management and later sent my recommendation to the board to blacklist the college from the next academic year."
The higher-ups in the board would take a call on the recommendation, he added.
If it is blacklisted, the college, which has students up to Class XII, cannot accept admissions from the 2020 academic year, though the existing students would be allowed to complete their courses.
S. Suresh Kumar, minister for primary and secondary education who is in charge of the pre-university board, said what the college did was totally unacceptable.
"Nobody has any right to treat anybody more so students like animals. This perversion will be dealt with aptly," Kumar tweeted.
Peerzade said it was the "most ridiculous thing" he had ever seen.
"The management explained they had seen this kind of system in some video clips from other countries. But to me, it was the most ridiculous thing, as there are many humane ways of stopping students from copying."
College officials claimed they tried out the "experimental" method with the consent of the students.
"This was in no way a permanent system. We proposed this idea five days before the exams and asked the students to take their own call. Eventually, 56 of the 72 students in the science and commerce batches agreed to try it out," college director M.B. Satish told this newspaper.
Satish said he had got the idea from some video clips that showed children writing exams with cartons covering their heads. "I saw some videos in which some institutions had tried this in China and Japan," he claimed.
A recent video clip from Mexico suggests a similar tactic was tried in September. Earlier, in 2013, a Thai university had landed in a controversy for using custom-made "anti-cheating hats" with sheets of white paper that work like blinkers on horses.
Satish said the five-year-old college had never tried anything like this before. "Our only aim was to experiment with some unique methods to stop children from copying by looking into other's papers," said Satish.
The college director expressed concern about possible action by the pre-university board.
"I hope the board and the government understand that we only tried something new," Satish said.