Karnataka builds mud wall as Kerala sees surge in Covid cases
The decision to limit entry from the state to only those with recent RT-PCR negative certificates, has already witnessed protests on the Kerala side of the inter-state border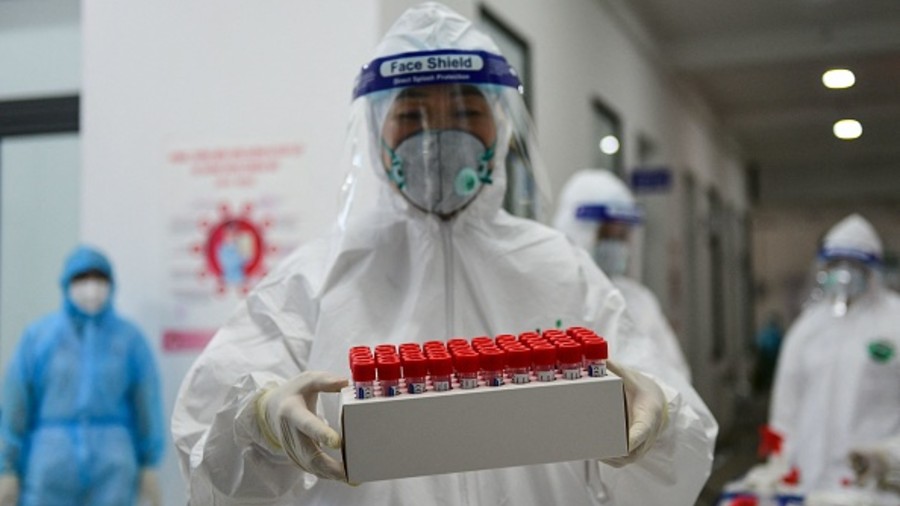 ---
Bangalore
|
Published 07.08.21, 01:28 AM
|
---
The Karnataka government has barricaded all roads bordering Kerala by dumping mud in a repeat of what it did last year as part of its controversial effort to stop a spike in Covid cases.
The decision to limit entry from Kerala to only those with recent RT-PCR negative certificates, has already witnessed protests on the Kerala side of the inter-state border. Kerala has reported a sharp rise in Covid cases, counting over 20,000 daily cases for a week and making up half the country's caseload.
On Thursday night, the Dakshina Kannada administration blocked with mud all roads, even those in villages, that serve as links with Kerala, replicating a preventive measure it had taken during the first wave in February 2020. More than 20 critically ill non-Covid patients from Kerala had died during that time since Karnataka refused entry to even ambulances ferrying them to Mangalore hospitals.
Many north Kerala residents, especially from the sprawling Kasaragod district, travel to Mangalore for better medical treatment. People on both sides have close family connections too.
The main trigger for the latest roadblocks in violation of court orders is the surge in Covid cases in Kerala. Karnataka, on the other hand, has been reporting less than 2,000 cases a day.
All non-BJP political parties in Kerala have staged protests and taken retaliatory action by stopping vehicles from Karnataka trying to cross the border via the national highway in Thalapady, Dakshina Kannada, over the past few days.
Kerala chief minister Pinarayi Vijayan on Thursday told the Assembly that the restrictions imposed by neighbouring Karnataka was in violation of the Union government's guidelines that clearly say that inter-state movements should not be stopped. He made the statement in response to a submission by Kasaragod MLA A.K.M. Ashraf who highlighted how interconnected the two states were.
"Half of the birth and death certificates of residents of my constituency are issued in Mangalore," Ashraf said, highlighting the dependency of bordering regions of Kerala on Mangalore.
Kasaragod district CPM committee member K.R. Jayananda, who has been spearheading a campaign against the roadblocks, termed the action by Karnataka a violation of court orders.
"This is against a Kerala High Court directive and hence an act of contempt. We are going to file a fresh petition on Monday since Karnataka has either dumped mud or barricaded all the 24 roads that connect Kasaragod district to Dakshina Kannada," Jayananda told The Telegraph on Friday.
The Kerala government had moved the high court last year against Karnataka's decision to block roads. The court had termed the roadblocks illegal.
Jayananda also questioned the Karnataka government's decision to restrict entry to only those with RT-PCR negative certificate not older than seven days. "Two doses of vaccines are enough to travel abroad. But Karnataka, which is a state in our country, requires an RT-PCR report. What kind of logic is this?" he asked.
Jayananda noted that more than 90 per cent of the residents of Kasaragod villages depend on Mangalore for various needs. "We have families in Mangalore (the headquarters of Dakshina Kannada district) and our children pursue higher education there," he said.
A Dakshina Kannada district administration official justified the move to barricade roads. "We don't want to take any chance by allowing people from Kerala since the test positivity rate is over 13 per cent there. But we have no issues in letting in people who meet the conditions," said the official who declined to be named.
According to him, a large number of people from Kasaragod have been entering Dakshina Kannada through mud roads, which is why even they have been blocked. "What else can we do? We have orders to ensure cases do not spike in our district," the official said.
Dakshina Kannada has been recording over 300 daily Covid cases over the past couple of weeks, up from around 100 prior to that. This is being seen as a failure to keep a tab on people entering from Kerala.
The Karnataka government has officially not issued a clarification since it has been busy forming the council of ministers after Basavaraj Bommai took over as chief minister from B.S. Yediyurappa.