Karnataka bid to free Hindu temples from government control
Bommai told a BJP state executive committee meeting on Wednesday that the bill would be tabled before the budget session in February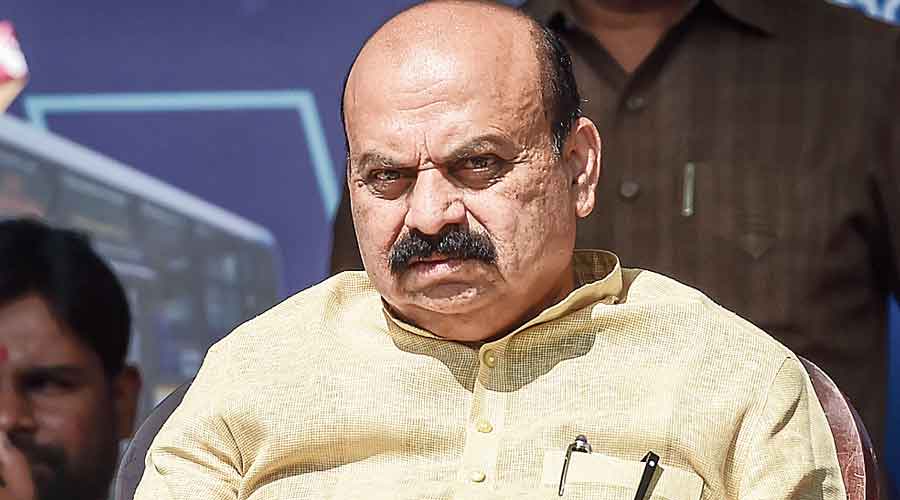 Basavaraj Bommai.
PTI Photo
---
Bangalore
|
Published 01.01.22, 12:42 AM
|
---
The BJP chief minister of Karnataka has embarked on a mission to free Hindu temples from government control to fulfil a poll promise and sustained demands from the RSS.
After getting the Assembly to pass a controversial bill against religious conversions, chief minister Basavaraj Bommai has now promised to bring a bill to free all temples from government control and allow their independent administration.
Currently administered by the Hindu Religious Institutions and Charitable Endowments Department, also called Muzrai, 34,563 temples will be freed if Bommai manages to clear the proposed bill amid opposition from the Congress.
Bommai told a BJP state executive committee meeting on Wednesday that the bill would be tabled before the budget session in February. "There shall be no (government) control on temples other than regulations. They will be allowed total autonomy in terms of administration," Bommai told the party meeting.
This comes amid demands from the RSS to allow Hindu temples to function without state control like mosques and churches.
Around 207 large temples whose annual income exceeds Rs 25 lakh come under the "A" category, 139 temples fall under the "B" category with annual incomes ranging from Rs 5 lakh to Rs 25 lakh, while 34,217 temples are in the "C" category with an annual income of less than Rs 5 lakh.
Bommai told the party meeting that his seniors had raised concerns over how Hindu temples were unable to spend their earnings without government consent and promised everything would change once the bill was passed.
The Congress has come out against any attempt to free temples since they are a major source of revenue for the state that has been spending huge sums on their upkeep.
"They are making a historic blunder. How can Muzrai temples be given to the local people for administration? These temples are the wealth of the government," state Congress president D.K. Shivakumar said.
"Crores of rupees are being collected by these temples. We will not allow it (to free temples)," he told reporters.