Haryana: SDM who ordered to break farmers' heads transferred
While SKM is yet to comment, it has firmed up plans on its response if the state govt fails to accept its demand for action against Ayush Sinha by September 6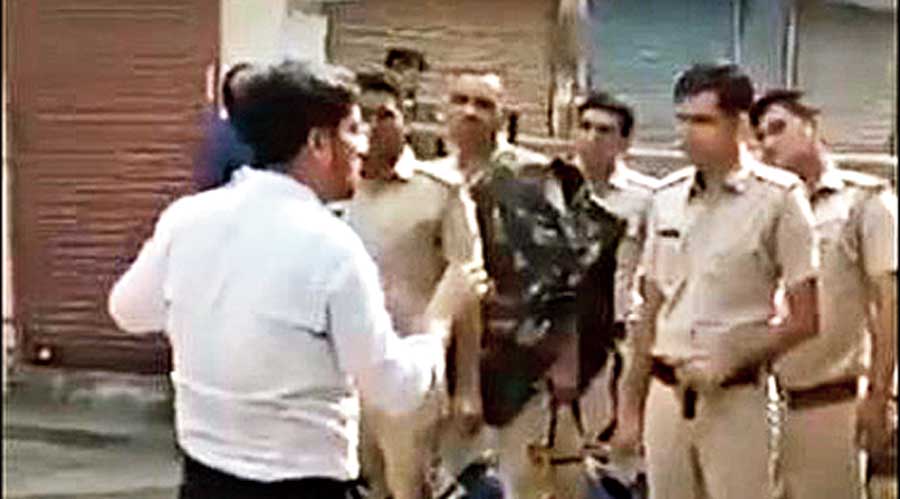 Karnal sub-divisional magistrate Ayush Sinha
File picture
---
New Delhi
|
Published 02.09.21, 03:11 AM
|
---
Karnal sub-divisional magistrate Ayush Sinha, caught on camera ordering police to break the heads of protesting farmers, was on Wednesday transferred as an additional secretary to Chandigarh at a time the Samyukta Kisan Morcha is demanding his dismissal.
Sinha's transfer to the Haryana citizen resource information department, ordered two days after chief minister Manohar Lal Khattar had defended him, is unlikely to pacify the protesting farmers.
The farmers want Sinha not only dismissed but also booked on murder charges over the death of farmer Sushil Kajal, who had suffered injuries in Saturday's lathi-charge.
While the Morcha is yet to comment on the transfer, it has firmed up plans on its response if the state government fails to accept its demand for action against Sinha by September 6.
As of now, the Morcha plans to lay siege to the mini-secretariat in Karnal if its demands are not met within the deadline.
Apart from action against Sinha and other officials involved in the lathi-charge, the Morcha is also pressing for the withdrawal of the cases filed against Haryana's farmers.
Given the links they have with other segments of society in agrarian Haryana, the farmers have been receiving support from lawyers and people in other professions. Protest meetings are being organised elsewhere in the country, too, against the "high-handed behaviour" of the Haryana government.
A delegation of the All India Kisan Sabha on Tuesday visited the family of Kajal and handed his wife a cheque for Rs 1 lakh.
On Wednesday, AIKS general secretary Hannan Mollah told reporters that Kajal's mother had alleged he had died of internal injuries suffered during the lathi-charge.
Told about the police claim that the family had failed to have a post-mortem done, AIKS finance secretary P. Krishnaprasad shot back: "If that is so, why did the police not insist on a post-mortem?"
He added: "The Kisan Sabha has demanded a judicial probe by a sitting judge as the family of the deceased believes he succumbed to his injuries, for which he did not get proper treatment."
According to the AIKS, farmer leaders have alleged that Kajal was severely beaten up by a group of policemen, who did not allow him to be taken to hospital. Also, severely injured farmers were allegedly forced to leave hospital after first aid.
"The body was cremated in the village without post-mortem on 29th August 2021," an AIKS report says.
"The superintendent of police, Ganga Ram Puniya, has claimed the death was due to heart attack. How the police can state the cause of death without a post-mortem? This is a purposeful act to hide the truth and protect the culprits."
The report adds: "The BJP-led state government and the chief minister are shamelessly trying to protect the culprits by not ensuring a post-mortem after they received the report of the death of the farmer activist."