Kanhaiya Kumar, Jignesh Mevani likely to join Congress
Rahul will be eager to give Kanhaiya a key role in the organisation, providing a fillip to the restructuring process that he is silently executing in the party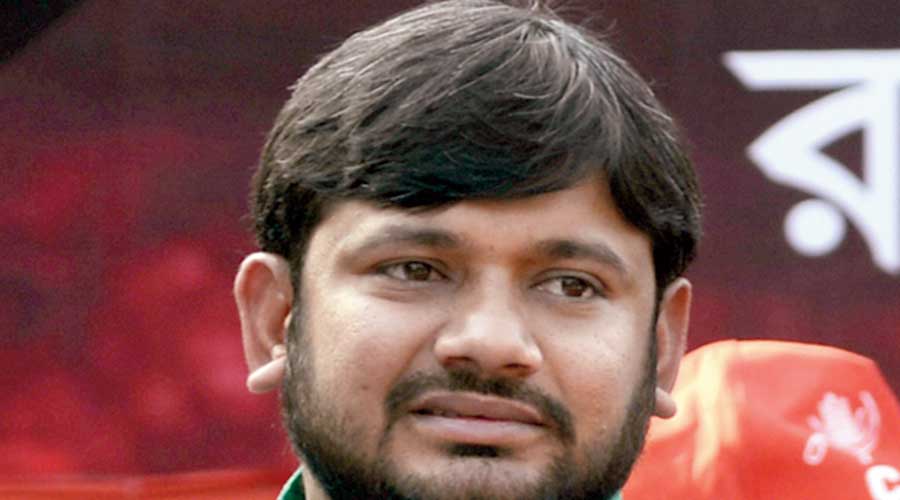 Kanhaiya Kumar
Telegraph picture
---
New Delhi
|
Published 21.09.21, 12:53 AM
|
---
Amid suspicion within the CPI about his exit and confidence in the Congress about his entry, former JNU students' union leader Kanhaiya Kumar has maintained complete silence over his next move even as a change appears inevitable.
Sources in the Congress confirm that Kanhaiya has been in touch with Rahul Gandhi and is likely to join the party along with Gujarat Dalit activist Jignesh Mevani.
Although Mevani, who became an MLA with the Congress's support in the last election, is said to be keen on entering the Congress soon as Gujarat will go to the polls next year, Kanhaiya is still in two minds about the timing of his decision.
A leader from Gujarat said: "We don't have first-hand information because both Kanhaiya and Mevani deal with Rahul Gandhi directly but we hear Hardik Patel is working to bring both of them into the party."
The Congress had left a safe seat for Mevani in the last election and worked hard to ensure his victory even as he remained an independent MLA. Now he is willing to join the party to fight the BJP more effectively.
Mevani dropped hints of softness towards the Congress in a tweet on Monday: "The decision of appointing Charanjit Singh ji as the Chief Minister of Punjab is a message that Rahul Gandhi and Congress have given. It will have tremendous impact amongst not just Dalits but all the subaltern masses. For Dalits, the move is not just brilliant but soothing too."
Activists usually tend to dismiss such decisions as symbolism but Mevani's assessment suggests political pragmatism and a soft attitude towards the Congress. If Mevani eventually moves to the Congress, it will be a personal choice. Kanhaiya's case is complex because of his position in the CPI, his ideological commitments and the Congress's pitiable situation in Bihar.
Although Kanhaiya is said to be disenchanted with the CPI because of its organisational limitations and India's current political realities, he will still have ideological qualms over joining the Congress.
The Congress's reliance on the RJD may also be a concern as there is a perception that Kanhaiya doesn't get along with Tejashwi Yadav. The dynamic young leader will also want greater freedom to rebuild the Congress in Bihar, and this means charting a course independent of the RJD at some point.
The Congress has no misgivings about Kanhaiya's entry as the party is aware that his appeal cuts across barriers of caste, religion and region. The Congress has been ridiculed for the exit of young leaders like Jyotiraditya Scindia, Jitin Prasada and Sushmita Dev, and Kanhaiya will be a big catch under these circumstances.
Rahul will be eager to give Kanhaiya a key role in the organisation, providing a fillip to the restructuring process that he is silently executing in the party.
While he has brought in most of the G23 leaders over the past few weeks, engaging them in party work at different levels, Rahul has consciously adopted a tough stance on a few leaders who are seen to be vocal against his leadership. "No reconciliation effort so far," said a G23 leader.
Rahul is indeed focused on creating a new face for the Congress. Replacing the deeply entrenched and powerful chief minister Amarinder Singh was never going to be an easy decision but he pushed it with exceptional determination.
Rahul has already installed new leaders like Nana Patole, Revanth Reddy, D.K. Shiv Kumar and Navjot Singh Sidhu as state unit chiefs and more such decisions are in the pipeline. Kanhaiya's entry into the party at this stage will bolster the perception of change.