Kangana Ranaut permanently suspended from Twitter
Tweeting about the post-poll violence in Bengal, she asked Modi to show his 'virat roop' from the 'early 2000s'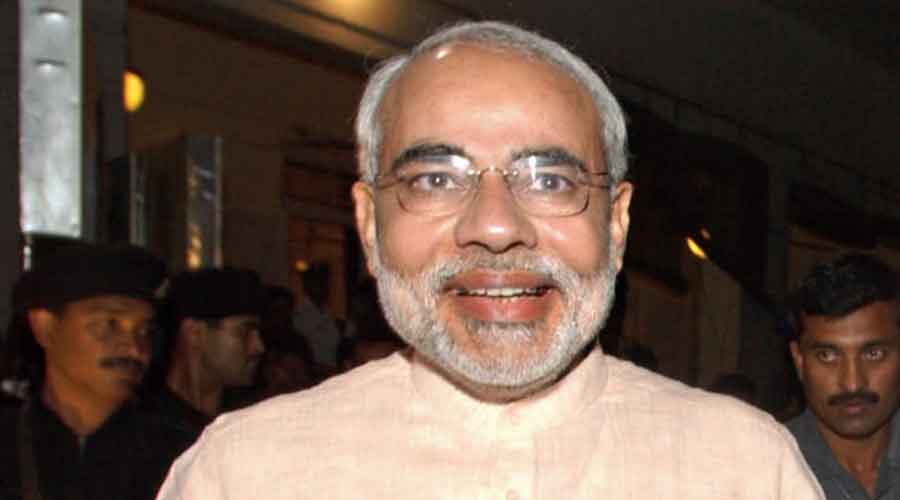 Modi in 'early 2000s' when he was Gujarat chief minister
File picture
---
New Delhi
|
Published 05.05.21, 02:05 AM
|
---
Actress Kangana Ranaut posted a curious tweet on Monday, which was followed by her permanent suspension from the microblogging site although no direct link has been cited between the specific post and the penalty.
Responding to defeated BJP candidate Swapan Dasgupta's tweet on post-poll violence in Bengal, Ranaut asked Prime Minister Narendra Modi to show his "virat roop" from the "early 2000s". "Virat roop" translates as a mammoth or imposing form.
It is not clear what Ranaut meant by Modi's "virat roop" of the "early 2000s". An indelible feature of 2002, which qualifies as "early 2000s", was the communal riots of Gujarat when Modi was chief minister. Many Muslims were killed, and Modi was not found guilty by any court.
Since then, Modi and his devotees do not like to be reminded of the darkest era in Independent India that unfolded on his watch.
Ranaut's ill-timed reminder of the "early 2000s" has come at a time a concerted attempt has been gaining ground to project Modi as a sage-like statesman.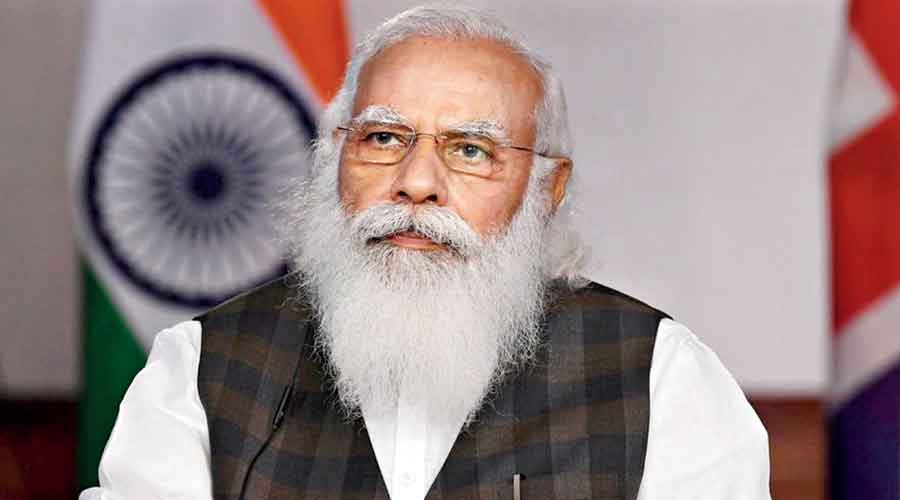 Ranaut's tweet, now not viewable, said: "This is horrible... we need super gundai to kill gundai... she is like an unleashed monster, to tame her Modi ji please show your Virat roop from early 2000's.... #PresidentRuleInBengal."
Twitter did not specifically link her suspension to this particular tweet.
A Twitter spokesperson told The Telegraph: "We've been clear that we will take strong enforcement action on behaviour that has the potential to lead to offline harm. The referenced account has been permanently suspended for repeated violations of Twitter Rules specifically our Hateful Conduct policy and Abusive Behaviour policy."
The significance of "early 2000s" was not lost on social media users. One Twitter user posted: "Kangana's tweet had hurt the 'system'. The system does not like to be associated with 2002. Remember the Karan Thapar interview where the system abruptly left midway when probed on 2002 violence. Twitter is pleasing the system, not containing hate speech."
"System" is a social media nickname for Modi ever since a purported briefing note prodded journalists to blame the "system" for the Covid mess in India.
Another Twitter user said: "Kangana Ranaut only stated about the 'valour' of the Prime Minister in his years as a chief minister in the early 2000s. And everybody — including and especially the BJP supporters — knew exactly what it meant."
The BJP has consistently denied involvement of its members in the Gujarat riots.
Ranaut, seen as part of the Right-wing ecosystem, is accused of routinely tweeting communal and unverified remarks. These are normally amplified by social media handles sympathetic to the larger Sangh parivar. However, not many prominent social media users sprang to her defence till Tuesday evening.
On Monday, lyricist Hussain Haidry cited two tweets of Ranaut and tweeted: "If you are a blue tick account or with large following, I am not asking you to speak up against this. But please just quietly REPORT these two tweets. This is calling for mass violence. And directing it at Muslims."
Fashion designer Anand Bhushan said in a statement: "In view of certain events today, we have taken a decision to remove all collaboration images with Kangana Ranaut from our social media channels. We also pledge never to be associated with her in any capacity in the future. We, as a brand, do not support hate speech."
Ranaut responded with a video on Instagram titled, "Distressed, beyond words, death of democracy. important message for our government", in which she demanded President's rule in Bengal.