Journalist to labourer: state of J&K media
Gag robs scribes of livelihood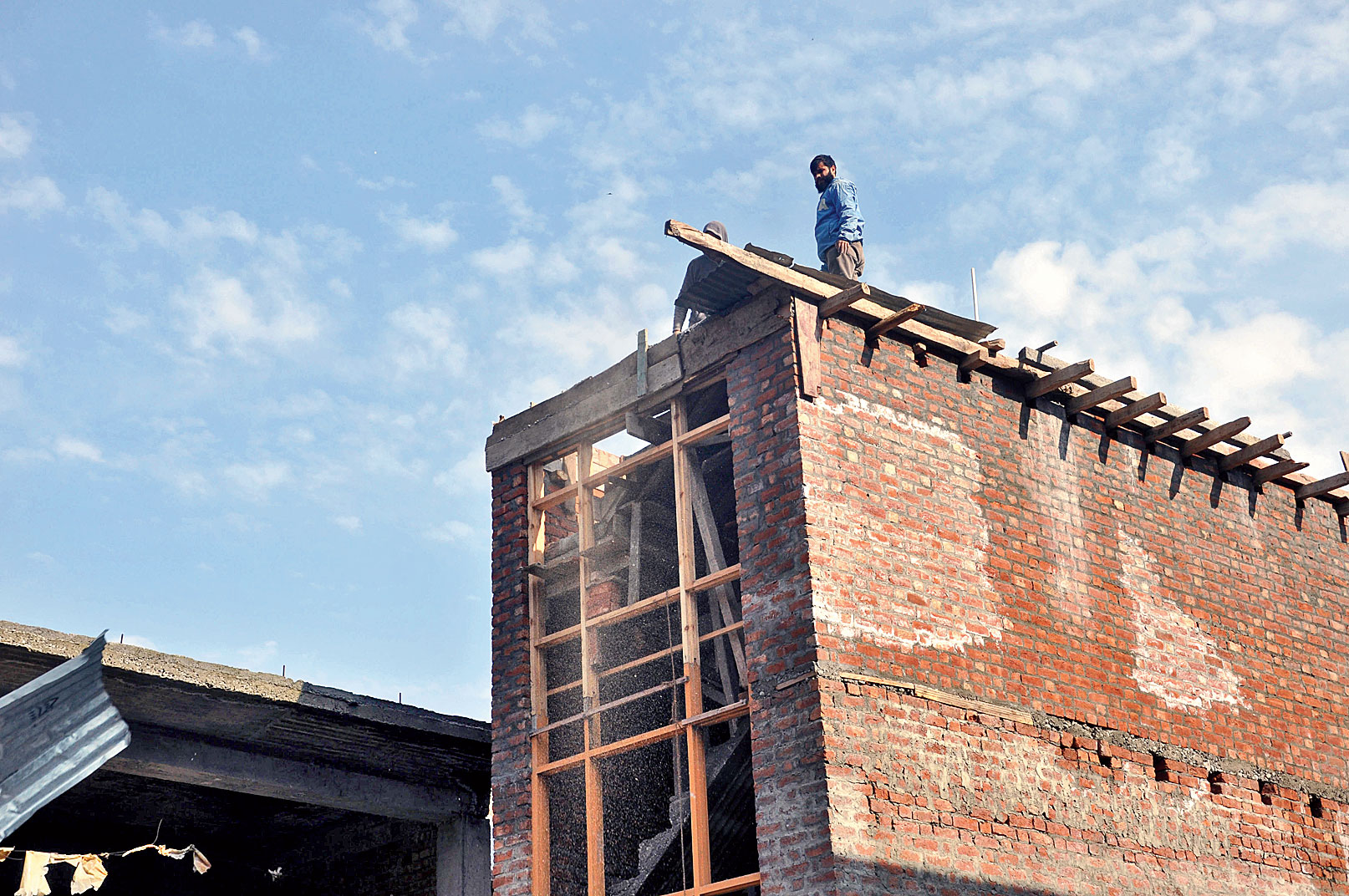 ---
|
Srinagar
|
Published 10.12.19, 08:50 PM
---
Photo-journalist Muneeb ul Islam's transition from the glamorous world of pictures to one of brick and mortar was gruelling but he had no choice.
Anantnag resident Muneeb is one of several Kashmiri journalists who have lost their bread and butter following the crippling information blockade enforced to silence the Valley in the wake of the decision to revoke Jammu and Kashmir's special status on August 5.
"I got married last year and am expecting a baby. I needed some money to show my wife to a doctor but had none. That left me with no option but to work as a labourer for a few days. But for most days in these months I have been jobless," Muneeb told The Telegraph.
"I have not made any money all these months barring a few bucks I earned working as a construction labourer. It was a painful transition but I had no choice. I am glad that my younger brother earns a modest amount to run our family but I dared not ask him for other expenses."
Muneeb, 30, a graduate, has been working as a freelance photo-journalist for the past seven years. He said his pictures had appeared in several national newspapers and periodicals.
The media in the Valley has been hit hard by the blanket ban on mobiles, landlines and the Internet. The restrictions on landlines and post-paid mobiles were gradually lifted but Internet and pre-paid mobile services remain shut.
The journalists based in Srinagar can access the Internet at a media facilitation centre but scribes working in other Kashmir districts enjoy no such facility, making work near impossible for people like Muneeb.
The restrictions, coupled with shutdowns, have forced several prominent Valley-based publications to retrench their staff because of a sharp fall in advertisement revenue.
The journalists who bore the brunt were mostly those working in the peripheries, in districts like Anantnag, Shopian and Pulwama. Many of them freelanced for publications in Srinagar or outside Jammu and Kashmir.
The absence of the Internet for the past four months, and the restrictions on traffic for several initial weeks, meant the journalists could not send articles and pictures to the news outlets.
An editor of an English newspaper said he had not sacked any of his nearly two-dozen staff.
"But for the first two months (of the curbs) I could only pay them sustenance allowance, which was meagre. The government's information department, which is a major source of revenue at a time ads from the private sector had dried up, has not released our payments for the past four months. There is no end to the crisis but I dread things getting uglier if the situation persists," the editor said.
He said several major newspapers had pruned staff but district journalists were mostly jobless, with Internet unavailability making them redundant.
"Many of them don't earn much but they have to come personally to Srinagar to file stories or send pictures. They have to shell out more on transport than they earn. So they prefer sitting at home," the editor said.
Muneeb said he would earn Rs 15,000 to Rs 20,000 a month before August. "It has come down to zero. Taking a cab to Srinagar will cost me Rs 1,000 to Rs 1,500," he said.
"In the past four months, I have clicked hundreds of pictures about all things that have been happening in my district. I had pictures of the recent militant attack on the government's Back to Village initiative (in which an official and a sarpanch were killed), of the snowfall that wrecked havoc on the orchards," Muneeb said.
He said not one of his pictures got published because of the Internet gag.
His journalist friends face a similar ordeal. One friend worked for weeks packing apples in orchards, another is assisting his brother at a medicine shop. "But they do not want to share their ordeal with the media. They dread their reputation will be hit," Muneeb said.