Journalist accused of being Maoist sympathiser acquitted after 9 years
Vittala Malekudiya and his father were booked under UAPA for possessing a book on Bhagat Singh and newspaper clippings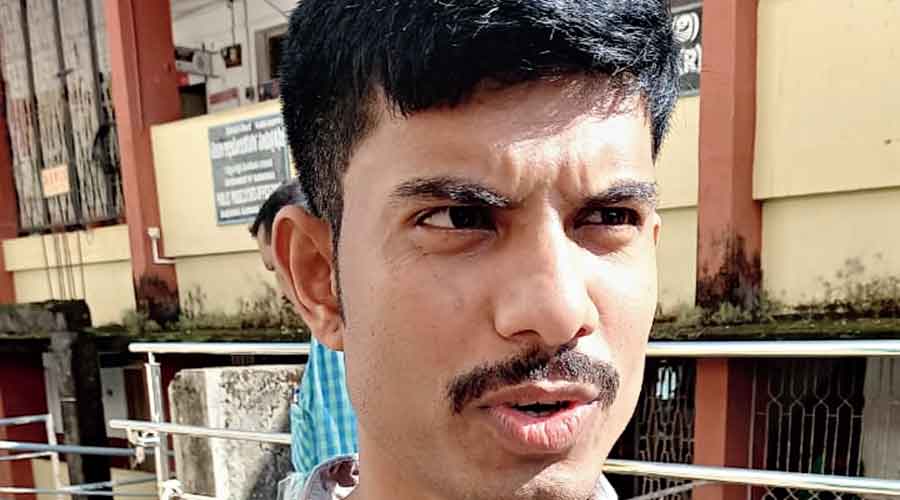 Vittala Malekudiya
Telegraph picture
---
Bangalore
|
Published 23.10.21, 01:43 AM
|
---
A journalist in Karnataka and his father were acquitted in a terror case on Thursday, nine years after they were arrested and accused of being Maoist sympathisers for possessing a book on Bhagat Singh and newspaper clippings.
Additional district and sessions judge B.B. Jakati dismissed all the charges against 32-year-old Vittala Malekudiya, who works for Kannada newspaper Prajavani in Bangalore, and his father Lingappa, 60, who makes a living by foraging for forest produce.
The two tribal men had been booked under the Unlawful Activities Prevention Act's Sections 19 (harbouring terrorists) and 20 (punishment for being member of a terrorist organisation), and the Indian Penal Code's Sections 121 (waging, attempting or abetting war against the State) and 120B (criminal conspiracy).
Vittala, who was a member of CPM youth wing DYFI, and Lingappa had participated in protests against a government plan to evict tribal families from their hamlet in Kudremukh National Park that had been their home for several generations. But they had all along denied any Maoist links.
"It took so many years to clear our names," Vittala told The Telegraph on Friday.
Vittala was a second-semester student of MA journalism in Mangalore University when he was arrested.
On March 2, 2012, the state police's Anti-Naxal Force had raided the forest village of Kuthloor in Dakshina Kannada district and assaulted Lingappa, allegedly fracturing his leg.
Vittala rushed home from the university the next day and was arrested with his father. They spent four months in judicial custody, securing bail in July 2012.
The police had seized a Kannada translation of journalist Kuldip Nayar's book on Bhagat Singh from their home along with what the prosecution called "Maoist literature" but turned out to be newspaper clippings.
The court ruled that it isn't illegal to possess a book on Bhagat Singh or newspaper clippings even if there is "instigative publication in the newspaper".
Nor did it find anything wrong with Vittala's handwritten appeal urging his people to boycott a Lok Sabha by-election in protest against the government's failure to meet their longstanding demand for basic amenities.
"From such writings one cannot find out that the accused No. 6 and 7 (Vittala and Lingappa) are engaged in Naxal activities or they were concealing or harbouring accused No. 1 to 5," the court said.
Accused number 1 to 5 are still in hiding, and include Maoist leader Vikram Gowda.
Pictures of a handcuffed Vittala being escorted to write his second semester exams had sparked outrage. The university eventually withheld his results because of inadequate attendance, the fallout of his being in jail.
"I did the second semester again after being released on bail, and eventually completed my master's in 2014," Vittala said.
The chargesheet was filed in January 2015, a year and a half after the Congress administration of P.C. Siddaramaiah had replaced the BJP government of D.V. Sadananda Gowda.
"The Congress had raised our arrests in the Assembly when the BJP was in power. But their own government chargesheeted us," Vittala said.
Then CPM general secretary Prakash Karat and M.B. Rajesh, then a Lok Sabha member and now Speaker of the Kerala Assembly, had visited Vittala in Mangalore jail. Rajesh had raised the issue in the Lok Sabha. CPM politburo member Brinda Karat had led a team to Gowda on behalf of Vittala and Lingappa.
Vittala, whose family is one of 30 living in a forest hamlet of 180 people, unsuccessfully contested the panchayat polls in 2015 and 2020.