Jitendra Singh's pitch amid protests in JNU
Many of those protesting against Singh shared his lack of faith in Kashmir's politicians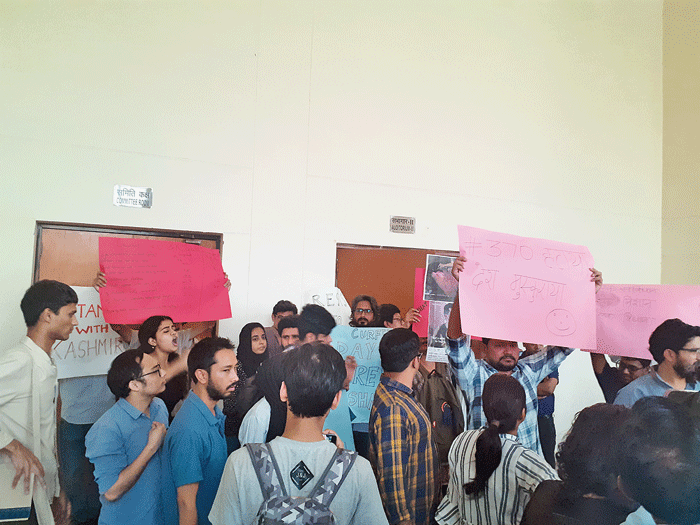 ---
---
Union minister Jitendra Singh claimed there had been no violence in Kashmir since the removal of the state's special status as students scuffled outside the venue in Jawaharlal Nehru University (JNU).
As part of a countrywide propaganda drive, Singh delivered a lecture titled "Abrogation of Article 370: Peace, Stability and Development in Jammu, Kashmir and Ladakh" in JNU on Friday.
He reached the venue 90 minutes late to find a shouting match going on between ABVP supporters and students protesting the government's actions in Kashmir. The sloganeering and fisticuffs continued just outside the auditorium throughout the lecture.
The minister said: "I give full credit to Amit Shah for two reasons. There has not been a single day of curfew since August 5. In spite of that, there has not been a single incident of violence or killing by the armed forces.… I have comes across the most soft-hearted home minister, till date, though he is painted as a very tough man. He is providing you all the comforts during the so-called house arrest…."
Speaking about the detention of the political leadership of the state, Singh said: "This is not incarceration. (This is) some kind of restrictive house arrest where you get the choicest privileges. Some of those under house arrest are actually enjoying more security than I have in my own house. Some of them were asking for brown bread… some are asking for Hollywood videos."
Asked when they would be released, the minister later told The Telegraph: "The law-enforcement agencies and the department of home take cognisance of this. By and large, for the last six-seven weeks, there has not been a single untoward incident or incident of violence, and the restrictions have been minimal compared to what happened when Article 370 was in place as earlier governments imposed curfew for months."
He called those detained as "10 per cent lot". He said: "You are there in Parliament and the J&K Assembly by winning elections through 10 per cent voter turnout, and you talk of jamhooriyat (democracy)? I wish in JNU a school of thought emerges that we should have a minimum threshold cut-off to recognise an MP or MLA. Otherwise, we have to bear with this lot of 10 per cent voter turnout."
Many of those protesting against Singh shared his lack of faith in Kashmir's politicians.
One of them told this newspaper: "We are not against his lecture, but we oppose this false narrative of peace they are spreading about Kashmir in the complete absence of justice in the state. We don't care about Article 370 as much as we are concerned about division of the state, and the right to self-determination of the people who have resisted the military occupation there for more than 70 years."
The ABVP accused members of the Birsa Ambedkar Phule Students Association and communist groups of trying to disrupt the event.
Scuffles broke out between the ABVP and protesters as some tried to block the minister's exit after the event.
The JNU Students' Union said in a statement: "Rather than lifting the blockade and letting the truth about Jammu and Kashmir known, the government has employed its lackeys, like Jitendra Singh, to spread lies and propaganda about 'peace and stability'. The JNUSU condemns in the harshest possible terms this communication gag.… We also condemn this vulgar display of triumphalism on our campus."