Jharkhand rights panel in plea on Maoist belt
'Stop violence on tribals'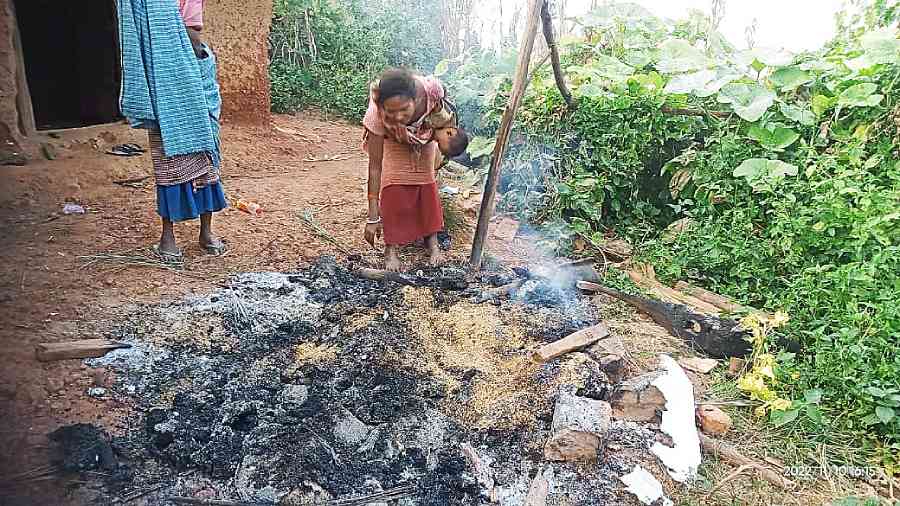 A villager in Tonto shows household items burnt by security forces during a search operation in West Singhbhum last December
File picture
---
Jamshedpur
|
Published 08.02.23, 03:02 AM
|
---
Jharkhand Janadhikar Mahasabha, a coalition of human rights organisations of the state, has issued a public appeal to stop violence against tribal villagers in West Singhbhum, sandwiched between the security forces and the Maoists.
The Mahasabha, which had sent a fact-finding team to rebel-hit areas of West Singhbhum district in December last year, will also submit the public appeals to all the five MLAs of the West Singhbhum district and the lone MP from Congress, Geeta Koda.
"We will be submitting the public appeal to administrative officials and also Jharkhand home secretary Rajeev Arun Ekka (who also holds the portfolio of principal secretary to the chief minister)," said Ellena Horo, a member of the Mahasabha.
"We have asked both the security forces and the Maoists to stop the violence against tribals in West Singhbhum forests. For the last few months, the lives of the tribal natives of the Saranda forest areas of West Singhbhum, especially in the Sadar, Goilkera and Tonto blocks, have been in turmoil."
The appeal alleges that on one hand, the security forces during search operations indulge in violence and atrocities on tribals, while on the other hand, the Maoists also harass tribals for food and other daily needs.
"Innocent tribal natives are trapped between the security forces and the rebels. Camps of the security forces are being set up without the consent of the gram sabha, which is a clear violation of the Fifth Schedule provisions and the Panchayats (Extension to the Scheduled Areas) Act 1996 (popularly known as PESA Act). There is an atmosphere of fear and oppression in the villages," the pamphlet in Hindi alleges.
It further says that the tribals are unable to even go to their forests, which are like a lifeline for them, in fear of an encounter between the security forces and the Maoists. The presence of explosives, planted by the rebels, also keeps the tribals away from the forests. 
"In recent days, the security forces have been firing and shelling mortars in the direction of the villages since dusk. On the other hand, there is fear of retaliatory action by the Maoists. The youth, children, elders and women of the village are all in panic. Women are feeling unsafe in their homes because of the fear of sexual exploitation as has been found by the fact-finding team," said Horo.