Jharkhand government to take steps to help tribals get loan
Banks need to auction properties for recovery of loans if those turn into bad debt and can't easily do so as such properties belonging to members of ST and SC: Advocate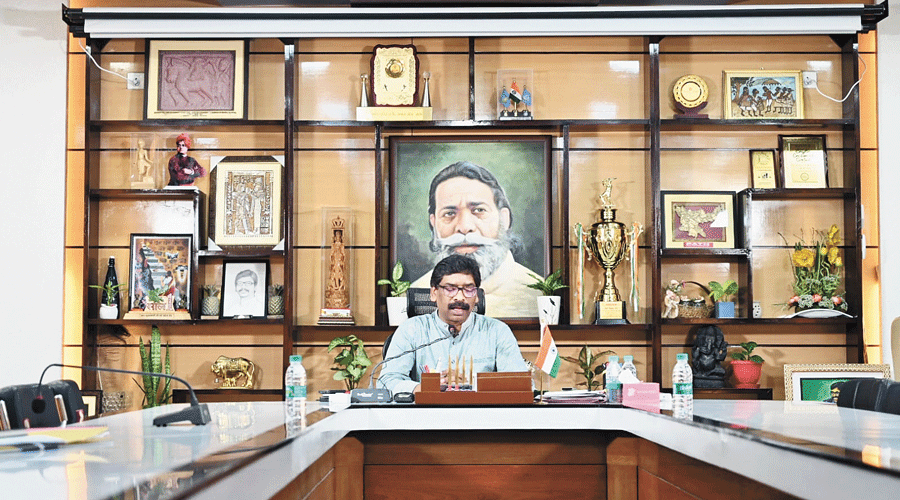 Jharkhand chief minister Hemant Soren virtually addresses a gathering to observe the second foundation day of All India Santhal Bank Employees' Society held in Jamshedpur from his Ranchi residence on Saturday.
The Telegraph
---
Ranchi
|
Published 15.08.22, 12:17 AM
|
---
The Jharkhand government will take steps to solve loan problems of the Scheduled Tribes people.
Chief minister Hemant Soren said this while virtually addressing a programme meant for observing the second foundation day of the All India Santhal Bank Employees' Society held in Jamshedpur on Saturday evening.
"Many can't avail bank loans due to provisions of the Chotanagpur Tenancy (CNT) Act and Santhal Pargana Tenancy (SPT) Act," he said while addressing the gathering and added that the state government was trying to solve the problem.
This will raise hope among the tribals who find it very difficult to get loans from banks against their landed property.
"This is equally true for those belonging to the Scheduled Castes," said Rashmi Katyayan, a Ranchi-based advocate having expertise in property law.
"Banks need to auction properties for recovery of loans if those turn into bad debt and can't easily do so as such properties belonging to members of the ST and SC," he said when requested to explain and added such properties were protected under those two tenancy acts.
Even if a transfer of right in respect of such a property is permitted by orders of a competent authority, that can be transferred only to members belonging to same community, either ST or SC as the case may be, he further informed, citing provisions of those tenancy laws. 
According to the provisions of those tenancy laws, "no transfer by a raiyat (land holder) of his right in his holding or any portion thereof shall be valid unless the right of transfer has been recorded in the record of rights and that only to the extent to which such right is so recorded".
The state government in the past had said that it would to remove the bottleneck by acting as a guarantor so that banks could sanction loans to needy people who belonged to the ST/SC but that did not materialise so far.
If the government gives the guarantee that can certainly help those belonging to the ST and the SC get bank loans as the banks would then feel assured of recovery of loans in case those are not repaid on time, feel many.
Soren also appealed to the members of bank employees' society to help people belonging to the SC, ST and backward classes by informing them about the benefit of various schemes that aim at their uplift and help them avail those.
CPI signal on Bihar govt
Patna: The CPI on Sunday said it would like to be a part of the Nitish Kumar cabinet, if the party is given an "honourable representation", in a deviation from the decision of other Left parties to extend outside support to the new Grand Alliance government in Bihar. 
Atul Kumar Anjan, a senior leader of the CPI, said deputy chief minister Tejashwi Yadav had recently met its national general secretary D. Raja in Delhi and they discussed about the priorities of the "Mahagathbandhan" government.