Jay Shah knows how to get the Twitter blue tick fast
Twitter was called out for bias by users after it accorded blue tick to Amit Shah's son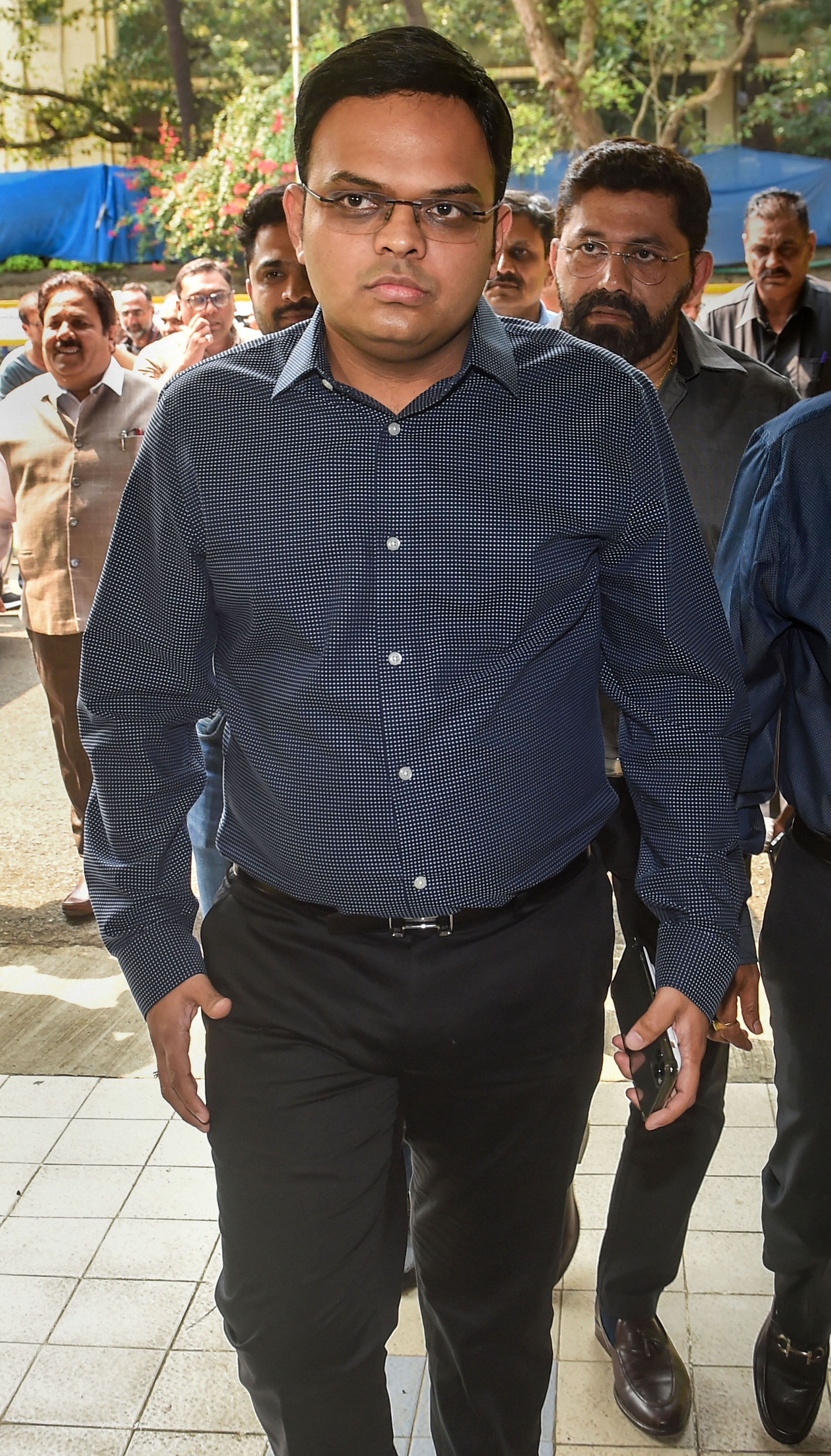 ---
New Delhi
|
Published 07.11.19, 06:30 AM
|
---
Jay Shah is not a politician, a religious leader, a movie star, or a journalist, but when he had no posts and 27 followers, Twitter accorded him a blue tick. 
Why Twitter did that is now a huge debate on the micro-blogging site. 
The blue tick is Twitter's verification that a particular account is a person's real handle, so that it can be distinguished from parody and fake accounts. But Twitter has some conditions for allowing a blue tick, for which a user has to request first. Politicians, religious leaders, movie stars, journalists and accounts Twitter considers to be of public importance generally get the much sought-after blue tick. It has acquired a social currency of its own and cannot be easily ignored these days.

In Twitter's own words: 'An account may be verified if it is determined to be an account of public interest. Typically this includes accounts maintained by users in music, acting, fashion, government, politics, religion, journalism, media, sports, business, and other key interest areas. A verified badge does not imply an endorsement by Twitter.'
Jay Shah is a businessman, and home minister and BJP chief Amit Shah's son.  
He somehow got the blue tick soon after he opened his Twitter account last month, around the time when he also became the secretary of the BCCI, the privately-run Indian cricket board, on October 14.
This blue tick came despite Twitter officially announcing that it is no more according blue ticks for now, according to a notice it put on its website.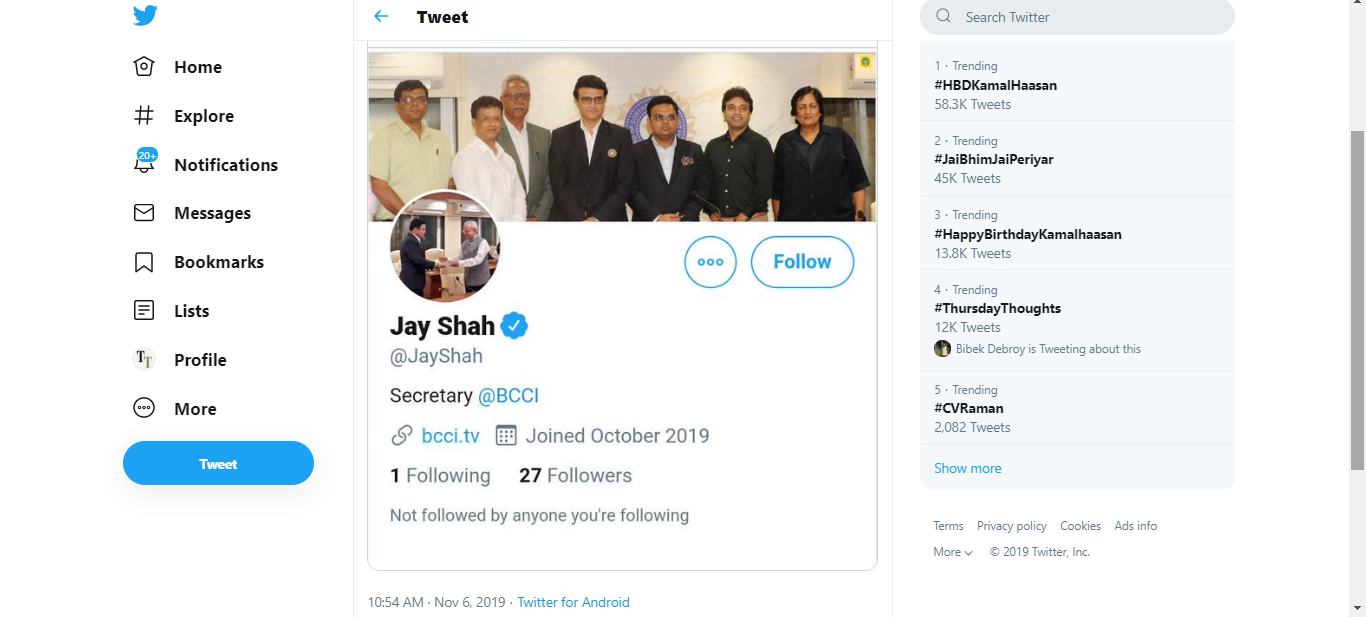 Several Twitter users pointed out that Jay Shah's Twitter account got the blue tick even when he had no followers.
Then, just like his company's exponential growth in five years, Jay Shah's following on Twitter has also grown from zero in mid-October to 11,457 on November 7.

Some users started adding #cancelallBlueTicksinIndia to their posts. Others accused Twitter of casteism for not verifying accounts of certain Dalit, Scheduled Tribe and OBC leaders, despite their having more followers for a longer period than Jay Shah.
So long as you do not achieve social liberty, whatever freedom is provided by the law is of no avail to you..
~ Babasahib Ambedkar@AmbedkarCaravan#cancelallBlueTicksinIndia pic.twitter.com/uiRMZLQbYz

— Shadow Home Minister of 🌈 (@Bhaujan_connect) November 6, 2019
Jay only 27 follower blue tic and my follower 70 not blue tic#cancelallBlueTicksinIndia pic.twitter.com/sArbfUIdBL

— Susheel Kumar Roy bsp (@Susheelkumarroy) November 6, 2019
#cancelallBlueTicksinIndia
I'm waiting n watching, how long n how much time will be taken by @TwitterIndia @Twitter @verified @jack to verify @ihansraj who is the main hero and voice of voiceless people on Twitter and other social platforms and on ground.

— Sudesh Paswan (@Jai_Bhim_jaijai) November 6, 2019
We want @TwitterIndia#cancelallBlueTicksinIndia

If you can't be equal don't be partial pic.twitter.com/edp3SDVsI4

— मधूलिका सिंह (@madhulikaji) November 6, 2019
Make a proper rule for blue tick, don't verify account selectively. Stop partiality....@TwitterIndia#cancelallBlueTicksinIndia

— Dr. Navi Ranjan (@naviranjan1985) November 6, 2019
Absolutely right this is new form of discrimination.#cancelallBlueTicksinIndia @jarariya91 pic.twitter.com/AJ3MXtbCai

— Rajat Mourya API (@RajatmouryaAPI) November 6, 2019
The protest, in a sense, was an extension of the social media agitation for the restoration of the Twitter account of Supreme Court lawyer Sanjay Hegde. Twitter had suspended Hegde's account on October 28 over a retweet.
On November 6, Twitter verified the account of Chandra Shekhar Aazad, a Dalit leader with over 70,000 followers. Aazad, a Dalit youth leader in Uttar Pradesh, had accused Twitter of 'Brahmanwadi (Brahmin-like)' behaviour when the microblogging site took action against some Ambedkarites.
Coming back to Jay Shah, the blue tick did not rile only Dalit leaders. Yesteryear star Simi Garewal, of the Rendezvous interview show fame, seemed upset that she was denied a blue tick and Jay Shah turned out to be 'lucky'.
"Lucky @JayShah to get a blue tick from @TwitterIndia @Twitter - when they keep telling me blue ticks are not being issued any more!," she wrote with a screenshot of the BCCI secretary's account from his initial days when he had only 218 followers.
Garewal, by the way, still has more followers than Jay Shah. Her 45,066 to his 11,457.