Jammu and Kashmir: Rohingya 'detention' triggers panic
Police sources said 25 of them were picked up from two mosques on March 30 and later sent to a 'holding centre' inside a jail in Kathua district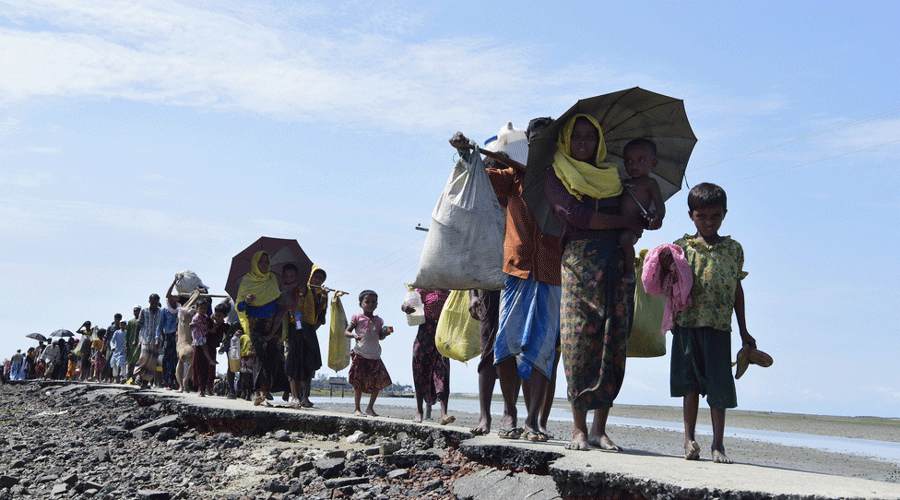 Mushtaq Ahmad, a Rohingya leader in Jammu, said the reports of their detention had scared the community.
File photo
---
Srinagar
|
Published 02.04.22, 12:47 AM
|
---
Jammu and Kashmir police have detained over two dozen Rohingya refugees, who were part of a Tablighi Jamaat group, in a Kathua jail, triggering panic in the community in the region amid reports that the Centre has deported a refugee from Jammu to Myanmar.
Police sources said 25 Rohingya were picked up from two mosques in Ramban's Sangaldan area on March 30 and later sent to a "holding centre" inside a jail at Hiranagar in Jammu's Kathua district.
Thousands of Rohingya refugees have been staying in Jammu for several years to avoid persecution in their homeland in Myanmar. However, they have been facing a campaign by Right-wing groups calling for their ouster.
The police have not officially cited any reason for the detention of the Rohingya. However, community members are often accused of staying illegally in India.
Mushtaq Ahmad, a Rohingya leader in Jammu, said the reports of their detention had scared the community.
"They were on a Tablighi mission to Ramban and were scheduled to spend the holy month of Ramazan there in prayers. We only learnt yesterday that they have been detained," Ahmad told The Telegraph.
"Their mothers, wives and children are all crying. We are scared of stepping out of our homes, lest we too are arrested."
Ahmad said the men had been shifted to a "holding centre" in Hiranagar, where some 236 Rohingya, including women and children, have been detained since March 6 last year.
The Tablighi Jamaat, an Islamic missionary movement, had been at the centre of a vilification campaign during the early days of the pandemic in 2020 after many members were detained at quarantine centres for months for congregating at a Delhi mosque in violation of Covid protocol.
Some of the men detained in Jammu have been identified as Ameer Hakam, Jaffar Alam, Mohammed Noor, Abul Hasan and Mohammed Alam.
US-based rights group Human Rights Watch (HRW) on Thursday said the Indian government had forcibly deported an ethnic Rohingya woman, Hasina Begum, from Hiranagar on March 22. The group said international law prohibits the forced return of refugees to places where their lives or freedom would be threatened.
"The Indian government gains nothing by forcibly returning a Rohingya woman to Myanmar, while she is separated from her children and put at grave risk," said Meenakshi Ganguly, South Asia director at HRW.
"The government's decision to expel Rohingya refugees despite mountains of evidence that their lives and freedoms would be at risk in Myanmar shows cruel disregard for human life and international law."
The HRW has put the number of Rohingya in India at 40,000, at least 20,000 of whom are registered with the United Nations Human Rights Council (UNHRC).
"Since 2016, ultranationalist Hindu groups have targeted Rohingya refugees in Jammu as part of growing attacks on Muslims in India and called for their expulsion from the country," the HRW said.
"Since October 2018, the Indian government has deported 12 Rohingya to Myanmar, claiming that they left voluntarily. However, the government denied repeated requests by the UNHRC to gain access to them to independently assess whether the decision was voluntary."
The statement said Hasina Begum, her husband and three children were all registered as refugees with the UNHRC.
"She was among the Rohingya detained by Jammu and Kashmir authorities on March 6, 2021, when the authorities sent them to a holding centre as part of a verification process, saying that the government planned to deport them. Her husband told Human Rights Watch that he and his children have not seen her since she was detained over a year ago," the statement said.
Jammu and Kashmir police have been tight-lipped about the alleged deportation.
"The authorities forcibly returned her to Myanmar despite a March 21, 2022, order by the Manipur State Human Rights Commission putting the deportation on hold," the rights body said.
"Hasina Begum's husband, Ali Johar, 37, after learning that she might be deported, wrote to the UNHRC, appealing for the agency to intervene. He said he had not received a response. UNHRC officials told Human Rights Watch that they had contacted the Indian authorities about the case," the HRW said.